Callum's first sports day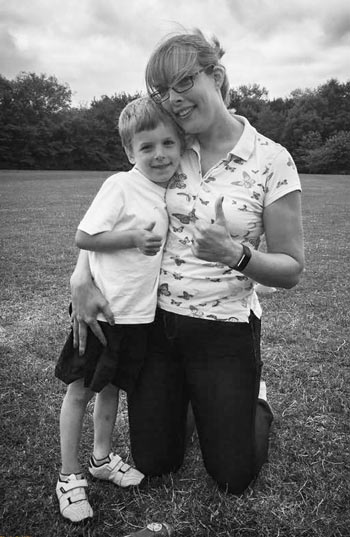 This time last year we were preparing for Callum starting school. I can't quite believe it was a year ago either, it's gone so incredibly quickly.
I was working with his wonderful teacher and teaching assistants, advising and assisting the fabulous kitchen staff and providing an abundance of information for the office staff. It not only helped me to deal with the massive change we were about to face as a family, it helped the school to be fully prepared for what lay ahead. Whilst I was attempting to remain calm, collected and focused, it was a worrying time and the start of the school year in September was something I was not looking forward to.
(Callum has no less than 13 serious food allergies so starting school was a much bigger deal than for most children. See here for Callum's 'history' and follow the links at the bottom to find out how Nathalie 'prepped' the school and Callum for this big adventure.)
Most parents get excited with their children in the new part of their childhood journey, for us it was the complete opposite. Prior to school, I was able to protect Callum and keep him safe. Whenever in my care, I am permanently performing a full health and safety check everywhere we go, and instinctively am one step ahead. Seeing possible cross contamination, flagging potential issues, thinking up solutions quickly so it looks seamless and not happening because it 'needs to'.
Once school started, it was beyond my control and I had to hope that all the work I had done with Callum, teaching him about his allergies, understanding all of his symptoms and learning about his medicines that keep him safe would be enough.
Three days into starting school, it was all put to the test when Callum had a strong reaction. Thankfully all of the training worked, and the school was able to control the situation with the techniques I had given them.
This has happened a further 3 times throughout the school year, with the last one being the strongest. It was so strong it frightened the teaching staff sufficiently enough to clear the classroom in case they needed to give Callum his epi-pen. They didn't want his young peers seeing him in distress and possibly very unwell. Thankfully they again were able to get control back with his antihistamines.
I think it is safe to say that little Callum has had quite the journey to get to where he is today. He's gone through more than most would go through in a whole life time and then some!
Five years ago, he was battling utterly horrific eczema from just weeks old, and severe life threatening allergies that saw us frequently in hospital as we desperately tried to get some semblance of control. Something that took 16 months to start to achieve, and we're still working on it now.
On three occasions in particular, we were warned to expect the worst during severe allergic reactions, watching helplessly as the medical staff tried to make Callum better - something no parent should ever have to go through! It has been an incredibly long and difficult journey to get Callum to where he is today, and it is by no means over as we continue to discover new allergies and intolerances. We live in hope that one day we may reach a plateau effect and manage to get him fully stable. Until then, we must just continue the way we are, keeping him safe, and teaching those around him how to help us to keep him safe when we are not able to.
Almost unbelievably, Callum has survived his 1st year of school and reached the end of the final term, something none of us, including the school,  thought he would achieve.
As is tradition in the summer term, 2 weeks ago we were invited along to the school for the annual sports day morning. Callum wasn't too sure about taking part, as he was worried he wouldn't do so well. But, we told him that we were immensely proud of all his achievements and to us it really didn't matter how he did, we were just grateful that he even had the opportunity to take part!
However, in true Callum form, he showed everyone what sheer guts, strength and determination can do! Irrespective of the fact he was suffering with severe hayfever and permanently sneezing in spite of the medicines we gave him to help, he threw himself into the task ahead.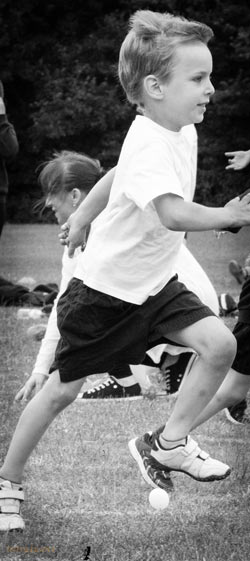 Amazingly, he WON his 1st race, and then incredibly, came 2nd in all the others that he took part in!!! His teachers and class mates were in awe! Words cannot describe how incredibly proud of this little dude I am, and somewhat emotional too!
To have battled with what he has to deal with on a daily basis, as well as suffer with the constant side effects, and push through the extreme tiredness that he can't seem to shake, to still succeed in such a fashion is utterly incredible. I know adults who would not have been able to achieve this level of success, nor with such gusto and enthusiasm.
I always tell Callum, and everyone I work with, that allergies should not be used as an excuse. It would be all too easy to give up on every day tasks, and not take part in events such as sports day 'because of allergies'.
It should be the opposite: to live life to the full and not be held back in any way, and this is what I've taught Callum. Use the frustrations you have to push forward, and thrive in life!
Callum is the ultimate example of this. He continues to stick two fingers up to multiple life threatening allergies, severe eczema, severe asthma and severe hayfever. He is a shining example of how not to let them rule and define you and to live life to the absolute fullest where possible! Nothing should hold you back from living your dreams, particularly allergies!
As a final note from me 'Well done bubba, keep shooting for the stars and I love you to the moon and back!!!'
July 2017

To read about Callum's allergy 'history, see here. To follow Callum's school journey – see here for the long term preparations for going to school, see here of the few days leading up to the start of term, and see here for the first two weeks....
For many more articles on the management of allergy in children