Let's start at the very beginning....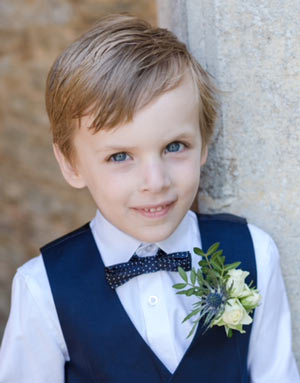 Callum is now four and and has just started school – with 13 severe food allergies as well as pollen, dog and cat allergies. We have followed him through the last few months as he and his parents planned and prepared so that he could go to school – but how did all this start? Mum, Nathalie, explains that from the first few weeks, they knew that all was not right with Callum.
(Despite all Callum is now the picture of health, as you can see here at his parents' wedding!)
I'd always heard other people talk about allergies and intolerances, how it affected them and the way they lived, and the impact it had on daily life.
I considered myself very lucky that I'd not had to experience the difficulty faced by severe allergy sufferers. But that all changed when Callum, my second child, was born. At first all was well, and apart from being 8 days overdue, when he finally made an appearance, he was a very happy and contented baby.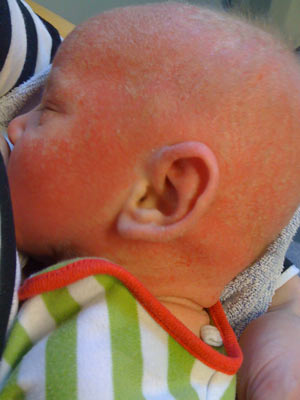 However, this didn't last long, and by the age of just 6 weeks old, it was apparent that something was not right. He began to have a nasty rash forming all over his little body, which was then followed by weepy, sore looking patches on his cheeks. The doctor prescribed us an emollient cream, but this did nothing to help. So he was prescribed another type, which again did nothing to improve the situation. At the same time, he was presenting with colicky symptoms and was a baby that spit up quite a lot after each feed. I was told it was 'normal'.
A couple of weeks later it was time for Callum to have his 1st round of baby immunisations. This caused a catalyst effect, and just 24hrs later, we were in A&E trying to control a severe allergic reaction and eczema so severe his skin had become raw and covered in pus. This was just the start of what was to become a very long and uphill battle to get to the bottom of what was wrong.
As is sadly the case with many, we experienced multiple hospital admissions, numerous severe allergic reactions, a ridiculous amount of hospital and GP appointments, and enough medication to keep a pharmacy afloat for a few months. In my quest to find a diagnosis I started to keep food diaries, and I also logged every single reaction, of which there were many!
Weaning is meant to be a fun and enjoyable journey of discovery with your little one. It was certainly the case with our eldest Chloe. Our weaning journey with Callum however was nothing like that. In fact, it was a permanent nightmare!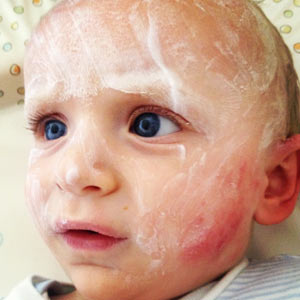 Almost every meal time resulted in projectile vomit. We used one of those plastic bibs with the scoop bottoms, the other ones just didn't stand up to the job. We'd feed Callum a maximum of 2 little spoons and you would hear his tummy gargle and then he'd be violently sick. It was an awful sound that will stay with me forever. We'd poor the sick away, and try again with a known safe food. It was dreadful, and happened almost every single time we tried a new food.
Callum wasn't putting any weight on, in fact he looked so ill, we started to call him our little changeling and after pestering and arguing with GP's and consultants until they finally listened, Callum was eventually allergy tested at 16 months old, after months of suffering. It was then that we found out he had the following allergies:
Anaphylaxis inducing
All forms of dairy
All forms of nut
All forms of tree nut
Peanut
Strawberry
Severe allergy
All seeds
Tomato
Kiwi
All citrus
Egg
Wheat
Peppers
Dust mites
Dogs
Cats
Pollen
Soya
He also suffers with OAS (Oral Allergy Syndrome) which means he can react to apples, pears, plums, grapes etc.
It's not easy to feed a child with so many allergies, especially when they suffer with food aversion. Because Callum was violently sick every time he ate something, he had learnt not to trust any food, and ultimately refused to eat anything at one point because of the association of being so poorly. This meant that he had lost quite a bit of weight.
The only way we could overcome this was to give him control back. Even at only 16 months old, he was in full control over what was going into his body. He could see what was being used, what the ingredients were, and he helped to mix everything when safe to do so.
It sounds crazy, but it really helped him learn to trust, and more importantly, enjoy food again because he was the one making it. He was able to understand that the ingredients weren't ones that would make him ill. Before, it had been something he hated and feared. Now it is something he loves and looks forward to, and that it's not important that you can't eat what others take for granted because there's always a way to make a recipe free from! What is important is that you are empowered by what you eat, that you're not scared of it, that you trust it, and that you don't feel that you need to miss out.
My motto, 'there is always a cloud with a silver lining', you just have to work your way through the thick fog to find it, but it will be there!
Callum is very aware of the allergies he has, and knows which foods he can't have. He also understands when he has a severe reaction he will have special medicine to make him better – such as his epi pen. He knows how we use it, where it's kept, and when to use it. He's not frightened by it, because we taught him early on that we would do all we could to keep him safe. We taught him the symptoms to look out for, and when to tell us immediately if he didn't feel right. That alone has saved him twice!
Having a son with severe allergies has taught me to not take anything for granted any more, you literally don't know what could be around the corner. Enjoy each day, it shouldn't stop you doing what you enjoy.
Callum is living proof that in spite of a difficult and challenging outlook, it's possible to live life to the fullest and not let anything get in your way!
October 2016
To follow Callum's school journey – see here for the long term preparations for going to school, see here of the few days leading up to the start of term, and see here for the first two weeks....
For many more articles on the management of allergy in children