Callum's first two weeks at school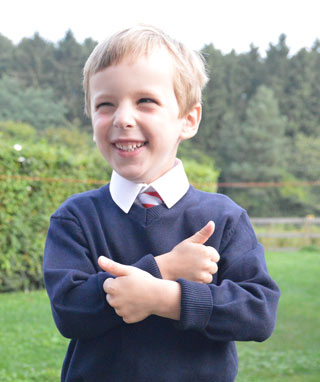 Callum is four and has just started school. But Callum has 13 severe food allergies as well as pollen, dog and cat allergies. How did he get on?.... Mum Nathalie tells us.
There's a sentence I never thought I'd write, at least not yet! It seems utterly impossible to believe that Callum has now been at school for over 2 weeks. It's gone incredibly fast, and it's not been without its dramas either!
On the eve of the very first day, Callum helped me to prepare everything, so it was all ready for the morning. I'm sure in houses all over the country, this was a scene being repeated over and over. There was a fair bit to get sorted:
Medi bag - Packing and double checking it had 2 epi pens, antihistamine, steroid creams, inhaler, emollient and pain relief as a minimum, and also making sure they were in date. We've made a note of when dates expire so that we can replace accordingly without the need for prompting from the school.
Packed lunch - Making sure Callum has a nutritionally balanced, healthy and appealing lunch. He chose an apple, some tortilla crisps, a gluten free roll with pate, cucumber sticks, and a few cubes of his favourite dairy free cheese, along with a slice of homemade flapjack. There was also a little bottle that came with his lunch box that we filled with his dairy free milk so that he didn't miss out when his class mates have 'normal' milk.
School uniform - Shirt, tie, trousers and jumper all ironed and hung up – he was so proud about these!
PE Bag - All the usual essentials, tracksuit, t shirt, fresh socks, trainers, plimsolls
During the night, Callum was up a fair few times. Mostly it was due to an uncomfortable eczema flare, but I'm sure 1st day nerves also played a big part. We can all relate to that!
The first day dawned bright and sunny, which helped to lift my spirits. Callum was nervous and mostly excited, while I was extremely anxious and trying to keep a lid on it.
After the excitement of putting on school uniform for the first time, Callum carried on with the normal morning routine of breakfast with his sister Chloe, before having some fun with us taking photos in honour of his first day! Between the hubby and myself, it was a bit like paparazzi central, and we all ended up in a fit of giggles by the end of it.
Then the moment I'd been dreading arrived, it was time to take the kids to school.
Now, first day nerves for a healthy and well child is bad enough. The feelings I experienced on our 15 minute journey to school were something else. I had this lurch in my stomach, it kept flipping over and over no matter how much I tried to ignore it.
Chloe ran off with her friends, happy to see them again. We stayed with Callum and safely deposited him with his class teacher, who was great at keeping us all calm. In fact, Callum was so happy, he didn't look back after waving us off, and happily got stuck into the first task of the day.
I'm proud to report the tears didn't flow until after we walked back through the school gate. No one wants to see a mum in a snotty, panda eyes mess first thing in the morning, it's not a good look is it! The hubby did a great job of trying to take my mind off things, regaling me with tales from his first days at school. It helped, but I still struggled. 2 lovely friends came over to see me when we got home, and I just about kept things together, and then spent the whole day working to keep my mind active.
I've got to be honest, every time the phone rang, my heart sank.
But, there were no calls from school. Not a single one.
They had this!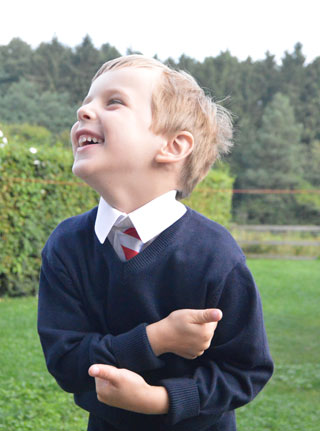 Callum was so happy when he came out after his first day, and talked non stop for the whole afternoon about his adventures and what he'd got up to with his best friend who had also started at the same school. It was a huge relief, and also a chance to start letting the knot in my stomach start to unwind. I'd been very stressed, and perhaps now I could start to let go a bit.
Day 2 went much the same way, but was a little easier to deal with. We were actually at an awards event in London, so Callum and Chloe were being looked after by their grandmother after school. We were so pleased to hear that there'd been no phone call, and a very happy Callum at the end of the day.
Then we come to Day 3, the day I had to face my fears head on!
It started much the same as the first two days. Callum went off to school happy and excited to see his best friend, waving us off without a care in the world. Jon and I headed off to do some shopping, before going out for lunch. We were 30 minutes' drive away, and unbeknown to us, in a place with no phone signal.
As soon as we got out of the shop, my phone started ringing. It was my voicemail telling me I had a message. At that point I just knew, and started to shake.
Listening to the message, we found out that Callum had had a reaction, but no-one knows what the cause was or what triggered it off. All we know is that Callum took his safe packed lunch into the canteen at the start of lunch, sat down and started to get an itchy mouth. His TA (Teaching Assistant) picked up that something wasn't quite right, so sat with him and observed the situation for a few minutes, quietly talking to him to see if keeping his mind off things might help.
In that time, Callum began to have a severely itchy mouth, and was trying to gouge his tongue out. He later showed me quite how hard he'd tried to itch it with his fingers – he was effectively trying to pull it out. The school staff immediately recognised this as a strong reaction and administered his antihistamine and continued to watch him. His epi pen was close by in case they needed to use it.
Thankfully the antihistamine did its job and managed to calm the reaction down, and by the end of the lunch hour Callum was feeling much better and was able to continue with lessons.
Every single fibre in my body was screaming at me to get to the school to find out how he was, and to see for myself if he was ok. But I couldn't. I had to trust that all of the training and preparation that I'd spent months on would work. I had to know that they could look after him the best they possibly could.
And they did!
Callum got the biggest cuddle when he came out of the classroom door that afternoon. I was so scared it would get worse. It's always been my biggest fear that this very situation would happen.
But, and I know it sounds crazy, I'm actually pleased it did, especially so early on in the term. Not only did it confirm that I'm not a neurotic mum just overly worried about her boy. It proved that the information I'd given them about Callum and how quickly his reactions take a hold were accurate. It will ensure that the school stay on their toes and not get complacent.
It also showed them that they are able to cope with an acutely allergic child, and reassured me that they could too.
I'm so grateful to them for being able to handle the situation so effectively, and proud of them for knowing what to do.
They kept my precious boy safe, and that to me means the world!
October 2016
For Nathalie's description of all the steps they had taken over the summer to ensure that Callum could go safely to school, see here.
For the last few days before school starts, see here.
For another mum and son approach to managing severe allergy, see Karen and Jamie's story here.
More articles on the management of allergy in schools