Please click on the links below to read our articles. If you are interested in research findings, click here for links to research reports.
For links to freefrom food products click here.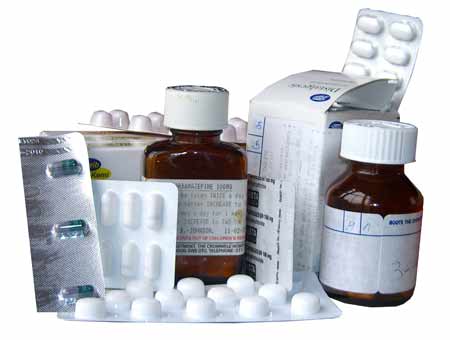 Anaphylaxis to fexofenadine – or was it? Nathalie is well prepped for managing her son, Callum's anaphylactic reactions to foods but never dreamt that she would find herself having to manage her own dramatic reaction first to an antibiotic and then to an antihistamine designed to combat the reaction! December 2016

ACAAI report suggests that 94% of those who think they are allergic to peniicillin may not be. November 2014
NICE has recently published evidence-based guidelines on the diagnosis and management of drug allergy in adults, children and young people. September 2014
Rxisk - Independent drug safety website where you can checkout the safety of drugs and report a side effect.
Popular antibiotics may carry serious and wide ranging side effects – from the NYTimes Well blog. October 2010
Obtaining 'freefrom' prescription drugs – how to get prescription drugs free of lactose, starch, glucose or colourings. 2012
Spanish Society of Allergology and Clinical Immunology call for drug packaging and information leaflets to clearly declare any potentially allergenic substances. 2011
ALK Abello launches a test for penicillin allergy after research shows that the majority of those who believe themselves to be allergic to penicillin are not. December 2011
Things to know about morphine allergy - a useful post from EmpowHER. December 2011
Sulfa drug allergy. March 2011
Allergic reactions to cancer drug cetuximab (Erbitux) surprisingly common in south eastern states of USA. March 2008
Drug-free dental anaesthesia - John Scott reports. September 2009
Common chemotherapy drug can trigger fatal drug reactions. June 2009
You might not have an allergy to the drug itself but in most medicine the 'active' drug is bulked out and packed in capsules and pills which very often contain starches and sugars (gluten and lactose) to which you may react. An investigation of allergenic excipients and how to avoid them. 2005
Research Reports
Comb-shaped polymer successful in protecting L-asparaginase, an enzyme used to fight lymphoblastic leukemia and preventing it triggering the allergic, immune response that currently occurs in 20% of patients. December 2014
Single protein found to be implicated in most allergic reactions to medications. December 2014
Drugs found to be the leading cause of allergy-related sudden deaths in the U.S. 1999-2010. October 2014
10-year-old girl suffers anaphylactic reaction to antibiotic residues in fruit. September 2014
Drug allergens and food – the cetuximab and galactose-α-1,3-galactose story. February 2014
Although Paracetamol anaphylaxis is very rare, a boy had 4 attacks between age 8 and 15 despite negative skin prick and intradermal tests. Health care professionlas need to be aware of the potential severity of reactions. August 2012
If you are allergic to soya beans or eggs, you may be allergic to the anaesthetic Propofol. October 2012
Mite induced inflammation – more than allergy. August 2012
Reactions to anaesthesia. August 2012
A review of the patient groups most at risk of developing allergic drug reactions, which are unpredictable and may occur at fractions of what would be the therapeutic dosage of a drug. May 2012
Allergy risk in anaesthesia. July 2012
Oral muscle relaxant may induce immediate allergic reactions. July 2012
High level of allergic reactions to proton pump inhibitors. August 2012
Possible allergic reaction to warfarin. July 2012
A critical review of the literature on suspected local anaesthetic allergy confirms the rarity of IgE-mediated allergy to local anaesthetics and supports the use of each individual patient's clinical history to determine the need for skin testing and challenge. June 2012
Although rare, multiple drug hypersensitivity is indeed a reality, and may be the result of genetic predisposition. April 2012
Natural rhythms of the body could hold key to more effective drugs and fewer side effects. December 2011
Preventing allergic reactions during surgery is better, research suggests. July 2011
The risk factors in allergic reaction during surgery should be taken into full consideration by doctors before operating. July 2011
Allergic reactions to drugs and anaphylactic shocks: how and when they occur during surgery, and how they should be measured for a correct diagnosis. July 2011
All administered drugs and other agents before and during surgery may be viewed as potential allergens, and anaesthesia is consistently viewed as a high risk procedure. July 2011
A review of latex allergy with regards surgery, looking at high-risk groups. July 2011
A look at the common use of antibiotics during surgery, how they cause anaphylaxis, and how to diagnose antibiotic allergy. July 2011
Muscle relaxants contribute to 50-70% of anaphylaxis during surgery. Skin tests can determine high-risk patients. July 2011
Asians more likely to be severely allergic to anticonvulsants. December 2011
Are antibiotics killing of beneficial bacteria for good? August 2011
Allergic hypersensitivity to cannabis in patients with allergy and illicit drug users. September 2011
FDA warns of allergy risk with Merck antipsychotic drug. September 2011
Delayed allergic reaction after coronary angiography. September 2011
NSAIDS can cause allergic skin reactions including swelling and urticaria, as do, occasionally, steroids. October 2011
Corticosteroids, used to reduce allergic reactions, can themselves cause both immediate and delayed allergic reactions. June 2011
Allergic reactions to anaesthesia are more common than previously thought. May 2011
Anti-vaccine stand based on research. April 2009
Concern over 'hidden' lactose in gastrointestinal drugs. April 2009
Common antibiotics could harm hearing in children. April 2009
Antibiotics can cause long-term changes in the bacterial population of the human gut. April 2009
Preservative-free flu vaccine available in the US. March 2009
Custom-made medications can pose a threat. March 2009
Allergic to penicillin? Maybe not! March 2009
Insulin pump therapy for insulin allergy. March 2009
A swell time at the local hospital! December 2008
Teenager dies from drug reaction. December 2008
Under new UK legislation, mental health patients may be forced to take their medication – even where it may have damaging side-effects and be of limited use - a disturbing development for those who have mental health problems and drug sensitivities which may not recognised by their medics. October 2008
Cough medicine suggestions. November 2008
Paracetamol gets the thumbs down. November 2008
Fears over new drug orders for mental health patients. October 2008
Antihistamines and grapefruit. October 2008
Big pharma ties want to shut down vaccine 'conspiracy theories'. October 2008
Dangers of fluoroquinolones. October 2008
10 Unusual allergic reactions revealed. October 2008
Can antihistamines make reactions worse? March 2008
Adverse drug reactions increasing - but denied by doctors. May 2008
Self-report drug reactions. April 2008
Opponents of reason exposed. March 2008
Cause of severe allergic reaction to cancer drug discovered. March 2008
The genetic effects of drugs. February 2008
Genetic susceptibility to drugs. February 2008
Antibiotics and allergies. May 2006
Kids and antipsychotics. January 2007
NB Information on this site is not a substitute for medical advice and no liability can be assumed for its use.