Adrenaline Auto-injectors explained - Which one do you use?
These two articles originally appeared in Ruth's Allergy Diary in February 2014. Ruth Holroyd suffers froma wide range of allergies, many life threatening. She ruys her own blog at What Allergy?
If you carry an adrenaline auto-injector (AAI) you might be interested to hear about the differences between the three main competitors in the UK market.
EpiPen is distributed by Meda Pharmaceuticals, Jext is produced by Alk Abello and Emerade is distributed by iMed Systems Ltd and will be available on prescription from February 2014. AnaPen used to be prescribed but hasn't been available in the UK since February 2012 and they have no plans to supply the UK at this point.


Adrenaline Auto-injectors compared - UK

Price to NHS

Dose

Prescribing guidelines

Needle length

Shelf life (months)

Cost per month

EpiPen

£26.45

0.15mg

Weight less than 7.5-25kg

12.7mm

19

£1.47

£26.45

0.3mg

Weight 25kg or more

16mm

20

£1.47

Jext

£23.99

0.15mg

Weight less than 30kg

16mm

24

£1.20

£23.99

0.3mg

Weight 30kg or more

16mm

24

£1.20

Emerade

£25.99

0.15mg

Children up to 30kg

16mm

18

£0.90

£25.99

0.3mg

Children and Adolescents over 30kg

25mm

18

£0.90

£26.99

0.5mg

Adolescents and Adults over 30kg

25mm

18

£0.96

Copyright: www.whatallergy.com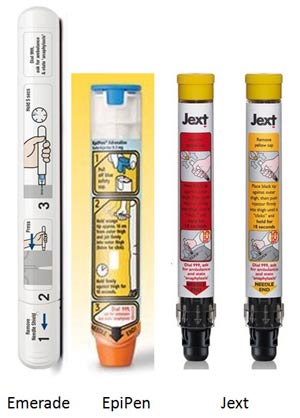 All three injectors now have a needle shield which protects your fingers after use. This is now required following quite a few needle injuries reported by users.
There have been some concerns about the requirement for a needle which will penetrate the thigh sufficiently to reach the muscle. Some doctors think that this is necessary for the adrenaline to work effectively.
(See Michelle's blog on this.)
Whilst the JEXT and the EpiPen have 16mm
needles, the Emerade devices for older children and adults have 25mm needles. The Emerade also offers a full 0.5mg dose for adolescents and adults over 30kg.

How easy are they to use?

All three injectors are quick and simple to use with a few slight differences in how they work. You can find detailed instructions and videos showing you exactly how to administer each injector on the manufacturers' websites (links below). The JEXT and EpiPen devices have safety caps at the top of the device, whilst the Emerade safety cap is actually over the needle – rather more like a lid which needs to be removed before use. Having now tried out all the device trainers, this key difference intuitively seems to make a lot of sense.
I would urge you all to make sure that you, your friends and your family know how to use your adrenaline injector. Request a free training device and then practise, practise, practise! Make your friends and family practise on you too. I am proof that in a stressful situation, when you are having a reaction, you don't always do the right things in the right order. (See my near fatal experience here.)

Now finally, check your pen's expiry date and if you have a Jext pen, check the batch code against this web site announcement.
Remember that all these devices are for emergency first aid only. If you need to use one, you must also get emergency medical care. Dial 999, ask for 'ambulance' and say 'anaphylaxis'.
So… go to the websites below and see what you think.
You may not get much choice which pen you're prescribed. The decision may be made by your local NHS Health Partnership, probably based on cost and shelf life, but what if we could have a choice? Which one would you prefer? And let's hope you never have to use it!

www.emerade.com
www.jext.co.uk
www.epipen.co.uk
More thoughts on auto-injectors.... Just do it! Don't panic. Use your auto-injector and phone 999...
Since comparing Emerade, Epipen and Jext in the last newsletter I wondered how you all felt about yours. Do you feel comfortable using it? Are you scared of using it?

You should never be frightened about using your injector. It could save a life. I know it seems scary, especially if you've never used one before but it's not. I'm often asked by parents, "Does it hurt my child." The answer is NO. If your child is having an anaphylactic attack they just need you to act swiftly and not panic. Adrenalin injectors won't do any harm so even if it's a false alarm, just use it. Don't wait to find out.

I stupidly spent years terrified of using mine. I had two, yes TWO anaphylactic attacks as an adult without using my EpiPen, despite having them in my possession on both occasions. Maybe you haven't used one yet because you haven't needed to. But why didn't I use mine? An intelligent woman who writes about living with allergies – surely I'd know what to do?

The problem was I was alone, scared, in pain and in a panic and all these things were racing through my head:
I didn't want to make a fuss.
I might get better without using it.
I didn't want to go to hospital.
It might hurt.
I might do it wrong.
How long is that hidden needle?
But mostly – I couldn't speak so I couldn't 999...
My throat and tongue swell up so badly when I have anaphylaxis and the asthma makes it almost impossible to speak. At what point during these extreme allergic reactions did my brain compute that it was best not use my injector and get help?

All these reasons for doing nothing are pretty stupid but if you have felt any of the above, trust me, you should push all your fears aside and just use the injector.

Don't do what I did, even if you can't talk. If you or your child shows any symptoms of anaphylaxis use your injector calmly and phone 999 fast! They will know exactly what's going on and that you need help quickly and they can track your location from your phone number if you can't speak properly.

Please make sure you've got a trainer pen, show people how to use it and practise often, the more you do this the less you will panic – I hope you never do have to but be prepared. The new trainer pens are so realistic you will even get the sensation of what it feels like as they have a plastic needle inside. Finally, if you don't already have an Anaphylaxis Action Plan – write one today to assist both you and others in the correct emergency procedure.
For more details on surviving and attack an d on how to write an Action Plan see Ruth's article here.
2014
If you found this article interesting, you will find many more articles on anaphylaxis here, and reports of research into anaphylaxis here.
You can also find articles on peanut and tree-nut allergy here, cow's milk allergies here, egg allergy here, histamine intolerance hereand articles on a wide range of other allergic and intolerance reactions to a wide range of other foods here.