Ruth's Allergy Diary

Ruth Holroyd has allergies – lots of them! She is anaphylactic to nuts, dairy and celery; severely intolerant to soya, tomatoes, a number of herbs, and intolerant to wheat; she suffers from asthma and eczema, both triggered by her allergens and is also allergic to nickel and dust – the latter causing more asthma problems than the food. She was born with a nut allergy, has collected the others throughout life and is still developing new ones!

Ruth works as a freelance marketing communications specialist and is professional copywriter. She also blogs very actively on her own blog What Allergy?, is involved in several of the allergy charities and runs a local support group. She is a keen walker and is happily married to a full strength wheat, gluten, dairy, soya, tomato and herb eater! By strange coincidence he has anaphylaxis to snails and a mild dust allergy.

This is her allergy diary - but for more of her thoughts on allergy and all of its associated problems, check in to her blog What Allergy? – 'one of the 5 top UK allergy blogs'!




31st March 2018 – When do you drop the 'A' bomb?...

3rd February 2018 – Not all beer contains wheat…so why do most pubs think it does?

2nd September 2017 – Unfit for FitBit – nickel allergy and FitBit trackers

23rd July 2017 – Surviving concerts with allergies… not easy at all

27th May 2017 – Living out of a suitcase with multiple life threatening allergies

2nd April 2017 – My FreeFrom Food Awards 2017 winners #FFFA17

29th October 2016 – Going gluten-free is Sicily is easy

3rd February 2017 – Learning to cook FreeFrom all'Italiana is a big hit!

29th October 2016 – Going gluten-free is Sicily is easy

15th September 2016 – 'Going processed food free' and avoiding those slip-ups.

31st July 2016 – Will you take the 'Go Processed Food Free challenge'?

17th June 2016 – It's all about me - eating out with allergies

13th April 2016 – Pizza Express new #GF dough balls and butter, butter and more butter!

18th March 2016 – Surely you can't have hay fever ALL YEAR ROUND!

17th February 2016 – Why I lie about my allergies

23rd January 2016 – Changing tastes

19th December 2015 - Cosmetics and personal care manufacturers have no idea how frightening allergies are and should stop bashing 'freefrom'.

24th October 2015 - Being the only allergic girl in the office

28th August 2015 - Please don't tell me to stop scratching

31st July 2015 - Holidays? No holiday from allergies

4th July 2015 - How Protopic changed my life - a year on.

6th June 2015 - BBQ booby trap! Ruth thought she had been so careful - but not careful enough....

9th May 2015 – A harsh lesson for allergics - the world does not revolve around you!


March 2015 – Salt baths, oils and bathing less for eczema skin

February 2015 – 'I always wondered if it was my fault....' says Ruth's mum

January 2015 – Marrying the allergic girl – What Mr What Allergy? feels about it!!

December 2014 – "Why don't you allergic people just stay at home? You are ruining it for the rest of us."

November 2014 – Breaking out!

October 2014 – How Protopic changed my life

September 2014 – Is there an eczema solution?

August 2014 – The state of the nation's understanding of Anaphylaxis

July 2014 – What is the future for people with allergies?

June 2014 – Tales from the front line – eating out in a foreign country

May 2014 – The psychological effects of living with facial eczema and allergies

April 2014 – How important is the 'allergic load' and how do you stop the allergic march?

March 2014 – Getting an allergy diagnosis – know your body

March 2014 – Allergy services - Getting the support you need

February 2014 – Cheese... Dear Dairy....

February 2014 – More thoughts on auto-injectors.... Just do it! Don't panic. Use your auto-injector and phone 999...

January 2014 – Adrenaline Auto-injectors explained - Which one do you use?

January 2014 – Be thankful – having allergies can be a gift

31st March 2018

When do you drop the A bomb?...

Recently I have started to brave the murky waters of internet dating. I won't go into details, except to say that I am still happily single and have discovered one very useful tip for weeding out the anyone but the most interested, desperate or fool hardy would be daters.

All I have to do is just list all my allergies and I never hear from them again. You'd think I'd just told them I was an ex-convict; it really does send people running for the hills. I'm not an ex-convict, just in case you were wondering…
And it got me thinking.

If and when I do meet someone, at what point in the relationship do I drop the 'A bomb'?
The Anaphylaxis conversation…
"By the way, I have anaphylaxis to nuts and dairy and am allergic to about 20 odd other things. Are you up for the challenge?"
"Ana-what?"

When how do you bring it up?  And do you go the whole hog? Demonstrate how to inject and everything?

Because if I met someone who had eaten peanuts in the last few hours it could give me an allergic reaction. It's happened to me in the past, a kiss that gives you far more than you bargained for! Lips that would make any model jealous of your fish-pout.

I have been brave and mentioned my allergies to the few men interested in my dating profile who were not 90 or 65 year old truckers from Barnsley. So far I have come across either a deathly silence or complete ignorance; one person asking if I had one of those needles you inject in your heart! I mean… really? Where is that block button?

Another found it hysterical, announcing, "You'd never know if I slipped nuts in your meal!"

WOW! I think that last comment was meant in jest but I did not find it even remotely funny at the time, having just tried to explain about what happened on a trip to America last year when I had the worst allergic reaction of my life.

The 'A' bomb did prove to be a very good way of despatching unwanted attention. However, deleting and leaving the dating sites worked much better! I never imagined having life threatening allergies would come in so handy.

It may just be an indication of the intelligence, quality, or lack thereof, of the men on dating sites. If I ever braved those sites again I would change my profile heading to "Allergic to nut-ters…"
Is there a dating site for people with allergies?

I would love to hear what others think and particularly from anyone who has had similar experiences. I'm giving dating sites a very wide berth, they are definitely not for me. But I'm sure there is a guy out there who is man enough to take on the most allergic woman on the planet and 'every chef's nightmare' as I have been affectionately referred to.

It will obviously help if he's also a bit of a nut-ter and can handle a carefully timed A-Bomb!

3rd February 2018

Not all beer contains wheat…so why do most pubs think it does?

I'm rather fed up of being told by publicans and bar staff alike that 'all our beer contains wheat' when I ask.  

Because whilst I'm no beer expert, I am very well aware that actually, all your beer probably contains barley, but only some of your beer will contain wheat.

The food allergen regulations have made eating out so much easier and this should be the same for drinking. Alcohol can also contain allergens and as such all bottled wine and beer is now labelled with allergens in bold. So why doesn't this apply to beer from the tap?

Being real ale lover, I enjoy sampling different beer. I don't always want to pay for an over priced bottle just to ensure I won't be drinking wheat by mistake, but this is often what I have to do.

It wouldn't be difficult to solve this problem. Both the manufacturers and the pubs themselves could put in place some very simple measures to help their staff understand the allergens in the lager and beer they serve.

Some beers have the ingredients on the back of the plastic label that is displayed on the tap, however not all of them do. Why not? A no brainer and if they displayed allergens in bold, problem solved!
Some beers contain the ingredients on the cask… but very few of them do.
Some pubs have a handy printed sheet for staff with the ingredients of all their cask and tap beers but I've only found a handful of pubs offering this incredible security of mind.

So what are the bar staff supposed to do? It's not easy for them to find out if none of the above are available to them.  And if even most CAMRA real ale beer aficionados assume 'all beer contains wheat' as I have been told at nearly every real ale festival I've been to, then how is anyone else supposed to know? There is a very real difference between wheat and barley, although for a coeliac it's more important to understand gluten as an ingredient, gluten free beer can still contain wheat. Confused?

Come on beer marketers! Just a couple of really simple measures could mean that not only do you comply with allergen regulations and help to educate your staff, but those of us wheat allergic beer lovers can enjoy a safe pint of beer, knowing that they can check for allergens.

I have written a blog about this and am building up a list of safe wheat free beers, but I can't always remember, or check if there is a poor wifi signal in a pub. It means I have a very limited list of beers I know I can try and the joy of sampling different real ales is pretty much off the cards for me unless I buy bottled beer.

So my challenge to pubs and bars is to label the allergens your beers.  Simple! I'll be checking… because I love beer. 

2nd September 2017

Unfit for Fitbit – nickel allergy and Fitbit trackers

I love my FitBit. Since being given my first FitBit Flex about two years ago I have increased my daily step count and general fitness quite dramatically and I've loved every minute of the journey. I enjoy the competition of 'Workweek Hustles' and 'Weekend Warrior' challenges; I would probably say I'm addicted to my FitBit and slightly obsessed with checking my progress.

You can imagine my horror to discover that my trusty little gadget was reaching the end of its natural life. My poor old FitBit Flex had lost the will to live. I soldiered on with it, charging it daily and resetting it with a pin but I'm going to have to put it down very soon.

Why so glum you may ask. Why can't you just buy another? Well this most basic of devices, with its simple plastic strap and no nickel is now discontinued and all the new trackers all appear to contain some nickel. I was very disappointed. Having got so attached to my FitBit for over two years, the prospect of not being able to have one was unsettling.

Even FitBit don't know....

Some Google research, long conversations on FitBit forums and chats with FitBit's staff just left me more confused. FitBit's staff had no idea which products and which parts of these products might contain stainless steel. "Only the engineers know this!" they told me and "Even we can't get to speak to them!" But many customers are still getting skin reactions, blisters and irritation. When you consider that 10-20% of the population have a nickel allergy you'd expect Fitbits to have this information available.

This has been a known issue with FitBit for some time and their designers have done lots to reduce the amount of nickel in their products. The FitBit Force caused nickel allergic reactions to thousands of customers back in 2014.  The FitBit Alta HR seemed to be the simplest tracker available from FitBit and so the best one to try.

FitBit were really helpful in one respect. To compensate for my failing FitBit Flex, (nickel free and now discontinued), they gave me 50% discount to spend on my next product and a guarantee that I could return it if the product caused a reaction. So I am now the proud owner of a FitBit Alta HR. Finger's crossed it will work out.

What you can do to minimise reactions

I am worried about the potential for reactions but there are many things that other nickel allergic customers have done:

Put some thin tape on the back of the sensors to protect skin
Wear barrier cream
Coat the metal parts in plastic. This takes some delicate dismantling, coating and replacing but people have blogged the steps they took, so this might be a possibility.
Taking breaks from wearing your tracker ie. Remove your tracker whilst sleeping and whilst not moving or taking activity. Since FitBits give off a low level of Electro Magnetic Frequency (EMF) all the time, this could be an added health concern. Would this affect sleep at night? Would the very gadget helping me get so active during the day affect my sleep quality at night? Sleep is just as important as exercise to health… but that's another subject altogether.
Replacement straps may be more suitable but I need to do more research into this.

So I have options… and I have my FitBit. One day, hopefully, they will make a nickel free one but meanwhile, I've been wearing my FitBit Alta HR for a day so far with no reactions… fingers and FitBits crossed!

23rd July 2017

Surviving a concert with allergies – not easy at all

I'm not a huge concert goer, which might explain why I was ill prepared for this recent live music event. I went to British Summer Time (BST) at Hyde Park to see the Killers with Tears for Fears supporting. It was an awesome night out but since I was invited last minute as a spare ticket was available I just leapt at the chance. Who wouldn't?

Sounds great right? I can rock the healthy freefrom picnic, and with years of practise, most people envy my amazing freefrom supplies.  Well it was all looking fantastic until right at the last minute, just the day before, my friend told me I wouldn't be able to take food in.

WHAT?

I had my picnic either bought or planned. Coinciding rather conveniently with The Allergy Show in London, I had decided exactly what I would buy that morning at the show to take with me. Suddenly all my plans were up in the air.

There was an app for BST but this only had very limited information. From the app I was able to find out that the event has vendors that cater for each of these requirements: Vegetarian, Vegan,  Pescetarian, Halal, Gluten-free, Non-dairy, Nut-free, Sugar-free, Low calorie, Low sodium. Yes but which ones? And which allergens do the cater for? Does anyone cater for ALL my many allergens?

"Customers can ask at any Customer Service Information Hub for details on specific vendors and their location."

What could possible go wrong?

So I took my picnic to the pub beforehand and duly wolfed down a very odd picnic, having not brought everything as planned, knowing it would likely be taken away. I wasn't risking good allergen free food going to waste.  I pretty much munched my way through the morning, polishing off my packed lunch of Leggera focaccia, humous and Bfree pittas, some fruit, biscuits etc. I did manage to smuggle in some oat cakes in my makeup bag but I didn't quite stretch to 'hiding food in my pants' as quite a few people suggested. I wish I had!

Despite this grazing I began to feel peckish during the afternoon. After a few more hours I was starving. Couple that with quite a bit of booze and I knew I needed to eat. This proved impossible. I queued at two places which looked like they might be able to cater but staff had no idea. So I moved on.

I never found the Customer Service Information Hub that was mentioned. The place was heaving and I kept getting lost.

There were long queues everywhere and eventually I bought some chips and hog roast. A big mistake, as they also had no idea what the food contained but it looked OK and after nearly 1.5 hours hunting for sustenance I was about to eat my own arm.  Within half an hour I was back in the tortuous queue for the loos for an unpleasant experience, praying I would get there in time. I did, thankfully but it was just not a good way to spend a few hours at a concert.

So I learnt some very important lessons. I should have known before but here goes:

Never assume anything. ie. Assuming I could take my picnic lunch
Plan ahead and contact the organisers well in advance. Not possible in my case but ignorance is no defence!
After the event I was able to get a list of vendors and with a complex chart showing every allergen listed above, but I still need to go back to the customer service team to check what 'Yes' means, does it mean yes safe, or yes it contains? So confusing…
Don't assume staff working at various food stalls have knowledge of allergens. The people I spoke to didn't have a clue.
Don't risk eating something if you're not sure. I got away with it but I still felt unwell for an hour or so.

I survived and after the dust had settled I was able to find someone to correspond with on email who advised that me I would, had I contacted them a month in advance (the earlier the better) been able to find out:
a). Which food vendors could cater for me and
b) Had I found the Customer Information Hub they would have had a list of vendors and the food allergen chart. I don't think anything was actually suitable for me though, having now seen it, after the event.
b). If none were able to cater for me I would have been given special dispensation to bring in my own food.

"For customers with a certain dietary requirement, several of the food vendors will offer suitable meals, but these may not be suitable for visitors with allergies. For those with specific requirements due to allergies we can offer exemptions in bringing food into the event. Please note that we must be contacted in good time before the event to make these arrangements - preferably a couple of weeks prior. The process of having an exemption request approved, and for an exemption letter to be provided, can take a few days. "

So lesson learned, and we all know this one, plan ahead. You can never plan too far ahead. Check what the situation is and don't ever assume you can take your own food.  But if you plan ahead you can indeed win the 'Picnic Queen' prize yet again.  I plan to write a bit more about this on my What allergy? blog soon so stay tuned.

27th May 2017

Living out of a suitcase with multiple life threatening allergies

Let me say this straight away, it has not been easy. (But not imopssible as you can see from the look in her eye when offered a genuinely freefrom burger!!)

A hectic personal and work life has thrown so many challenges my way from away days, work meals out, team lunches, conferences, weddings, holidays… it's been fantastic.

But I've found that I can only deal with things in small chunks. I can plan for one thing but not the next and the next so they easily catch up on me and so I fail to implement the military organisation I normally manage.

While I've been slowly losing the plot and failing to plan, those around me have just kept on getting better. I'm talking here about my colleagues, friends and catering at both large and small venues. Thank you to everyone who is helping me stay safe – you are all priceless and I really do appreciate it. I hope I've remembered to say thank you.

Things are looking up

I've realised when starting to write this diary that things have improved so much. I often arrive home to unpack finding that the stashed safe foods and emergency rations remain untouched. I just haven't needed them.

There is so much more understanding in the restaurant and hotel industry and also so many people admitting they have allergies, intolerances of coeliac disease which means I'm no longer the only one with the special meal.

My unique challenges (four major food groups causing severe reactions) often mean that I get something even better than what everyone else has because my meal is often clean, healthy and missing the creamy sauces and unhealthy trimmings. I see the other diners looking on in envy and, for once, enjoy that smug feeling. Yes I'm special but I'm loving the fact that I can get lovely food just like all you normal people.

There have been rather a lot of fruit salads but hey, I love fruit. I'm never going to complain about the lack of diversity in freefrom puddings. It really doesn't bother me. I am just always so grateful to be taken seriously and given safe food.

I need to make more effort at home…

The only negative here is that because I'm living out of a suitcase and packing and unpacking every other day, my planning at home is dire. I now eat crisps, humous and oat cakes – sound familiar? My usual handbag picnic.

I have only had one slip up over the last few months and that was very minor. I am lucky to have a dose related dairy allergy and I start feeling a reaction after the first taste. My coffee contained milk by mistake and I hadn't noticed because I just assumed it was that lovely creamy finish you get with really fresh coffee. A lesson learnt – and I am now more vigilant when it comes to drinking out too.

So to sum up my travels around the UK, I think things have improved massively. It now feels like the norm and getting a safe meal is easy.  Not always stunning but I never fail to get something safe. Take aways and pubs do still have a way to go. It is rare that a pub can easily tell me which beer contains wheat – opting for the rather lazy and most probably inaccurate 'all beer contains wheat' to which I reply, can I have a pint of cider please. Frustrating, but by continuing to ask and when it's not too busy, encouraging them to actually check, we will all learn.

Keep on spreading awareness and keep smiling fellow travellers.

2nd April 2017

My FreeFrom Food Awards 2017 winners #FFFA17

Everyone's a winner… but for me, it was all about the clean freefrom; so many products entering are freefrom the top 14, making them accessible to so many of the allergic community. Oh and those amazing pasties. Read on to find out how to get your hands on those…


The FreeFrom Food Awards (and Eating Out and SkinCare) have become a firm and favourite part of my life now for four years and it is so exciting to see them growing year on year.

2017 marked the 10th anniversary and my first highlight – the memorial handbook – a lovely momento to remember the occasion, with entries on every winner and features on all the judges and organisers. I am dead chuffed to have a whole page all to myself.  Something I shall keep, cherish and refer to.

You can see all the winners on the Awards website but sometimes my winners are not those who get chosen for a Gold medal. Everyone's a winner for caring, entering and creating such amazing products. Thank you all. These awards are a superb way for all of us to say 'thank you' and for those companies who tick all the boxes to get the praise and reward they deserve.

Here are my favourites from 2017

So who is coming for pasty with me? Let's have a freefrom day out in London, starting with a wholesome pasty breakfast at Marylebone station. Who's in? Picnic in a park? Come on. You know you want to. Message me or visit my blog if you're interested and we'll fix a date!

(Ruth and Catherine Rose of Sweetcheeks planning their picnic in the park...)

3rd February 2017

Learning to cook FreeFrom all'Italiana is a big hit!

One thing I've really missed since not being able to eat dairy and wheat is Italian cooking.  I do cook with wheat free pasta often but I don't really do anything special with it and it's usually just the chosen carb with no sauce, just plain old pasta.

So you can imagine my excitement when I discovered that one of the most amazing and well respected Italian chefs had written a book especially for us humble freefromers.  FreeFrom all'Italiana, Primi by Anna Del Conte and Michelle Berriedale-Johnson is THE must have book for anyone who is allergic to dairy and/or wheat. It was my favourite birthday present this year and I have already started experimenting. 

I love cooking but I tend towards quick and simple and am not very adventurous. I have certainly never entertained anchovies before but my first experiment into Italian cooking was a fantastic success. Move over Nigella… I'm learning to cook!

Bean or buckwheat pasta with broccoli sauce

For my first culinary masterpiece I chose this simple recipe and cooked it for my Mum. It was so tasty and although I struggled a little with actually following the instructions, my fault entirely, I will be making this again and seeing how much more amazing it could be if I didn't go off the rails.The instructions were to add six tablespoons of oil. I refused to use this much, I just felt it was going to swimming in oil... However, you must trust Anna please everyone. It needed all that oil and my sauce was lacking without it.

Having also never cooked with anchovies before I didn't add quite enough anchovy fillets and feared they would be too overpowering. They were not, they were amazing and went perfectly with the garlic and chilli.  One thing I learned the second time I cooked this was that if you use tinned anchovies you can use the oil from that and so will need to add less olive oil to the sauce.

I also think I should have cut my broccoli smaller, but the overall effect was superb. I have honestly never cooked anything so full of flavour before.
We had ours with salmon but it would go equally well with some chicken.  This recipe would make the perfect starter or a light lunch. It would also look amazing with different coloured broccoli.
The instructions were easy to follow, simple to make and the ingredients were not expensive. We used corn penne pasta instead of buckwheat.  It took about 15-20 mins at most to rustle this up.

Most of the ingredients are things you'll have in the store cupboard. We didn't include the cheese obviously but I may experiment with some Violife dairy free cheese next time. Because there will be a next time. This dish is going onto my list of favourites.

My next challenge will the Asparagus risotto. I have always wanted to know how to cook a proper risotto as I can never order this in a restaurant and my previous efforts just involve bunging in anything that's in the fridge, oh and the obligatory frozen peas. I may even venture as far as mussels… but I'm easing myself in gently. Pasta and risotto first, then I've got my eye on two of the soups; courgette and garlic. This is so exciting!

If you want to buy the book you can do so from good book shops or from Amazon here – £9.99 or £6.99 for an e-book. Or you can buy it direct from the FreeFrom all'Italiana site for a mere £7.99.

   

28th October 2016

Going gluten free in Sicily is easy      

I'm just back from an idyllic week's holiday in Sicily, a very brave move for me as those who know me will appreciate.  Being allergic to nuts, dairy, wheat and soya has always made me very wary of visiting Italy, a country where pastas comes with every meal. I also can't eat tomato which really does rather limit what you can eat.

We booked a little private villa with its own pool in Palazzola Acreide, south of Catania, and cooked most of our meals there.  Admittedly we didn't brave it and eat out, despite taking translation cards, because all our scouting investigations proved that the locals had no English language skills at all.

Just imagine miming that you would like to buy matches to light a BBQ and you get the picture. Much hilarious hand gestures and no matches! We didn't really want a BBQ anyway.

But I just didn't feel brave enough to risk it. I wish I'd been more organised really but our villa was pretty remote, so the last thing you wanted to do at the end of a day spent basking in the sun was get in the car for a 45 minute drive to the nearest town. 

We visited some food markets and bought lovely local fruit, including the most amazing pomegranates I've ever tasted. They also specialise in some incredible looking broccoli that was pink, purple and blue!

The local wine was pretty good so we did our bit the local economy and consumed quite a few bottles of that.  A week in Italy is also an excuse to enjoy a glass or two of Prosecco.

We bought fresh produce; lots of olives, fruit, eggs, cooked meats, and fresh meat and vegetables to cook at the villa and ate really simple meals.  I took quite a lot of food with me as usual and we ate really healthily and just enjoyed the rest and relaxation.

What most impressed me were the food shops. We went to a local 'despar' which was quite a small shop with maybe five aisles, but in that one tiny store you could buy gluten free pizzas, flour, cakes, biscuits, pasta, cereals and more. They had almond, soya and rice milk and also lots of freefrom dairy produce which was actually all lactose free; no good for me, but I was impressed with the amount of choice for those with food restrictions in such a small supermarket. I was just happy to get some rice milk. Do take translations of the foods you can't eat as we did spend quite a bit of time scouring ingredient labels – just as you would in the UK, but be prepared to check even more carefully.

We didn't venture to any out of town shops or larger towns or cities but I'm pretty sure their selection of freefrom produce would have been even better.

I was so impressed with the vast array of allergen free food on offer that I would definitely go back. I would also recommend Italy to anyone who is happy to go self-catering, and if you're coeliac you won't go hungry!

We did explore with a few amazing walks in rugged, rocky gorges and incredible canyons as well as a visit to nearby Noto for some delicious coffee and a Sicilian lemon drink which was so refreshing.

It gave me a lot more courage to return to somewhere a little less isolated in the future and venture out to a restaurant or two next time.

15th September 2016

Going processed food free - and avoiding those slip-ups

I've done the 'Go Processed food free challenge' so many times before but I don't keep it up. I slip into the easy ways and start using processed #freefrom foods again and my health starts to suffer.
I noticed that this time I have cut corners already and sneaked in a few naughties.  So here are a few tips on how to avoid failing at going #processedfoodfree

1).  Look in your cupboards. Do you have stuff that needs using up that wouldn't qualify as processed food free? One of my biggest problems is not wanting to waste food, so I then eat something, even though I know my skin/stomach will suffer.  Clear out or use up the stuff that you think is bad and bu y supplies in so you get off to a good start. This includes the freezer!

2). Your freezer is key to success - Your freezer can be your biggest help or your worst failure. Use up all those processed foods and start to stock up with your leftovers.

3).  Make too much food at each meal - Buy extra and freeze your leftovers so you get one or two safe 'ready meals' to use when you just don't feel like cooking. Make enough so you have tomorrow's lunch sorted too!

4).  Those pesky friends - My friends try really hard to include me and have recently been buying me freefrom biscuits or cake which is completely free from all my allergens and so won't give me an allergic reaction. I don't  have heart to say, 'Oh thanks for this, but I won't be eating it because it's processed food.' How rude does that sound? So I've thanked them, enjoyed the food and failed again!

So plan ahead, be organised and only try doing this challenge when you have the time, resources and mental attitude to succeed.  Tell your friends and family so they don't buy you the very food you are trying to avoid.  Go shopping and look for new and 'healthy' natural products you can use instead of the processed stuff. Remember - 5 natural ingredients!  Find your suppliers - I've found some amazing things at my local farm shop. Try a fruit and veggie box to encourage you to try new fresh organic produce and cook different things.  

But most of all enjoy! It shouldn't be a chore, though it does take extra planning and organising, cooking from scratch etc. It's worth it and you should see an improvement in your health.

31st July 2016

Will you take the 'Go Processed Food Free challenge'?

OK this is a challenge to everyone out there who maybe has eczema, psoriasis, nodular prurigo, allergies or irritable bowel syndrome or any other inflammatory condition. Have you ever considered going totally 'processed food free'?
It's not an easy challenge but I guarantee you will feel the benefits.
I have done this periodically throughout my life but because cutting out some major food groups already due to anaphylaxis can be tough, I slip back into old habits.  I don't get allergic reactions to processed food but something in them just doesn't really agree with me.
The benefits? My skin is less itchy, needs less emollients and I just generally feel so much healthier. I sleep better and have more energy.
Could you do go totally processed food free?
It isn't easy, so here are a few tips to get you started...

5 Tips for successfully going processed food free:

Plan your week: Buy little and often or buy things you can freeze for later use. Make meals which will leave you with leftovers for lunch and a handy 'ready meal' that can be frozen for days when you are too tired to cook.
Keep it simple: Don't start getting out recipe books and trying to cook adventurous dishes. By all means experiment and have fun, but make it easy on yourself by choosing simple, quick and healthy options so that you're more likely to keep up the good habits. e.g. In the summer simple salads, omelette or stir fry meals are quick and easy.
Stick to the 5 ingredient rule: There are things that I cheat to get through the processed food rule.  Products like simple corn and rice pasta or oat cakes which have very few ingredients are allowed on my processed food free diet.  A glass of wine can also slip through the 5 ingredient rule cheat but try to buy Organic wine if you can.
If your grandmother wouldn't recognise it...don't eat it! Basically anything in an ingredients list which is there as a filler, flavour enhancer, emulsifier etc. is out. Avoid things with xanthan gum, calcium propionate etc. If it contains things something really simple like chick peas, garlic, lemon juice etc. then it's OK.
Tackle one baddy each week: First on my hit list is sugar. It's highly processed and completely empty as far as calories go. Try honey or black strap molasses which both have added health benefits as well as adding that sweetness if you crave sweet foods.

So who's with me? Will you dare to #GoProcessedFoodFree
Please do share your experiences. Have fun and good luck!

17th June 2016

It's all about me... Eating out with allergies

No really, it is. It's always all about me. #itsallaboutme

It has to be, because when I'm eating out I have to put a lot of trust into the people who will be communicating, preparing and delivering my meal.

I've had a recent incident which I won't go into here, but I was served something in error which contained dairy, a food I am very allergic to, and which made me very ill.

It was a case of good old human error. Frozen yogurt does look very much like dairy free sorbet once it's out of the tub or storage container and onto my plate. If someone isn't taking responsibility for my order from start to finish and checking that what I've ordered is what I finally get the chances for mistakes to happen are many.
Here are the mistakes we made:

Firstly me, for ordering fruit and sorbet and NOT specifying AGAIN that it needed to be dairy free. Even though I had ordered this sorbet every night and knew all their sorbet was dairy free. If I had done this and my order had been marked with DAIRY FREE might this mistake have been avoided?
The guy who didn't know frozen yogurt was different from sorbet - he needed training - any food that is freefrom allergens should NEVER be substituted like that.
The staff serving me, who had been serving me all week, should take some responsibility for checking what's been plated up, especially for an allergic guest.
Finally, me for not checking AGAIN that what I had been served was in fact dairy free sorbet.

It is very easy to make mistakes but there is one way that could drastically reduce them from happening. Because it wasn't all about me... it was just a normal evening for them.

I need my own dedicated waiter or allergy advocate
When eating out with allergies works really well, and when I've found the most enjoyment and actually relaxed and enjoyed my meal there has been one thing in common.  There has been an allergy advocate overseeing my safety.  It's not just having great training and processes in place, although these are essential of course.

It's been those occasions when I've had a dedicated member of staff who totally understands allergies and whose job it is to look after me and make sure I'm OK.  Or when the chef personally speaks to me either before the day or when I arrive to run through what's safe. 

Someone needs to take ownership.
Of course, staff need regular training, role playing etc. Kitchen practises need to be organised so that cross contamination is limited, food storage and labelling must be clear and up-to-date etc. etc. I could go on... I know I regularly do :)

And I hate to sound like a broken record, but until things get better for me when eating out I will have to keep on checking and checking. I have to do this in order to stay safe.

So when someone asks you for the tenth time if this really is safe for them, just remember, they are probably doing that because the one time they don't check will be the time they get ill and could end up in A&E.




17th February 2016

Pizza Express new #GF dough balls and butter, butter and more butter!


Pizza Express  are a consistently reliable option for me because I know I can get a safe meal there, even if it is 'just a salad'.

They do gluten free pizza bases and use #GF flour to dust all their pizzas so there is no chance of cross contamination. They also do dairy free sorbets and some other gluten free desserts so it's well worth giving them a dry if you're wheat and dairy allergic.

Oh those dough balls!
I'd heard on the freefrom grapevine that Pizza Express had launched their new gluten free dough balls so I was over the moon to discover that they were also dairy free. What a treat to have some carbs to tuck into alongside my Nicoise salad. I can usually eat their salad dressing but on this occasion asked for it on the side. I don't know why, guess I just didn't feel like checking the ingredients.

It was a little disappointing that this request was ignored and the dressing was on the salad itself.  I took a risk and ate it anyway. Please always check though, I feel bad that I didn't practise what I preach.

More alarmingly the wheat and dairy free dough balls arrived with a bowl of butter, despite having discussed my dairy allergy. This hadn't contaminated the dough balls so we just swiftly moved it to the side.

Husband who can eat everything tried one. He liked it, not as much as the normal ones, but he wolfed it down and had to steal himself not to nick more.  He said they were better with butter so good news if you're not dairy allergic.

I really enjoyed having some safe bread with my salad. It made the pizza envy a little easier to bare. They were crunchy on the outside and soft in the middle and you got a generous portion too. I thoroughly enjoyed them so thank you Pizza Express for staying ahead in the allergen catering world.

But please don't pass the butter!
Now  I should have asked them to take the butter away so they knew I was allergic to it at the time but the restaurant was busy and it hadn't caused a problem.  But when the waiter came over and pushed the butter back towards me I reminded him that I was allergic to butter so couldn't eat it.

He smiled politely... and we suspected that there might be a language barrier because even when every morsel had been eaten he put the butter back between us both and walked off smiling! His parting comment, 'You finish it!'

We laughed at the time but seriously? I will be reporting this to Pizza Express so they can do some extra training! Despite these minor issues they made an allergic girl very happy. Thank you for the #GFamazedoughballs they are fab.

I have dreams of one day being able to order a tomato and cheese free pizza on the gluten free base but for now that's a step too far. Watch out Pizza Express - I may have a challenge for one day soon...

17th February 2016

Why I lie about my allergies...


This month my diary post has been inspired by fellow blogging coeliac diarist Sue Cane. In a recent diary, 'Caterers are learning... slowly...', she shares recent findings about what chefs really think gluten is. Do they know? Some do but many are very confused, just like the rest of the population. Sue is now on a mission to educate! Go Sue!

But it doesn't stop with gluten.

I am often told 'Oh yes it's gluten free. You can eat that.' when I haven't even mentioned wheat or gluten.  My wheat allergy is not (yet) life threatening and although it has been properly diagnosed with blood tests  it 'only' results in chronic pain and not anaphylaxis.

So there at two problems here. The first being that people just don't listen and the second that they just don't know.

This doesn't fill you with hope that your meal will be anywhere near safe when this happens. You learn pretty early on never to trust a smiling, nodding waiter who assures you a meal will be fine.  I need confirmation, information and the opportunity to go into detail to be sure a meal will be safe.

But hang on, you're thinking. This entry is called 'why I lie about my allergies'... Why on earth is she telling us to lie about our allergies? That's just dangerous.

Yes of course it is. Never, ever lie about allergies which cause anaphylaxis and in an ideal world you should always explain them all, and how severe each one is.

For instance, I have a delayed reaction to celery, tomato and IBS symptoms to wheat which aren't  life threatening. e.g. I can pick a tomato off my plate without any harm being done. I can't do this with nuts. So you get what I mean.

Not another allergen...

So, I confess that I don't always tell people about all my allergies.  I keep quiet about soya, wheat, celery and tomato.  I do get a pretty severe reaction to soya but I only need to mention this where a milk substitute, chocolate or such like is potentially being used. So I hold fire if I don't need to tell them. Maybe this is foolish... but unlikely to find soya in a plain steak. You get my drift?

But I always, ALWAYS tell them about the nut and dairy allergy because these allergens give me anaphylaxis. I usually mention the wheat allergy too because this one is getting more and more unpleasant and painful.

What I do is immediately filter out most of the menu and hone in on one or two very safe options. It means I eat a lot of steak or plain meat with no sauce but it does limit the amount of questioning required. I gauge the situation and I never eat anything unless I know exactly what's in it.
I'm figuring if you've managed to get celery into a simple plain steak you're geniuses! or crazy.

I don't want to appear greedy in the game of allergy top trumps.
But it's just so complicated. As Sue discovered, gluten is a very complex and misunderstood area. Multiple allergies takes the confusion to new levels. Oh, if only I could just say I was 'gluten free'...

23rd January 2016

Changing tastes

My taste buds have changed enormously since I first realised I had to drastically limit my diet to even be able to function. It hit me hard, suddenly and almost overnight that my body couldn't cope with dairy and wheat. I guess the signs were there, the eczema and asthma were getting worse and worse with limited success treating them with medication.

When I finally got the dairy allergy diagnosed I faced the larder and wept. There was nothing in it that I could still eat except a jar of marmalade and some rice cakes.

No more ready meals, pot noodles and TV dinners for me. I had to learn how to cook, shop and see food in a totally different way. It was NOT easy. I was a girl who loved school dinners and airline meals. No accounting for taste!

What I've realise now is that my taste buds have completely morphed from when I was younger.

Does this happen anyway? To an extent I think it does. Remember that first olive you pinched? or your first glass of wine. Urgh!  Tasted horrible didn't it? As we grow older our taste buds do mature but for me it's far more complex.

Since learning to cook most of my food from scratch and relying on a few very clean freefrom products I am now acutely aware of the different taste sensations; sweet, sour and savoury.

I don't enjoy very sweet things and find the taste of a lot of freefrom food rather unpleasant.  I don't buy white sugar anymore and prefer to use natural sugars like honey and black strap molasses. 

Many freefrom foods taste artificial to me, or the baking powder flavour is too strong or they are overly sweet or salty.  I know why they do this, these ingredients both help the gluten free grains to perform during the baking process and they mask the unpleasant flavours of some of the other less appealing ingredients. But I just don't like the taste of quite a lot of processed foods.

I would rather make my own cookies, cakes and sauces and not just so I know what's in it but because I prefer to have control over the seasoning. Instead of craving sweet milk chocolate I now love a square of very dark 80%+ cocoa chocolate. I prefer raw veggies to overly cooked and rarely salt when cooking. I use natural salts like Nori. I really enjoy using ingredients like ginger, chilli, turmeric and cardamom, to name just a few, in my cooking and love experimenting with different grains like coconut flour, quinoa, amaranth and chia.

Sometimes I yearn for those easy days of grabbing something quick but I always regret it when I do. Is my body protecting me? Is it giving me these signals of unappealing taste to prevent me from eating bad food? Am I just super sensitive to flavours? Does this happen because I've cut these foods out and gone cold turkey. Has my body detoxed from the artificial ingredients? Whatever is happening I'm not looking back. The body is a temple - apart from my soft spot for champagne, wine, real ale, vodka, tequila... a girl has to have some vices!

24th October 2015

Being the only allergic girl in the office

It can be lonely being the only allergic girl in the office.  Imagine this said in the Welsh accent of the only gay in the village, Daffyd Thomas from Little Britain.  This will make more sense later on because you'll find I am far more like Daffyd than I ever imagined, just not the dress sense I hope.
It can be hard telling others you have a serious allergy because you just want to be normal and blend in.  But you never know when you might need their help in an emergency so explain how serious it is, where you keep your injector and how to administer it and most people will be very understanding.

It can make you a bit of an outcast. You end up not eating the food ordered into the office, though sometimes some if it is OK. I just quietly get my own lunch ready and I don't mind because it's my life, it's how I cope and I'm getting quite good at it now. If I forget my lunch and have to eat a plate of plain crisps and fruit, this is fine too. I'm not going to starve from missing one balanced meal.

Even a cup of tea can be dangerous with a dairy allergy. There is always a risk of cross contamination from milk in the kitchen.  Communicating the severity of your allergy can be daunting and the risk of tea spoons contaminated with milk is always there.  These things are done so often that a drink can be stirred even without thinking. The most well intentioned colleague could make a mistake - we've even made this mistake at home.

Team meals out are never simple. The dread of getting invited to a team dinner at the Indian restaurant. You want to be part of the socialising but Indian restaurants are very risky with a nut allergy. I recently went along and joined my team and just had a drink. I chose not to eat because it's just not safe for me. I was proved right when my nut allergic colleague ate a mouthful of a chocolate pudding with hazelnut in it. He ended up being very sick but thankfully avoiding full blown anaphylaxis.

Cake, cake, everywhere and not a crumb to eat. Our office is not unusual in its love of cake to celebrate birthdays and meeting targets. There is always an excuse for cake, but I can't eat it with a dairy, wheat and nut allergy. I tell myself this is fine, that I'm just healthier and it keeps me slim but really I'm very jealous.

When I began to think about writing this diary I realised it wasn't just about me. It would seem that I am just as deluded as Daffyd in my feelings of being outcast and different. In my office alone 29% of my colleagues (25 in total) are allergic to something and a whopping 16% of those join me in the serious life threatening allergy camp; two of us to nuts, one to nuts, fish and hard fruits and one to latex. That's quite staggering because it would seem in our small work community prevalence of some kind of allergy is far higher than the norm.

So don't be scared to tell your boss and colleagues you have allergies. They could help save your life and you may just find that you are in fact NOT the only allergic person in the office!

28th August 2015

Please don't tell me to stop scratching

I know it looks horrible seeing someone scratching.  You're thinking it will never heal if we keep aggravating the skin and may even leave scars. This is may well be true but it's just not that simple. If it was we would all just stop scratching today and eczema would be a distant memory.

You can picture it now can't you.  You can hear it too - that dreadful tearing sound of fingernails scratching at dry sore skin. You're probably pretty grossed out now. You can see the dry skin cells drifting to the floor and by now you want to scream at that person, 'Stop scratching!'.
Please don't! Never, ever tell someone with eczema off for scratching.  It's not anything like an insect bite. It's under the skin, it's inside your body, it's so deep you can never quite get to it no matter how hard you scratch.

You might even be in the habit of grabbing our hand and holding it tight.

Unless you are going to offer some form of replacement like gentle scratching, stroking or applying some moisturiser for us, all you are doing is inflicting more torture!  

Sometimes I think it's one of the only things I'm REALLY any good at. No one tops me on the art of stealthy scratching.  I have rather perfected the art of relieving the itch using seams in clothing, combs or rings and even pretty effectively with my big toe nails! I know that damage is done to the skin when you scratch but ignoring it is impossible. So over the years I have worked out how to scratch pretty effectively without causing too much damage.

Keep nails short and filed smooth
Get a body brush. This can be really effective for scratching as the bristles are soft enough not to do too much damage but just enough to give you a really good scratch sensation.
Have a bath and use a loofah. Not the smoother edges but the ends where it's rougher.
Find someone you trust with nice clean nails and get them scratch your back for you ;o)
Ice it - hold an ice pack over the itchy area, it numbs and eases the itch.
Most importantly - sort the root cause of the itch!

Don't beat yourself up about scratching. I think it is worse to ignore it. It's a natural urge. Just accept that you're itchy, have a scratch, sort your skin out and think about what might be causing it. It's the cause of the itching that needs sorting because trying to stop scratching is just never going to work. The one thing that has helped me more than anything else to stop scratching was to sort out my allergies and going totally processed food free. Try it, cut out the booze and coffee too and just drink water for a while.  I must go now, all this writing about scratching is making me I'm feeling a bit itchy...

By coincidence, I had just finished writing this when I came across a link to a blog on The Truth About Eczema which entirely echoed what I had just written!! Wilding quotes loads of research into itching and scratching which I have not yet had a chance to read, but it looks fascinating.

31st July 2015

Holidays? No holiday from allergies

We're planning a holiday and I've been so stressed about where to go. Will it be dust free? Will it be pet free, will we be able to eat out anywhere or will I have to take all my food and cook every meal for a week? I get like this every year. I dread holidays.

I just want to have the perfect, relaxing week away but the whole process fills me with alarm. Can someone organise it for me ? please ? and I'll just go along and enjoy myself? I deserve a holiday.

Being freelance means that any holiday is also unpaid and work either needs to be done with late nights before or caught up afterwards.? I sometimes think it is not worth going away at all ? but what sort of holiday is it staying at home? We would end up doing DIY, which I hate, or else I would just end up working anyway and that's no holiday!

Google 'holidays with allergies' and you'll find a handful of hotels that advertise being 'allergy friendly' but they are, probably quite rightly, more expensive and not where I want them to be.? I already pay through the nose for adrenaline, antihistamines and inhalers, more expensive food, supplements for the steak at restaurants... does my holiday have to be high maintenance too? There are allergen friendly hotels which boast hardwood floors, pollen filters, allergen-free bedding etc. They assure me they can cater for a guest with 'an allergy'... but what would they be able to provide for the highly allergic girl avoiding not just one allergen but many?? And I really don't want to be that fussy guest who ends up paying the same but getting less in order to 'remain safe'.

We've gone camping before. This is great because it gives me total control and avoids the dust, but this time we both need a real break and I have put my foot down. No cooking Ilumi curries on the camp stove this year. Self catering seems to be the answer and now I've come to this conclusion I can't help wondering why I didn't just go down this route from the beginning.? It will involve military planning but with careful last minute preparations it's just part of the world of allergies ? and never so bad after a fun day out. And pre-cooking a few meals to reheat and stocking up on my favourite freefrom staples isn't so hard. I would recommend finding the local farm shop where you can get lovely local seasonal produce ? things like smoked duck that don't need cooking. ?And buy a really cheap toaster too to avoid crumb contamination. ?Sharing the task can also be fun ? but never quite as much fun as both sitting down and being waited on with no washing up!

But that said, there are places even I can go where even I can get safe and delicious meals cooked for me, not just occasionally but for several nights in a row!! Last year we went to the Lake District (some extra days tagged onto a judging assignment for the FreeFrom Eating Out Awards) where we were looked after by the wonderful Chris Bridge at Ravenstone Manor. Sadly, Ravenstone no longer does 'freefrom' but Chris has moved on to Summergrove Halls near Whitehaven ? so we are going back to the Lake District so that I can enjoy at least one of Chris' delicious meals.

But Chris was a bit of a find and remains a rarity even in the UK where I am able to explain my needs. Although I did venture abroad last year it was to an allergy conference where I was entirely surrounded by allergy experts and allergy doctors ? a very different matter from a hotel on the Costa del Sol where no one even understands what an anaphylactic allergy is, let alone how to cater for someone with four of them!!!

So for this year it is the Lake Distriact again. Anyhow who needs a holiday in the sun? Well actually, I do but I'm just not brave enough yet... When are the FreeFrom Holiday Awards being launched?

4th July 2015

How Protopic changed my life a year on

"Sorry were you talking to me?" I still haven't got used to the compliments.

Something really weird happened and I wasn?t prepared for it at all. Unexpectedly, in my early 40?s, I miraculously discovered that I actually have OK skin and a pretty good complexion.

Those of you who know me will understand how long I've struggled with facial eczema. I have had eczema all my life but in my twenties it began to spread over my face. Sometimes it was just dreadful, sometimes it wasn't too bad and sometimes I even felt like it was looking OK. Often on those occasions when I was feeling good about my skin I would be brought back down to earth with a kind comment like, "Oh you do struggle struggle with your eczema, it looks really sore." WHAT? I had thought I looked half way normal!

So to have people doing a double-take and saying, "WOW, Ruth you look great", is weird. EVERYONE is commenting on my appearance and telling me how incredible my skin looks. I am really not used to compliments and completely ill equipped at dealing with them. This has honestly NEVER happened to me before.

Why the amazing transformation? Back in June 2014, I visited my dermatologist with a full-on face flare of eczema.? I always love it when my skin is bad when I have a check-up because it makes me feel like I'm not making it up.

My dermatologist finally prescribed me Protopic, which I had been trying to get hold of for YEARS.? I had seen how much it helped my sister who had similar skin and eczema just like me. She now only uses it occasionally as a maintenance dose and has beautiful clear skin.

Nothing, no medicine or steroid cream or treatment has ever had such a dramatic and life changing effect on my life. Eczema is a cruel condition and facial eczema as a woman is particularly hard to deal with. You can?t hide it. It?s right there. In your face! All day, every day.

I will never forget those dark days but I will always be grateful for the chance to use this amazing immune suppressant. I would urge anyone with persistent facial eczema and red, sore flare-ups to speak to their doctor and ask for Protopic. It ?also works on other parts of the body affected by persistent eczema.? Don?t take no for an answer. Demand a referral to a specialist dermatologist. Get the treatment you deserve because no one should have to live with sore, painful, red eczema on their face, or anywhere. What many underestimate is the effect long-term eczema has on quality of life. Everything is easier to cope with now I don?t have to worry about how I look. There might be a few red thread veins and the odd wrinkle but I?m getting to know my skin now and I quite like it.

Now, a year on from starting to use Protopic it is still working fantastically. I now use it sparingly once a week or fortnight. I also need hardly any emollient or moisturiser on my face because the skin is so supple and healthy. I have the occasional really mild flare up but these are easy to manage and I'm about to start using it on the rest of my body.

Comment from Cathy:

I enjoy reading your magazine with so much information. I was reading this eczema diary as I have various clients who come to see me as they suffer from this condition. I see that Protopic is a non steroid cream which is a plus, but, still it has a number of possible side effects. The usual question is why is the immune system over expressed, with right help (kinesiology, homoxicology, environmental medicine) the person suffering of eczema can find out what is bringing on the response then they can re-balance with a non invasive cream (Protopic) the symptoms and hopefully bring the immune system back to balance.

In my experience these creams lead to long term side effects that often don't seem connected. If you suppress a symptom which is a gift that your body is giving you to help the organs of detoxification manage their job, the issue will pop up elsewhere. That is my experience.

6th June 2015

BBQ booby trap!

Summer is finally here and the weather is hotting up; households all over Britain will be dusting off their BBQs and getting the burgers on. There are lots of ways of making a BBQ safe for those with allergies but beware! Things can go horribly wrong!
All the best laid plans and careful conversations can go awry in seconds.

We'd got it all under control

The sun was out and we were at a tennis party. Great fun with alcohol consumed between each game, you get the picture. Thank goodness I was driving or the outcome could have been worse.

We supplied our own wheat and dairy free burgers
Brought pre-made safe sarnies in case of complete BBQ catastrophe and cross contamination
Jacket potato in foil in the aga
Salads checked and OK
Me and/or husband helping and overseeing the cooking of the special burgers.

What could possibly go wrong?

In a room of drunk people, with an empty growling stomach and the special food all plated up I tucked into the first burger. It was tasty and cooked through. The second burger wasn't quite right.

After a few minutes I could feel my lips tingling. My throat began to tighten and I felt very odd, scared and was struggling to breathe. Quick action saved the day. I swallowed lots of antihistamines, lots of water and took my inhaler a few times. I sat quietly in the corner and told my husband what I thought had happened. He sat with me and delivered cups of black tea with sugar which seems to help me recover from allergic reactions. I'm not sure why.

The reaction slowly began to calm down, my throat didn't get worse and after about 20 minutes I began to feel normal again, apart from stomach pains which I can cope with.

So what should you eat at a BBQ?


Nothing that's been cooked alongside other food
Try fish double wrap of foil with olive oil, salt, pepper, white wine and onion for a lovely succulent treat
Bring your own safe pre-prepared meal or cook separately inside

The lesson I'm taking away from this, apart from the fact that I'm still a stupid fool who doesn't take enough care, is that BBQs are not safe. EVER. I knew this really. I took the picnic sarnies and I should have assessed the situation and gone with this safe and available option. You have been warned! Safe barbequing, please people, and enjoy this summer while it lasts.

A harsh lesson for allergics - the world does not revolve around you!

Some of you are not going to like this and I don't wish to offend anyone but we all need to learn how to accept our diagnosis and move on. There are people far worse off with life limiting disabilities so really, allergies aren't that bad are they?

Ruth and the 'A' Word – a picture she took for

Allergy UK's Allergy Week theme - Living with allergies and anaphylaxis – Living in Fear

I've been reading a lot lately on the net about what people want. You know, that ideal world where all production lines go nut free, where all cafes offer a wide range of products freefrom all the major allergens. The problem is guys, we are a long way off ever achieving that. It's just simple economics; it costs too much to serve what is really a fairly small percentage of the population so it's just never going to happen.

Yes that sucks but we all need to get real. The world, most definitely does not revolve around you, me, and the allergic community.
Whilst I can understand all your frustrations I do think we need to be grateful to the few companies serving us well and stop demanding that everyone does.

Praise for the good guys
There are lots of amazing companies providing freefrom food and we all need to really get behind them. Creating a freefrom factory or production line and ensuring all staff adhere to incredibly strict safety protocols is only every going to be done by a few champion companies. They may not always be there if we don't support them.

Diagnosis and beyond
If you are diagnosed with one or more allergies or coeliac disease it really does take some adjusting. But after the inevitable mourning and grief for staple foods lost forever you will see there is so much you can still eat; if I hear one more person moaning that 'everything contains peanuts or may contain warnings' I am going to scream.

Instead of looking at all the processed foods you can't have, look at all the fresh, natural ingredients you CAN. Getting your head around this is the biggest battle. Get an allergen friendly cook book, experiment and try new things . Get to grips with a healthier new life minus the allergens because sadly food manufacturers are never going to start providing food freefrom multiple allergens en masse and coffee shops will probably never have five choices of freefrom cake and biscuit to go with your latte.

So please, let's get real. Why should anyone and everyone accommodate you? Especially when you demand that they should and moan and rant that life is just so unfair.
Those with JUST a nut allergy - count yourselves lucky you are not also allergic to dairy, soya, wheat and more. If you're a coeliac and only avoid gluten you have so much choice - I'd give my right arm to avoid just gluten.

Don't be defined by your allergy and don't be angry at the injustice of life because it is unfair, and no, the world isn't going to revolve around you any time soon...

To comment on Ruth's diary piece please click here.

Salt baths, oils and bathing less for eczema skin

If you have eczema or dry, sensitive skin you'll know only too well, that tightening feeling when you get out of the bath or shower. Skin can very quickly feel taut and if you're not careful you will end up scratching. It's crucial to moisturise quickly but this can then make you feel dirty and slimy if you need to use greasy emollients.

Trying to shower and bathe less frequently can make a huge difference. If you haven't been doing much, especially in the winter don't have a shower or bath every day, instead bathe every other day. Of course wash your face and other bits you feel need a little more attention but you don't need to wash so frequently, especially if you have dry skin. Soaps and shower gels strip your skin of what natural oils it may have managed to replenish and the cycle begins again. I am trying rhassoul clay to wash my hair and my skin at the moment and also experimenting with natural sponges which are such a treat for sensitive skin. I also have some hemp soap which is natural and kind to skin.

Lock that salty goodness in

I find the very best thing for my eczema skin is a regular salt bath. There are loads of salt products out there so make sure you get a pure mineral epsom salt product and not something with fragrance or perfume in it. Any good health food shop should stock this. Don't be tempted to use table salt as this could make you skin worse, it must be natural mineral salt especially for bathing.

Why is so good for eczema skin? Well it is supposed to help relax you and remove toxins from your skin. It is also a natural anti-inflammatory and will give your body a dose of magnesium - studies have proved that a regular epsom salt bath helps raise magnesium levels.

When is the best time to bathe?

I find it helps most if you have your bath immediately before you go to bed. Sleeping with eczema can be very difficult, it's the most itchy time for many, but a salt bath seems to calm me and my skin so that I always have a great night's sleep.

Simply run a warm bath (I actually find a really hot bath helps my skin but this can be detrimental to some people with eczema so experiment), throw in a few cup fulls of the salt and mix well. If you find it helps, exfoliate with a loofah as this will also help clear skin and smooth off dry patches. Be very careful this doesn't turn into a chance to have a good scratch as this defeats the whole object.

Bath and essential oils can also help if a salt bath on its own doesn't appeal. I recommend Organic Babies and Pure Potions bath oils but remember, natural doesn't necessarily mean it won't irritate your skin so it's always best to test first. I always add a few drops of tea tree oil to aid healing.

I have found that having a face cloth in a bowl of cold water by the side of the bath means I can cool down my face and also avoid getting the oils on my face as it can be very sensitive. Always have a window open too to help with ventilation. Overheating can make eczema skin itchy.

Stay in the bath for 15-20 minutes maximum. If you have time you can apply suitable oil to your skin while it's still wet to lock in moisture. If you can, try to let your skin dry naturally but always pat dry with a towel and try to avoid rubbing as this can aggravate the skin and make it itchy.

If you shower, keep the water warm, not too hot and keep the shower time to a minimum. I know a long hot shower can feel bliss but for eczema skin the timer is ticking until suddenly it's too late and you're so itchy you have to tear at your skin. Make sure you get out well before your skin reaches this point and your eczema will thank you for it.

And always, always apply lots of moisturiser immediately after your bath. I find Epaderm works great when my skin is very bad as I need so much of it to keep my skin under control. You could try pure coconut butter or shea butter if you want something a bit purer but always test - some people can react to these oils on their skin.

'I always wondered if it was my fault....' says Ruth's mum.

Last month we heard what it was like being married to someone with multiple allergies, but what was it like for a mother with an allergic child in the 70's?

It was a bit weird interviewing my Mum, not least because it was a long time ago and she couldn't really remember much. It wasn't a big thing then,
I was 'the only allergic in the village' and doctors really didn't know anything about eczema, delayed allergies or anaphylaxis.
So this is my Mum's story...

When she was about two or three, before going to school Ruth started to get eczema. Before that she was just a beautiful normal baby. Her skin was really bad and she used to scratch and scratch and wake us up at night crying. It all started when I began weaning. We did see dermatology specialists at Amersham Hospital who were helpful but the only thing then was the treat the eczema with ointments, steroids and oil baths etc. These did seem to help but the eczema never really went away. We were told, "your child just has eczema and she will probably grow out of it..." which to some extent she did, but it all came back in her 20's.

The nut allergy wasn't apparent until Ruth was much older, at school and I think about nine or ten years old. I never gave her any nuts when she was small because that was the advice at the time mainly due to the chance of choking. She would get strange random sickness bugs and vomiting but children can be like that so I didn't put two and two together for some time.

These things usually happened on birthdays, special occasions or at Christmas when nuts and chocolates were around. She never liked nuts and never wantrd to eat them. She refused nuts when I gave her some and since she was not a fussy child I just didn't give her them again. But the reactions, I worked out, were from accidentally eating nuts. I found a huge nut in a bar of plain chocolate she was eating one day which made her very ill. She also had another incident after eating some crisps from a bowl I had just refilled... the penny started to drop when I remembered afterwards that maybe there had been nuts in that bowl beforehand...

I think I knew it wasn't just the usual childhood sickness because she did used to go very peculiar but she always recovered fairly quickly and was back on her feet the next day.
She also developed hay fever and was very allergic to cats, dogs, rabbits and guinea pigs but we didn't have pets so this was fairly easy to manage.

I realised something was very wrong when she accidentally took her brother's peanut butter sandwiches to school; she ate some and was very ill and was sent home. I used to put stickers on, Blue for David, Yellow for Catherine and Red for Ruth and I had got the stickers the wrong ways round.

I then remembered an incident at her first school when she was forced to eat peanuts in a school dinner and that made her very sick. It sounds like we should have worked it out sooner but no one, least of all our doctor, had heard of peanut allergy.

Eventually she did get the peanut allergy diagnosed and was advised to avoid all nuts. Great advice, but this was in her early teens, when she was just starting to venture out on her own so I was glad she was a very sensible girl. I was confident she understood, and hated being ill so she would be fine, just avoiding nuts. There was no such thing as an EpiPen then.

When Ruth was about 18 she went out for a curry with friends. She checked with the staff and ordered a nut free meal but they had just picked the nuts off. She was really very ill and it was clear that this reaction to nuts was getting worse. She had her first real anaphylactic attack, whilst out with friends knowing nothing about what was happening. They took her to her boyfriend's flat where she passed out, but, thank goodness, she recovered.

But it was a lesson on not taking any more risks and we went back to see the doctor.
I will never forget the nurse showing us how to use the syringe to fill it with adrenaline. She just undid a few buttons on her uniform and injected into her huge stomach! I could see Ruth's eyes wide with shock and when I questioned this she said, 'oh no, you should inject the thigh'. We left feeling very unsure and not really feeling confident about whether we could actually use the syringe ourselves! Thank goodness for the new adrenaline pens.

It was around this time that we read the tragic story of David Reading's daughter who sadly passed away after eating nuts. This really shocked us both so she joined the Anaphylaxis Campaign and finally began to get some real advice about what her allergy was, why it happened and what she needed to do to stay safe.

As anaphylaxis became more widely understood, I wondered whether my cravings to peanuts when I was pregnant with Ruth could have caused her nut allergy. We also discovered that one of the bath oils she was prescribed, which irritated her skin immensely contained peanut oil!

I still worry a little, especially now she is jetting off on her own to conferences but I know that, with her blog and her years of experience, she knows what to do if a mistake does happen. In some ways I'm quite glad we went through her childhood in blissful ignorance but, had I known, maybe I could have done something more to cut out the dairy and so help her eczema or be more careful about nuts in the house. The thought that I could have prevented some of her suffering does make me feel a little guilty but we just didn't know what doctors know now.

I am immensely proud of Ruth and what she's achieved. My daughter is a top blogger and I didn't even really know what a blogger was when she started it. I tell everyone I meet, in supermarkets and cafes about whatallergy.com, it's amazing how many people you get chatting to who have a nut or wheat or dairy allergy. It does seem to be so much more common now and even some of my friends my age are suddenly developing problems with wheat and gluten.

Marrying the allergic girl

So far this allergy diary has been all about me and what I think, so I thought this week I'd find out what Mr What Allergy? - AKA my husband! - felt about being married to 'the allergic girl'. And not just any old allergic girl, but a girl who is allergic to most of his favourite things.

This is what he said...

Q1) When you met, did Ruth have allergies?
Have things got worse or better?
She was allergic to peanuts when we met but
I don't think either of us realised how serious that one was back then (ed: over 20 years ago, readers). Over the years she has had to cope with more and more allergies appearing. Some have gone from mild to serious so they keep changing in reaction and severity. I get anaphylaxis to snails and am also allergic to dust but that's nothing to the long list of foods and substances Ruth has to avoid. She just gets on with it. I forget sometimes what it must be like for her because she rarely complains.

Q2) What annoys you most?
No Curry - I really miss curries. We used to go out for curries together but she doesn't dare go to an Indian or ethnic restaurant now. I have to have a curry when I'm away on business or out with my mates.

I miss peanuts - I also LOVE peanuts, I crave them, but they're banned from the house because Ruth is so allergic to them. I also never eat them when I'm out because her lips have swollen up once after I kissed her hours after eating peanuts.

Meal times - Meal times can be complicated. I sometimes have the same as Ruth but because she avoids so many foods we often end up cooking two meals. I would never have the patience to do this but she does it so that I can still have tomatoes in my chilli or a cheese sauce etc. It's easy for me to grab a ready meal from the freezer; Ruth does this too but only from her pre-cooked and labelled tubs she cooks in batches.

Washing up - Because she prepares breakfast, lunch and evening meals, often the kitchen looks like a bomb site every day. We do have a dishwasher and Ruth does a lot of the washing up but it drives me mad. There are always pans and plates from some freefrom creation on the side.

Making mistakes - I make mistakes and I know she does sometimes too but if I try to

buy some biscuit or treat from the shops I often get the wrong thing so am inclined not to bother, which I know is not the right attitude.

Eating out - Eating out with friends and family can also be frustrating. The conversation ALWAYS gets on to Ruth's allergies, how awful it must be, and how does she copes. There is so much more to Ruth than her allergies.

Holidays - We would both also love to visit the sub continent but it's just too hard with Ruth's allergies. Our honeymoon in Sri Lanka was fraught with problems since they didn't understand. Most of the dishes were curry based and many had peanuts so she was too scared to try anything. We usually go camping or self catering still involves cooking or militarily planned meals out. Ravenstone Manor for the FreeFrom Eating out Awards was a high point - she could eat most things on the menu and I have never seen and spoken to a chef that I have trusted more than that guy.

Taking risks - She does take risks and doesn't always listen to me when I say not to try something e.g. salami that contained dairy. I also worry when she goes out without me - what if something goes wrong and she gets carted off to A&E with anaphylaxis. Getting that call to get to the hospital is awful.

Q3) What are the good things about marrying the allergic girl?
She loves cooking - I do get most of my meals cooked. I know I should help out more but I just don't know what to make. The meals I learnt to cook at university are not suitable for Ruth. So when I do cook I feel like I'm making her something a bit bland. I think I need to learn some new recipes that I'm comfortable cooking and that are also really easy and quick to do, otherwise I end up having blow by blow guidance from Ruth about what to do when, so she might as well have made the meal herself anyway. Luckily Ruth enjoys cooking!
I think I am also much healthier as a result - I would indulge in more take-aways and ready meals if Ruth wasn't always cooking meals from scratch.

Ruth is also incredibly easy going and when I look at the aggro some of my mates get from their wives I know I chose a good one. Despite all her allergies she is happy (most of the time) and fun to be with and she never lets it rule our lives. She doesn't let her allergies stop her doing anything - apart from eating at Indian restaurants and travelling to the Far East but you can't have everything.

Q4) What advice would you give to someone who is thinking of dating someone with multiple allergies?
Don't do it! No, I'm joking. I'd say that it just becomes normal life. You just get on with it. Like any disability, and I do think it is a very restricting condition, it's just part of life, learning to cope and find ways to make life easier.

Going on a freefrom cookery course or getting a good allergy cook book and learning how to prepare some basic dishes without the allergens would really help. Maybe I need to look into that...

To comment on the issues raised in Marrying the Allergic Girl, please click through to our Facebook page here.

Just two of many similar comments on the BBC Facebook page after the a short report on the new labelling law aired last Monday on BBC Breakfast in which I featured:
"Why don't you just stay at home? You are ruining it for the rest of us."
"Why are these laws necessary for just 1% of the population?
Why should every restaurant be free from every allergen under the sun?"

Would these people suggest all wheelchair users stay home because it's too difficult to provide easy access to restaurants? If not, why is it alright to suggest that allergy sufferers should just stay at home, because it is too difficult to ensure that they can eat safely? And why is it funny to call us the 'allergy woman' or the 'awkward one' or, adding insult to injury, to question whether we do really have an allergy at all?

This is not a lifestyle choice. We did not choose to be like this. We did nothing wrong and in fact, even doctors don't really know why this is happening to us. Allergies are serious business and need constant vigilance but they shouldn't mean we are treated like second class citizens.

I have had so many anaphylactic reactions to meals when I have attempted to eat out over the years that now I rarely even try. But why should I be cooped up in my house and never able to eat out with friends or family? I am fed up with staying at home so that as few people as possible have to be affected by my allergies. I am standing up for my rights to join in society, to eat out, to enjoy a meal cooked by someone other than myself. I want to try new foods and I want to be treated with respect.

So get over your prejudice, Breakfast viewers – and be grateful you don't have allergies too.

These new allergen laws will make eating out much safer for those with allergies – but only if people embrace them and understand what they mean.

And what do they mean?

"This law will mean pubs and restaurants close because they can't afford to comply. It will crush every chef's creative flair. "

Will it? What rubbish!

The law does not say that every restaurant must rid their kitchen of all 14 allergens. It says that they must know which allergens are either present or at risk of cross contamination in their food and be able to communicate this verbally. There is no obligation on them to provide allergen free food.

So restaurants could just tell everyone with allergies that they are not safe to eat there. That could well be the way many establishments go and I completely respect that. I would far rather be advised that eating somewhere is not safe than be given false assurances and become ill. Not every kitchen will be able to cater for those with allergies, but they DO absolutely need to understand their menu and dishes so that they can warn allergic diners.

Here's an analogy for you. If you were driving along and a child ran out in front of you, even if you were not speeding and hadn't been drinking, you would never get over an accident like that, especially if the child was seriously injured or killed. Nobody would laugh about such an incident, blame the child, or say either party should have just stayed at home. Should all children stay inside and never go out for fear they may get run over? No, of course not. Instead we bring in safety laws, improve car performance, visibility, road lighting and markings. We educate our children about staying safe on the roads. We do everything we can to prevent accidents and we drive as safely as possible.

So, imagine you cooked a meal which accidentally contained a trace of an allergen and someone with an allergy was rushed to A&E with anaphylaxis. Imagine if that person died? I don't think anyone wants that, least of all a chef, who just wants all guests to enjoy their food.

Nobody would intentionally put another at risk. What these new regulations are doing is to attempt to insure that nobody does.

If you want to see the BBC Breakfast piece click here.

Here to see some of the comments see the Facebook book page – but you will need to spool down to the 8th December. You will, incidentally, see many, many balanced and sympathetic posts there as well.

For the story behind the filming, see my blog here.

Breaking out....

This year really has seen me leaping out of my comfort zone and bursting that little bubble of security. Fed up with cooking every meal at home I have been eating out all over the place, in Copenhagen, Birmingham, London, Hemel Hempstead and even up North!
Now I am not saying it has all been plain sailing. It's been tough, it's been scary and I have made the odd mistake but it's been so worth it. I've had so much fun and I've eaten some amazing food!

I know it's not easy. I'm allergic to nuts, wheat, dairy and soya and also cannot eat tomato or celery. Not the best combination. I have been described as 'every chef's worst nightmare!'
I have even been turned away from places recently. I'm actually cool with this. I would rather know that it wasn't safe rather than put pressure a chef who wasn't able to cater for me.

If you haven't heard about the new FIR food regulations which will be law in December this year it's worth reading what it means to you and what you should expect. (You can start here on the FFEating Out Awards site.) Hopefully it will mean eating out for those of us with food allergies will be easier but we have a long way to go and it certainly doesn't mean that they have to provide you with a meal, just that they must understand the allergens in their kitchen and which meals they are present in.

There are so many amazing pubs, cafes, hotels, restaurants and chefs out there who have a very positive view towards the allergic diner. Visit The FreeFrom Eating Out Awards website – the winners will be announced at Food Matters Live on 18th November at the Excel in London's Docklands.

In my opinion every one of them deserve our praise - these are people who see it as an opportunity and far from stifling their creativity, they want everyone to enjoy tasty food, even the person with allergies or the diner who needs a gluten free meal. Why should we miss out?

But we do have to take a risk when we eat out. We must be responsible for our own safety so I have a few words of advice and caution - never eat out without your adrenaline auto-injector if you have one and understanding the following:


Knowing when it's not safe - sometimes this means walking out if you have alarm bells ringing, if you see that glazed look, if you don't trust a restaurant. If the menu is just too crammed with allergens it's not worth the risk.
Always phone in advance - discuss your needs and allergies with staff. Preferably the chef. If you can visit in person even better. Tell them what you CAN eat as well as what you can't.
Build a relationship and rapport - get to know the manager, front of house, waiting staff and chef. Make sure they understand which foods you're allergic to. Tell them what you love eating and help them understand which items on their menu will be safe.
Quiet times are best - don't expect a busy pub or restaurant to be thrilled if you turn up in the middle of the Friday or Saturday service. Phone up, ask when it's quiet and you will guarantee they have more time to make sure your meal arrives safe and allergen free.
Go prepared - Take your own bread, dairy free spread, milk, gravy etc. if a restaurant can't provide these. Most places will not mind you doing this as long as you ask first and tell them before producing your ready-made picnic at the table!
NEVER eat anything without reading the label - if you're not sure about something ask to see the packaging. Especially if it's processed food. If you are not 100% sure that the salami, salad dressing, gravy, sauce, dip etc. is safe - just don't eat it.
NEVER be tempted to eat from other people's plates - don't nick even a chip from your fellow diners plates. If you've gone to all the trouble of making sure your meal is safe, don't risk trying food which you have not checked. Just stick to your own safe meal. I have learnt this one to my cost recently after eating some salami which caused my mouth to blister.

This all sounds like obvious stuff, but it's very easy to make mistakes. I know, I've made them all, but please try it. Be brave and demand better because YOU deserve it!

And finally, to chefs, cafes, restaurants, pubs and caterers everywhere - are you brave enough? Can you feed us?

How Protopic changed my life

"Sorry were you talking to me?" This is how I have felt over the last few months.

Something really weird has happened and I wasn't prepared for it at all. I am still completely at sea as to how to react. Unexpectedly and in my early 40's I have miraculously discovered that I actually have great skin and an amazing complexion. Who'd have thought it?

Those of you who know me will understand how long I've struggled with facial eczema. Sometimes it was just dreadful, sometimes it wasn't too bad and sometimes I even felt like it was looking OK. Often on those occasions when I was feeling good about my skin someone would say, 'Oh you do struggle with your eczema, it looks really sore.' Or 'Your skin looks a bit dry, you should moisturise it.' WHAT? I had thought I looked half way normal! That put me in my place.

So to have people gazing at me open mouthed. To see their faces as they do a double-take and recognise me and say, 'WOW, Ruth you look great'.It's weird. EVERYONE is showering me with compliments and telling me how incredible my skin looks. Even strangers... no really. What's going on? I am really not used to compliments and completely ill equipped at dealing with them. This has honestly NEVER happened to me before. My husband now cuddles me and strokes my skin. This has also never happened, partly because it used to hurt me or tickle and make me itch. Another plus to Protopic!

Anyway I'll tell you what's been going on. Back in June, I visited my dermatologist with a full on face flare of eczema. I always love it when my skin is bad when I have a check-up because it makes me feel like I'm not making it up, not a fraud and justified in being there.

My doctor, and I love him for this, prescribed me Protopic, which I had been trying to get hold of for YEARS. I had seen how much it helped my sister who had similar rubbish skin and eczema just like me; Protopic worked so well for her; she now only uses it a few times a month as a maintenance dose and has beautiful clear skin.

Nothing, no medicine or steroid cream or treatment has ever had such a dramatic and life changing effect on my life. It really is a miracle. I can't quite believe that this is my skin. Someone is going to knock on the door any minute now, walk in and say, 'Hang on a minute, times up. Give back the nice skin. You can have your horrible dry, red itchy eczema face, that one isn't yours'.

Eczema is a cruel condition and facial eczema as a woman is particularly hard to deal with. You can't hide it. It's right there. In your face! Consequently there are not many mirrors in our house because I have grown to loathe them.

The little voice in my head whispers meanly that they're lying, that it's not true. That it can't last, that it will come back. For now I'm struggling to put a lid on the little voice but I'm working on it. I still feel like the girl with the eczema on her face. Maybe I always will feel like that. I won't forget those dark days I'm sure, but I will always be grateful for the chance to use this amazing new treatment.

So I would urge anyone with persistent facial eczema and red, sore flare-ups to speak to their doctor and ask for Protopic. I think it works on other parts of the body affected by persistent eczema as well. It's an expensive treatment which is why begging is necessary but it really does work.

Don't take no for an answer. Demand a referral to a specialist dermatologist. Get the treatment you deserve because no one should have to live with sore, painful, red eczema on their face. What many underestimate is the effect long-term eczema has on quality of life. Everything is easier to cope with now I don't have to worry about my skin. It's just there, on my face. There might be a few red thread veins and odd wrinkle but I'm getting to know my skin now and I quite like it.

Ed:
Protopic is a brand name for the immunosuppressive drug Tacrolimus, also known as Prograf and Advagraf. It was discovered in 1984 and is used mainly for transplant patients to reduce the activity of the patient's immune system and reduce the risk of rejection. Applied topically in eczema it suppresses the immune reaction in the skin (as do topically applied steroids) thereby preventing any inflammatory itching or swelling. However, tacrolimus does not cause the skin to thin (as do steroids) so can be used on a long term basis.

In medical speak:
Its mechanism of action is based on calcineurin inhibition, which results in decreased T-cell activation and inflammatory cytokine release.... Unlike topical corticosteroid agents, tacrolimus ointment does not cause a reduction in collagen synthesis or skin thickness. Because tacrolimus ointment does not cause skin atrophy, it may be safely used for months or years on all skin areas, including the face and intertriginous areas.

Is there an eczema solution?

Anyone with eczema has probably spent most of their life searching for it; that elusive solution to all your itching woes. I'm afraid I don't have amazing news: there really is no eczema cure, but there are lots of tiny changes you can make to your life that will make a big impact on how you manage your eczema.

My eczema has been pretty bad lately and sometimes it's useful to go back to basics and see what things you've stopped doing, what lessons you've forgotten, but our bodies are such complex machines that it's not always that easy. Things change too. Cycles repeat, maybe after years of good skin things can flare-up for no good reason. Suddenly you may begin to react to certain skincare products or foods.

Over the years I've learnt a huge amount about what triggers my skin reactions and gained a much better understanding of my body, how eczema manifests itself and the management techniques which help me stay in control.

What is hard is the overwhelming 'hatred' of my eczema. I hate mine. I loathe it. And I call it 'my eczema' as if it's special, as if I'm proud of it. But this is so disruptive and unhelpful as once you have eczema or atopic skin you will probably never be completely free from it. It's very hard to live with it when it's bad.

I came across an old book recently called 'The Eczema Solution' which got me thinking about this magical solution. I do believe there is an answer out there. Somewhere, sometime we will be free from eczema (in my dreams anyway). I flicked through the book again out of desperation since my skin has become so problematic and I've slipped back into the vicious itch scratch cycle. What could this book show me on the second reading? The first wonderful discovery, neatly stored inside the book, were all my notes and sketches from when I read it the first time around. Priceless!

The book explores firstly your habits. When do you scratch most? Are you more itchy at certain times of day? Do particular activities trigger itching and does it affect only certain parts of your body? Most importantly, how often do you scratch?

Then you count, actually count every scratch which is depressing as the numbers sky rocket. Then you get to the good bit, how to reverse the habit of a lifetime. One technique did stand out which does help me. I press a finger nail on the itch and hold still for 30 seconds. Dangerous, as one slip could go from safety to gouging and digging at the itch. Distraction techniques can also work well – can someone sit on my hands, please?

But no amount of habit reversal or understanding is any use if something unknown is causing your eczema and there can be a myriad of different things for each person. e.g. is your skin too dry, are you hot, stressed, is your clothing itching, are you allergic to dust, airborne allergens, food allergens? I could go on and on.

The importance of regular exercise, eating a balanced healthy diet, using emollients effectively, keeping hydrated, getting the right nutrients and minerals, avoiding stress and triggers etc. are all vital in managing eczema. Basically you have to be perfect, never eat anything bad, not drink alcohol or coffee, go to bed early, and be a saint forever. It's almost impossible to maintain so we slip back into stress, itching, scratching, using steroids and lack of sleep.

Until you've had eczema you will never understand the deep, urgent, painful, distracting and completely disruptive urge to scratch.

The one thing the book doesn't address is the affect food can have on eczema. It is well documented that there is a direct link with dairy and delayed eczema reactions. I know this is one of my triggers. So no amount of habit reversal and saintly behaviour is ever going to help if you're still eating that cheese you love so much.

The important thing is to learn how to stay in control or yours. What triggers your flare-ups? Don't feel bad if you give in to that incredible urge to scratch. It's OK to scratch, don't beat yourself up. Instead learn from scratching episodes, think about why it happened and what you might do differently next time.

Yours, still searching for my eczema solution ...

'The Eczema Solution' by Sue Armstrong-Brown, 2002

N.B. John Scott penned a lengthy response to Ruth's diary entry suggesting that the answer to her problems might like with helminthic therapy. You can read it here on out Skinsmatter site.

The state of the nation's understanding of Anaphylaxis

My allergy diary has taken me across Europe this year to the European Academy of Allergy and Clinical Immunology (EAACI) where I attended an The EAACI anaphylaxis programme, sponsored by Meda, who supply the EpiPen adrenaline auto injector (AAI).

This was one of the key presentations I had highlighted
to attend as I wanted to know what all the representatives
from across Europe and the rest of the world had to say. What were the main issues they faced? What mistakes had been made and how they planned to overcome them? What was the future for anaphylaxis?

We know it's an uphill battle educating friends, family, colleagues and the general public; awareness is growing but you would expect a fairly good understanding amongst doctors, paramedics, chemists and pharmacists and even teachers, wouldn't you? At least better than the rest of the community. Well think again. The level of understanding of anaphylaxis across Europe is very poor.

Various studies looked at chemists and pharmacists, teachers, paramedics and doctors to see what the current situation was and how we can improve and learn for the future.

Chemists and pharmacists need to be empowered to save lives after the death of teenager in Dublin who died on the pavement outside a pharmacy where the chemist refused to give her mother an AAI without a prescription. That chemist could have saved a life – we MUST learn from this. The child may have survived had she been carrying her own injector – we must ALL learn from this. Never, EVER leave home without yours.

Primary school teachers are not well informed about allergies and anaphylaxis – a recent survey of 237 Primary school teachers uncovered that a massive 93.7% had no idea that adrenaline was the initial drug that should be used for a life threatening allergic reaction. 52% knew which children had an allergic disease. 10.1% had heard of an Adrenaline Auto Injector (AAI) but only 6.8% knew how to use one. 93.7% had no idea where on the body adrenaline should be administered. There were allergy action plans in place at 5.9% of schools. (Ref: Ercan H et al, Pediatric Allergy Immunology. 2012 Aug 23)

Over half of paramedics don't understand anaphylaxis – In a survey of 3537 paramedics in the US, 53.8% failed to recognise adrenaline as the initial drug of choice. Only 38.9% chose the intra-muscular route of administration. Of these 60.5% identified the deltoid as the preferred location. Only 39.5% carry AAIs in response vehicles. 36.2% thought there were contraindications to adrenaline use for Anaphylaxis. My own experience in the UK has been excellent so perhaps things in the UK are better. (Ref: Jacobsen et al, Prehospital Emergency Care, Dec 2012)

Most doctors are unaware of how to correctly administer adrenaline – In the UK just 5% of doctors knew the correct procedure for using adrenaline. The best results were from Portugal with 18% and New Zealand where 20% knew what to do. This is very serious since incorrect administration of adrenaline in anaphylaxis has caused patients serious harm, including death. (Ref: Kemp et al, WAO Journal 2008, UK)

One of the other very startling statistics which came out of these studies was that a massive 80% of fatal reactions occurred where there had previously only been mild reactions. A stark warning to monitor your own reactions, even mild ones, don't take risks and always, ALWAYS carry your auto injectors.

These studies are shocking but they date from 2013 and 2012 so one would hope that if they were redone the results would improve. In my own efforts lobbying parliament with the NASG and The Anaphylaxis Campaign it feels we are asking the same questions five years on – there is still an HUGE unmet need, not just in getting a diagnosis and support but after an allergy diagnosis – many people feel lost, alone, confused and frightened about living with the fear or a life threatening allergy.

Nikos Papadopoulos, President of EAACI sees his role as continually lobbying the European Parliament for tougher guidelines and better awareness. EAACI ran a campaign this year focused on how 150 million people with allergies feel trapped by their condition. Their video is a good start but could have gone so much further. There is still a very long way to go.

We cannot escape the fact that the number of people with allergies is on the rise but we should all take some comfort and hope in the huge efforts being taken by all the members of EAACI who understand the problems and are exploring ways to improve understanding in the future.

Together, we CAN all make a difference.

What is the future for people with allergies?

Do you ever wonder what the future holds? Will we ever understand allergies enough to prevent people from getting them? Can scientists and doctors find a cure? Will we all one day be able to eat food safely, without anaphylaxis? Is anyone even looking for the answers? Or will numbers continue to rise to epidemic proportions? So many questions and so few encouraging and satisfying answers.

However last month I attended The annual meeting of the European Academy of Allergy and Clinical Immunology (EAACI) in Copenhagen as a journalist, along with 7,800 allergy doctors, specialists, allergists, clinicians, nurses and immunologists. This gave me ample opportunity to satisfy my thirst for answers. While I was there I was lucky enough to interview
some very interesting people:

Dr Andrew Clark of Cambridge Hospital is a paediatric allergy specialist – so his experience treating children with allergies and working on the peanut desentisation study gives all a glimmer of hope. 70% of his patients were successfully treated; those undergoing slower treatment saw greater tolerance. He sees this work continuing.
Dr Bill Frankland is 102 years old and still a practising allergist. He famously gave himself anaphylaxis to understand better the symptoms and possible treatment. He still has that spark and such sharp recall. He also invented the pollen count in the 1960's. Allergies aren't so new!
Dr Nikos Papadopoulos, the youngest ever Director of EAACI, is passionate about helping disseminate information, research and studies across Europe, encouraging doctors and especially junior doctors to get into allergy as a discipline. The UK leads the way with excellent researchers but needs to catch up with more clinical practitioners.
Frans Timmermans, Director of The European Anaphylaxis Task Force, wanted to empower people with allergies, to make information available to everyone, not just people who pay to join societies. He stressed that people don't 'have' anaphylaxis, they are at risk of anaphylaxis. There is a difference and by seeing that we take back some control over how we feel about the condition.

Seeing everyone working towards the same goal of making life for those with allergies easier was very encouraging. The theme of the event, being 'trapped' by allergies, exposed the huge gap between specialist advice/diagnosis and what life is actually like living with allergies. Very few specialists understand what it is really like to live with allergies day-to-day and they all admit there is a huge disconnect. So what does the future hold for those living with allergies? Here are few insights from EAACI:

Immunotherapy for food – Widely available across Europe and the US for hay fever, dust and grass 'allergy shots' are rarely offered on the NHS. Immunotherapy for food allergies is fairly new research going on in the US which has been successful in many cases. There is still a long way to go but progress is being made. Not coming to clinics yet – longer trials needed. ("Safety and feasibility of oral immunotherapy to multiple allergens for food allergy" Allergy, Asthma & Clinical Immunology 2014, 10:)1)
Changing the natural history of allergy – Are patients seen too late, once allergies have already progressed and developed? What if we treated with immunotherapy earlier, at the first sign of allergy? Could the allergic march be slowed down or even stopped? ("Allergy March" Nissen et al, Paediatric Allergy and Immunology, 2013)
There are lots of studies into early dietary intervention: maternal diet, breastfeeding and probiotics but no solid results as yet. Simple diets may prevent cow's milk allergy and breast feeding may afford some protection.
Patient Advisory Group – did you know that this group even existed? Allergy and anaphylaxis societies and groups from all around Europe meet to share learnings and discuss how to improve quality of life and share experiences, trends and observations.

Right across Europe the same issues are being seen and the same mistakes being made. We still have a very long way to go but what I would like you all to know is that you are not alone. There are thousands of specialists right across Europe all trying to discover ways of working together, sharing learnings and making life with allergies easier. Wouldn't we all like to feel a little less 'trapped' by our allergies?

Tales from the front line – eating out in a foreign country

(Image – Ruth's DELICIOUS steak...)

I have just survived four days and three nights in Copenhagen, Denmark and strayed so far out of my comfort zone I almost ran screaming from the restaurant at one point.

I had taken the usual half a suitcase of food including Nairns GF oat cakes and muesli, KoKo coconut milk, rice cakes, dried fruit, apples, Plamil chocolate and some Bfree wraps. I planned to evade all suggestions
of eating out and survive on fruit and vegetables from a supermarket and bottled water in my room (I never quite found the shops).

I had also prepared my usual A4 sheet with a list of foods I cannot eat with their Danish translation, just in case! I always take a copy for each day of the stay and a few spares because you invariably don't get them back. Often they want to keep them and make notes of what they served you should there be any problems after you leave. This proved very useful and they particularly liked my translated 'thank you' at the end. Tak!

The reason for the trip to Denmark? The annual European Academy of Allergy and Clinical Immunology (EAACI) held in Copenhagen (Denmark) from the 7 – 11 of June. I was attending as a journalist, along with 7,800 other delegates, and am still buzzing with all the things I learnt and people I met and am already thinking about Barcelona in 2015.

When faced with invitations out for an evening meal my previous iron-will to abstain began to slip. My good friend Hazel Gowland, who also has a nut allergy and oodles of experience in allergy management, was going to be there. Also Maureen Jenkins, Clinical Director of Allergy UK and other experts. I reasoned that if I was amongst such a well informed crowd, what could possible go wrong?

I enjoyed the most amazing steak on the first night with no adverse reactions but things got decidedly more confusing from that night on. Buoyed by my success thus far I embarked on two further nights out, again with experts carrying numerous adrenaline auto-injectors, but the meals were complex and mysterious and I'm not used to that. We had a 'tasting menu' at two pretty good restaurants with fresh, local, in-season food which was amazingly tasty and artfully presented on both occasions and included lots of seafood, asparagus, beetroot and rhubarb which I love. It was difficult to speak to the chefs as planning was done very last minute. On the first night I had been able to nip to the restaurant for a chat prior to the meal but all staff seemed very accommodating and understood about allergies, which seem to be quite common in Denmark.

During the week my skin was good, I had no stomach problems and I just got on with the job at hand – making the most of every minute of my stay! For lunch I snacked on oat cakes and fruit.

I'm pretty certain I wasn't given anything I know that I'm allergic to but I get these skin flares which affect only the skin on my face. I am trying to discover what causes them and perhaps they are nothing to do with food. Maybe pollen is exacerbating my already sensitive skin. Maybe finding restaurants that could have provided simpler options to a 'tasting menu' may have saved me this current skin reaction but who knows. I had the most amazing time and have learnt from the experience. I would be happier with simpler restaurants and possibly even the option of some self-catering accommodation which I will explore for next time. But eating out can be done easily, especially in a country like Denmark where most people speak very good English.

Would I do it again? YES! Would I be quite so brave? Maybe not, but we live and learn.

The psychological effects of living with facial eczema and allergies

What do you do when your body seems to be in melt down? How do you cope when you are reacting to food after food with no end in sight? When these reactions go on and on it's so hard to keep going.

I have had to cancel work and appointments this year, something I've never had to do before. Things are definitely getting worse.

Some days my skin hurts so bad and itches ALL the time and I just want to curl up and go to sleep and not have to go on like this. Some days my hands and fingers ache from scratching so hard. My body is bruised from scratching with no finger nails, cut short to limit damage. (The image here is of Nodular Prurigo, a form of eczema from which I am currently suffering – although I hasten to add that these hairy arms are not mine!)

It is deeply depressing, exhausting and overwhelming trying to work, live, smile, go out, socialise or achieve anything when you're hurting all over. You feel lost. No one knows why this is happening to you or what you should do to stop it, except avoid more and more foods.

You mistrust and suspect all food and lose the appetite to eat anything at all
You don't want to go out, everything hurts and your face is a mess
You don't trust anyone, not yourself, not your friends, especially not restaurants
You don't want to socialise, just be on your own and try to recoup your reserves
You can't face normal chores like shopping, cooking, cleaning...
It doesn't seem fair. That negative voice whispers, "Why me? What did I do to deserve this? It's all my fault..."
You are disgusted at the damage you do to your skin.
You feel like you hate yourself. Why would anyone else like a freak like you?
You drag yourself out of bed, skin sore, never feeling rested, always tired.
You dread the daily endless decision of what to eat when the list of safe foods dwindles and it becomes a chore instead of something to be savoured, enjoyed etc.
You feel permanently dirty and slimy from emollients.
Clothes and bedding are quickly coated and need regular careful washing to get them clean.

It's no wonder that people with allergies and eczema are prone to depression. When does it end? What will become of this allergic girl, on an allergic march she never really wanted to join?

Living with multiple allergies is a complex journey but I am determined to get to the bottom of the riddle of what makes my body tick. As I write this piece now my skin feels almost normal again, I'm happy, smiling and getting over the exhaustion of the last few months and enjoying, savouring even the joy of waking pain free and just getting on with life. It is something most people take for granted.

How important is the 'allergic load' and how do you stop the allergic march?

In the last few years I seem to have been acquiring new allergies. Last year it was soya, kidney beans and broad beans (all legumes), foods which appeared to be safe and which were eaten quite happily with no side effects suddenly causing full on allergy reactions and asthma.

Why does this start to happen?

For me it seems to go in cycles. Things calm down and I know where I am, but for the last few months I have had chronic eczema and Nodular Prurigo (NP) which ravages my skin but most particularly my face. NP are large itchy lumps which often become infected and can take months to heal. My doctor tells me NP has nothing to do with allergies but I KNOW that certain foods trigger it. I'm pretty sure soya lecithin and eggs caused my latest crop of bumps but I can't prove it. And why, after so many years eating lovely, healthy, versatile eggs can I suddenly no longer eat them?

Just lately as soon as one reaction seems to subside another begins but I'm not eating out, I'm preparing all my own healthy, natural food, I'm very careful about what I eat - so what's the problem?

What is causing new foods to suddenly bring on massive facial eczema? Or are my facial eczema/allergic reactions nothing to do with allergies at all? I suspect it has a number of triggers but the main one could be the 'allergic load' which basically means when the body feels it's under a sustained attack it can longer cope with certain foods.

Hay fever season - Could this be putting added strain on my immune system? If hay fever can cause itchy eyes and streaming nose, can it also affect your skin on contact?
Pollution – The farmer has been spraying the crops opposite our house. The golf course behind us was also spaying its fairways... just adding to the toxic mix.
Old intolerances die hard - Eggs, which I can normally eat in moderation (after a childhood allergy and subsequent successful reintroduction) now cause a MASSIVE reaction even in small quantities in a cooked cake.
Food derivatives - My specialist advised me to keep eating soya derivatives, perhaps unwisely, as I'm allergic to soya milk. Now even soya lecithin and soya flour cause a reaction.
Stress – Extra pressure could make your immune system even more susceptible and cross reactive foods could begin to cause problems.

Why do some of us become more sensitive? Why do the things we react to sometimes change? It seems no one really knows the answer. Being 'on the allergic march' is just one long learning curve and a complicated journey too! I would quite like to get off the allergy train now but it seems I missed my stop!

Getting an allergy diagnosis – know your body


It's not easy getting a diagnosis for true 'allergy' and even harder to pinpoint food intolerances because tests are not conclusive and doctors can be reluctant to refer patients.

I have been told by my doctor, "You've got a nut allergy, you can't possibly be allergic to dairy as well! It would be unheard of...!" Yeah I'm just being way too greedy. One is enough for anyone right? I would love to agree but unfortunately I have over fifteen allergies now and counting.

You need to research and understand your own body; be armed with irrefutable evidence and demand a referral. It's important to remember that your GP is a 'general' practitioner. They are not allergy experts but should be able to refer you to a specialist. A proper diagnosis involves skin prick tests, RAST blood tests and an in-depth analysis of your lifestyle, symptoms etc.

Keep a food diary. Start to keep a detailed food and mood diary and be strict. Don't miss anything off and keep the packaging of processed foods. You will build up a picture and begin to understand your body.

Elimination diets. Ask a dietician or nutritionist to advise you on suitable elimination diets. This kind of strict diet is not for the faint hearted. It's hard work to stick to and takes time. It is imperative to stick properly to the guidelines otherwise you may as well not bother. Careful reintroduction should help identify triggers*. Don't be tempted to self diagnose or cut out food groups without seeking medical advice. It could be an incorrect diagnosis and result in deficiencies of certain vital nutrients and minerals.

What is your body doing? We are all very different and complex. No two people with allergies or food intolerances have the exact same symptoms and triggers. It can take years to get to the bottom of what your body is reacting to. I can tell what I've been exposed to from the reaction:

Peanuts and nuts – Shuddering, itching throat. Feeling of 'impending doom'. Asthma, extreme mucous production, swelling of the lips and throat.
Dairy – Asthma, itching throat, hives on scalp, face, neck, shoulders, stomach and back. Red, sore, burnt looking skin on face for days after. Exercise induced anaphylaxis.
Soya – Massive asthma attack.
Dust – Massive asthma attack.
Celery – Exercise induced anaphylaxis and eczema.
Tomato – Skin on neck and scalp splitting open, clear liquid seeping out. Heart palpitations, confusion and hives but no anaphylaxis.
Wheat – Bloating, stomach cramps, constipation, nausea and flatulence.

Do you know what foods cause your reactions? Once you know your body you will be better equipped to achieve the best outcome. Visit your doctor with this kind of information and you should be able to get that referral.

*NEVER experiment with reintroducing any foods which have previously caused anaphylaxis

Allergy services - Getting the support you need

You might assume that with the growing numbers of children and adults with allergies in the UK it would be easy to get the help and support you need. With only five specialist allergy centres in the UK and just 30 specialist allergy doctors it can be a challenge. Excellent support is also provided by nurses, dieticians and doctors who have made extra effort to research the subject but it is very much a postcode lottery.

The Anaphylaxis Campaign, National Allergy Strategy Group and Allergy UK do excellent work building awareness and support. The National Institute for Clinical Excellent (NICE) have produced guidelines for doctors and health practitioners providing step-by-step advice on directing support for anyone with allergy symptoms.

However, general practitioners are just that, they have a 'general' knowledge of many conditions and aim to spot any life threatening symptoms. They cannot be expected to have expert allergy knowledge but they could be far more open-minded to referring people to someone who does!

If you live in London – you can choose from some very good specialists but you will have to be patient and fight for an appointment – waiting lists are long and growing fast. There are very few specialist centres outside London. Allergy services tend to be focused on children; allergies in the young are growing at an alarming rate. However, teenagers and young adults are more likely to take risks; statistics show that this is also a time in life when more fatal anaphylactic reactions take place. Reactions can change and worsen with each exposure so vigilance and planning is vital. Why do we stop supporting people at this vulnerable time in their lives?

As an adult with multiple life threatening allergies I have been discharged from my local Allergy Hospital where I only really got useful advice from the dietician I was referred to. I am very lucky that a dermatologist in the next county agreed to see me (twice a year), as I continue to struggle with eczema, nodular prurigo and new allergies every year. Maybe we're all grown up and should just get on with it? I disagree; don't let your doctor fob you off.

Asthma on the other hand is handled effectively at my local surgery with regular reviews but no connection with allergy treatment, yet asthma is one of my main allergic reactions. Could allergies ever get the support that asthma does in the UK?

If you can't find the support you need, speak to your local Primary Care Trust. They will have a Patient Advice and Liaison Service (PALS) designed to listen to patients, relatives and carers, answer questions and resolve concerns as quickly as possible. Don't suffer in silence, if you are still fighting just to get basic allergy tests done or feel utterly lost and confused after your diagnosis, Google 'PALS' to find your local NHS facility.

Cheese!

Dear dairy...

Recently I had to watch my husband grate Cheddar cheese over his chilli and witness the melting loveliness before my very eyes. I pretend it's OK, really - that I don't mind. But I DO mind. I mind a lot. I miss you so very much. What did I ever do to you dairy? Why do you hate me now?

I tell myself that I am coping perfectly well without you but who am I kidding? Milk can go and curdle; I hated milk from the very first taste, it always made me feel sick. But cheese and butter... I loved. I could tolerate butter, natural yogurt and hard cheese until my early twenties when my eczema just became so out of control that I had to explore drastic measures to help it heal.

To cut a long story short, I took a Chinese herbal remedy to cleanse my body and also cut out dairy, wheat, soya, sugar and eggs for a few months. My skin got far worse before any signs of improvement but eventually it was completely clear again. No more early soaks in an oil bath and layers of emollient just to allow me to move my limbs without splitting the skin.

What I discovered when I tried to reintroduce these foods was that the eczema immediately reappeared 'big time' when I ate even a tiny amount of dairy. For a while sheep, goat and soya milk were brilliant substitutes but eventually they too began to cause me problems. Now, after avoiding dairy for so many years I cannot eat even the slightest trace without an allergic reaction and have had anaphylaxis to larger amounts. Even airborne dairy causes asthma in coffee shops.

Luckily I love the alternative milks and alternate between rice, oat, almond, coconut and hemp milk. Look out for flax milk coming to shops soon...

However, butter and cheese I crave. I long for the taste, and for the feel, just once more... When you have had such a deep and moving love affair, second best just doesn't cut it. Normal cheese and butter are pretty simple foods with few ingredients but to make dairy free cheese you end up with a processed product which doesn't really taste like cheese. I prefer to use freefrom spreads and substitute cheeses as a last resort.
Instead try:

Olive oil, coconut butter or just no spread at all.
Season with nori flakes, black pepper, mustard, humous, chutney etc.
You can get luxurious coconut ice cream and yogurts.
Vegetable fat, introduced in the 1930's, is a healthy dairy free alternative for baking.

Learn to turn the other cheek when your old love flaunts it in front of you with your husband, family and friends. He's just not worth it (in my world dairy is a man!). I'm so over you dairy (NOT!).

(Image: a deilcious traditional Quickes truckle cheddar...)

More thoughts on auto-injectors.... Just do it! Don't panic. Use your auto-injector and phone 999...

Since comparing Emerade, Epipen and Jext in the last newsletter I wondered how you all felt about yours. Do you feel comfortable using it? Are you scared of using it?

You should never be frightened about using your injector. It could save a life. I know it seems scary, especially if you've never used one before but it's not. I'm often asked by parents, "Does it hurt my child." The answer is NO. If your child is having an anaphylactic attack they just need you to act swiftly and not panic. Adrenalin injectors won't do any harm so even if it's a false alarm, just use it. Don't wait to find out.

I stupidly spent years terrified of using mine. I had two, yes TWO anaphylactic attacks as an adult without using my EpiPen, despite having them in my possession on both occasions. Maybe you haven't used one yet because you haven't needed to. But why didn't I use mine? An intelligent woman who writes about living with allergies – surely I'd know what to do?

The problem was I was alone, scared, in pain and in a panic and all these things were racing through my head:

I didn't want to make a fuss.
I might get better without using it.
I didn't want to go to hospital.
It might hurt.
I might do it wrong.
How long is that hidden needle?
But mostly – I couldn't speak so I couldn't 999...

My throat and tongue swell up so badly when I have anaphylaxis and the asthma makes it almost impossible to speak. At what point during these extreme allergic reactions did my brain compute that it was best not use my injector and get help?

All these reasons for doing nothing are pretty stupid but if you have felt any of the above, trust me, you should push all your fears aside and just use the injector.

Don't do what I did, even if you can't talk. If you or your child shows any symptoms of anaphylaxis use your injector calmly and phone 999 fast! They will know exactly what's going on and that you need help quickly and they can track your location from your phone number if you can't speak properly.

Please make sure you've got a trainer pen, show people how to use it and practise often, the more you do this the less you will panic – I hope you never do have to but be prepared. The new trainer pens are so realistic you will even get the sensation of what it feels like as they have a plastic needle inside. Finally, if you don't already have an Anaphylaxis Action Plan – write one today to assist both you and others in the correct emergency procedure.

For more details on surviving and attack an d on how to write an Action Plan see Ruth's article here.

Adrenaline Auto-injectors explained - Which one do you use?

If you carry an adrenaline auto-injector (AAI) you might be interested to hear about the differences between the three main competitors in the UK market.

EpiPen is distributed by Meda Pharmaceuticals, Jext is produced by Alk Abello and Emerade is distributed by iMed Systems Ltd and will be available on prescription from February 2014. AnaPen used to be prescribed but hasn't been available in the UK since February 2012 and they have no plans to supply the UK at this point.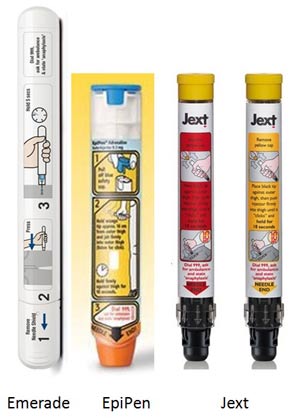 All three injectors now have a needle shield which protects your fingers after use. This is now required following quite a few needle injuries reported by users

There have been some concerns about the requirement for a needle which will penetrate the thigh sufficiently to reach the muscle. Some doctors think that this is necessary for the adrenaline to work effectively.
(See Michelle's blog on this.)

Whilst the JEXT and the EpiPen have 16mm needles, the Emerade devices for older children and adults have 25mm needles. The Emerade also offers a full 0.5mg dose for adolescents and adults over 30kg.

How easy are they to use?

All three injectors are quick and simple to use with a few slight differences in how they work. You can find detailed instructions and videos showing you exactly how to administer each injector on the manufacturers' websites (links below). The JEXT and EpiPen devices have safety caps at the top of the device, whilst the Emerade safety cap is actually over the needle – rather more like a lid which needs to be removed before use. Having now tried out all the device trainers, this key difference intuitively seems to make a lot of sense.

I would urge you all to make sure that you, your friends and your family know how to use your adrenaline injector. Request a free training device and then practise, practise, practise! Make your friends and family practise on you too. I am proof that in a stressful situation, when you are having a reaction, you don't always do the right things in the right order. (See my near fatal experience here.)

Now finally, check your pen's expiry date and if you have a Jext pen, check the batch code against this web site announcement.

Remember that all these devices are for emergency first aid only. If you need to use one, you must also get emergency medical care. Dial 999, ask for 'ambulance' and say 'anaphylaxis'.

So… go to the websites below and see what you think.

You may not get much choice which pen you're prescribed. The decision may be made by your local NHS Health Partnership, probably based on cost and shelf life, but what if we could have a choice? Which one would you prefer? And let's hope you never have to use it!

www.emerade.com
www.jext.co.uk
www.epipen.co.uk




Be thankful in 2014 – having allergies can be a gift

Having allergies, food intolerances or coeliac disease CAN be a gift, though it might sometimes feel like a curse.

This year aim to discover and explore food and life while avoiding certain allergens. Turn things upside down and look at food in a totally new way; explore all the foods you CAN eat and celebrate those. If you didn't have allergies you may well be grabbing unhealthy snacks, eating fast-food or dining out with friends with little thought for the consequences. Whilst it may seem hard having to always remain vigilant, making the healthy choice will have a positive impact on your overall wellbeing. Here are five ways to be thankful for what life deals you and remain positive and prepared in 2014.

1. It is a gift – Limiting your diet can be hard work, but there are always substitutes and no matter what allergens you cannot eat, there are absolutely hundreds and thousands of foods that you CAN. All meat, fish, fruit, vegetables, grains etc. which in their raw state don't contain allergens; eating a more natural, home-cooked diet will also improve your health.

2. Demand support – Don't get fobbed off by your doctor. If you feel you have questions and want to be referred be strong, confident and push for answers. Keep a strict and detailed food, symptoms and mood diary if you are experiencing unexplained allergic reactions. It will help remind you and also aid the diagnosis of which food might be causing problems.

3. Go processed food free for a week – Every year the array of freefrom foods in supermarkets and health food stores is growing. Many of these are healthy and natural but some contain lists of ingredients you might not be able to identify. Freefrom is not always healthier – read labels, understand exactly what you're eating and analyse the salt, fat and calorie content. Why not try eating only natural, fresh food for a whole week and see how you feel?

4. Get creative in the kitchen – Read allergy friendly cook books and try out new recipes. Make batches of soup, stews, and curries etc. and fill tubs or foil containers so you can freeze meals for those days when you can't face cooking, then heat directly in the oven – just like a take-away!

5. Check your injector expiry dates – You may already have checked your pen after the recent Jext recall in Dec 2013; but if not, start the year by making sure your injectors and inhalers are within date and register for the expiry reminder services that both Jext and Epipen provide.


Focus on the positive experiences you have this year and you will gain the confidence to demand better support and also to explain yours or your child's allergies to friends, family etc. The key is in being prepared and organised.

NB Information on this site is not a substitute for medical advice and no liability can be assumed for its use.