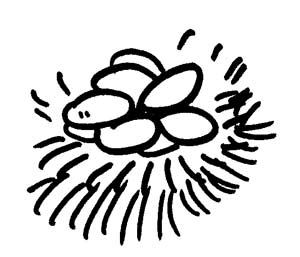 Egg allergy
An Introduction to egg allergies – what you need to know and what you need to do.
FoodsMatter editor, Michelle Berriedale-Johnson, explains what you need to do when your child has been diagnosed with an egg allergy.
Click here for the article or watch the video.
Please click on the links below to read our articles. If you are interested in research findings, click here for links to research reports.
For egg-free foods please check in to our food pages, or for food products check our shops.
Egg allergens in toothpaste. Interesting post on the Allergy Insight blog about milk and egg as ingredients in toothpaste. Since toothpastes are classified as cosmetics in the EU, they are not subject to food labelling regulations so milk ingredients might appear as 'lac', 'colostrum', 'lactoferrin' and 'lactoperoxidase' and egg as 'lysozyme', none of which are likely to be recognised by milk or egg allergic people. Go here for more. April 2019
How not to go vegan! Hannah explains the pitfalls of giving up eggs (and milk) even when not for dietary reasons.... November 2017
Eggs from chickens fed on soya do contain soya residues. A discussion from 2007 and an article from the Weston Price Foundation quoting four studies which suggest that they do. December 2016

New EU regulations on the labelling of egg in wines. July 2012
Parents of egg allergic infants may wish to check out VACTruth's research into both the varying claims of the safety of the MMR vaccine for children with egg allergy, and the safety/desirabilty of the alternative single mumps vaccine now on offer which is cultured from the kidney cells of dogs. June 2012
Australian scientists working on allergen-free egg. March 2012
FAAN's advice on egg residues in vaccines for egg-allergic children. July 2012
Successful trial of 'Rush Specific Oral Tolerance Induction' in School-Age Children with Severe Egg Allergy. 2010
Good round-up of products to avoid if you suffer from an egg allergy – from Suite101. 2009
Egg allergy: the symptoms and causes of allergy to eggs, and what the future holds for sufferers, by Dr John M James. 2007

How to replace the nutrition an egg provides: some alternatives from Margaret Moss. 2007
Top of page



Research Reports
Late introduction of fish and eggs is associated with increased risk of allergy development Nov 2017
In this small scale study, it was found that exclusive early breastfeeding and introduction of fish and eggs into the diet before 10 months of age was associated with a lower risk of developing allergies. Full text available.
The Role of Baked Egg and Milk in the Diets of Allergic Children Feb 2018 (epub ahead of print)
It is suggested that many children with milk and egg allergy are able to tolerate some amount of baked milk or egg products. Being able to consume these may work to reduce sensitivity (in a similar way to immunotherapy). However, if not previously tolerated, any oral challenge should be carried out within a hospital.
Desensitization to a whole egg by rush oral immunotherapy improves the quality of life of guardians: A multicenter, randomized, parallel-group, delayed-start design study. August 2017
Desensitising children to egg protein (which was very successful) had a significant benefit on the quality of life ratings of their parents/guardians. However, a high proportion (80%) treated with immunotherapy experienced some type of allergic reaction during the study period – which means safety concerns need to be taken very seriously during oral immunotherapy.
Evidence that eating baked egg or milk influences egg or milk allergy resolution: a systematic review. May 2017
There is not much research looking into the theory that eating baked egg or milk leads to quicker resolution of allergy to eggs or milk. This is despite increasing popular belief that eating these products accelerates desensitisation. The authors suggest that trials are needed to compare the resolution rates of baked-tolerant participants who are randomized to either eat or avoid baked egg or milk products.
Upregulation of calprotectin in mild IgE-mediated ovalbumin hypersensitivity. April 2017
Calprotectin (a protein bio-marker for inflammation) can be detected in faeces and is found to have raised levels for individuals with inflammatory bowel disease, such as Crohn's and ulcerative colitis. This study demonstrated that raised levels of calprotectin may also be associated with IgE food allergies.
Protective effect of Bifidobacterium infantis CGMCC313-2 on ovalbumin-induced airway asthma and β-lactoglobulin-induced intestinal food allergy mouse models. March 2017
This research looked at the influence of a probiotic (Bifidobacterium) on allergic inflammation in response to egg allergens in mice. This probiotic was found to inhibit the production of IgE (important in the allergic response) and to reduce allergic inflammation. This suggests a potential way of reducing allergic responses in humans and warrants further study.
Safety and feasibility of heated egg yolk challenge for children with egg allergies. Feb 2017
This study looked at whether children who are allergic to cooked egg were able to eat cooked egg yolk alone. It was found that, among 919 patients, only 17% reacted when given an oral cooked egg yolk challenge in hospital. This suggests that the majority of children who are allergic to cooked egg, may safely be able to eat egg yolk. Such challenges should be conducted in hospital for safety. This may be a helpful way to increase variety and nutrition in the diets of food allergic children.
Efficacy and safety of high-dose rush oral immunotherapy in persistent egg allergic children: A randomized clinical trial. Jan 2017
Oral immunotherapy is a very time consuming business. This study explored the efficacy of 'Rush Oral Immunotherapy' (ROIT) for egg allergy. 32 children underwent an intensive 5-day desensitisation protocol followed by a five month maintenance phase where egg was consumed every 48 hours. 5-day egg ROIT successfully desensitized 94% of the allergic patients.

Safety and Efficacy of Low-Dose Oral Immunotherapy for Hen's Egg Allergy in Children. Jan 2017
Further research evidence to suggest that oral immunotherapy for egg allergy is both safe and effective. Low-dose OIT induced sustained unresponsiveness to 1/32 and 1/2 of a whole egg, with no severe symptoms. To improve food allergies, continuous intake of small amounts of these foods may be as effective as the consumption of larger quantities.
Randomized Controlled Trial of Oral Immunotherapy for Egg Allergy.
December 2016
Another study looking at whether oral immunotherapy can help increase tolerance to food to which an individual is allergic. This study found promising results: half of the participants who received immunotherapy were able to tolerate a small amount off egg protein, compared to none of the participants who received no treatment.
Safety profile of oral immunotherapy with cow's milk and hen egg: A 10-year experience in controlled trials. September 2016
Some encouraging results regarding desensitisation to egg and milk allergens using oral immunotherapy.
Timing of Allergenic Food Introduction to the Infant Diet and Risk of Allergic or Autoimmune Disease: A Systematic Review and Meta-analysis. September 2016
This review, of multiple research studies into food allergy, found that early introduction of egg and peanut is associated with a lower risk of developing allergies to these foods.
Egg allergy in adolescent and adult patients suffering from atopic dermatitis. March 2015
Protein-losing enteropathy and erythema caused by egg allergy in a breast-fed infant. January 2016
Most egg allergic children can tolerate high protein baked egg products. January 2016
Effects of Egg White Consumption on Immune Modulation in a Mouse Model of Trimellitic Anhydride-induced Allergy. This study shows that the consumption of egg white by allergic mice did not increase their allergic response. June 2015
Skin testing with raw egg does not predict tolerance to baked egg in egg-allergic children. November 2014
Egg allergy less common than supposed and 50% of allergic children likely to gain tolerance within 1 year of diagnosis. October 2015
Sodium Cromoglycate prevents exacerbation of IgE-mediated food-allergic reaction induced by Aspirin in a rat model of egg allergy. August 2015
Traces of ovalbumin and casein detected in white and red wines by quantitative western blotting. August 2015
An insight in to egg hypersensitivity. August 2015
Three month course of oral egg immunotherapy appears to achieve tolerance in egg allergic children. August 2015
Because egg-allergic children so often 'grow out of' their allergy, they should be challenge tested regularly so that egg can reintroduced when appropriate but challenges are expensive and risky. June 2015
Oral Immunotherapy safe and effective in inducing egg desensitization. April 2015
Nasal-spray flu vaccines appear to be safe for children over age two who have egg allergies or asthma. February 2015
Low-allergenic hydrolyzed egg induces oral tolerance in mice. May 2014
Glutathione exposes sequential IgE-epitopes in ovomucoid relevant in persistent egg allergy. January 2013
Flu vaccine allergy may be attributed to gelatin, not egg. November 2013
Epstein Barr virus may play a 'promoting' role in cases of egg allergy. January 2013
Six months of immunotherapy with raw egg reduced the severity of reactions in 90% of seveerly egg allergic children although it did not result in total tolerance. February 2013
Epstein Barr virus may play a role in IgE mediated egg allergy. January 2013
Tolerating hen's eggs does not rule out an allergy to duck or goose eggs. April 2000 and February 2013
The anaesthetic propofol should be safe for those with egg allergy provided there is not a previous history of egg anaphylaxis. January 2013
Level of baseline IgE reaction to egg in babies indicates whether they may grow out of the allergy by the age of three. March 2013
Study shows that egg allergic children can safely be vaccinated for 'flu. January 2013
Studies presented at the recent American College of Allergy, Asthma and Immunology (ACAAI) Annual Scientific Meeting found 56% of allergic children can tolerate baked hen's egg, while 55% outgrow their egg allergy entirely. November 2012
If you are allergic to soya beans or eggs, you may be allergic to the anaesthetic Propofol. October 2012
Cooking can reduce the allergenicity of egg whites. September 2012
Older siblings and a dog may reduce the risk of egg allergy. September 2012
Successful desensitisation of children with egg allergy. August 2012
The risk of anaphylaxis to the flu vaccine for egg allergic individuals may be much lower than previously thought. October 2011
Eggs and the allergens they carry. August 2011
Egg and milk-allergic children more likely to develop later peanut allergy. May 2010
Under the tongue immunotherapy (SLIT) for egg allergy successful. March 2010
Egg-allergic children tolerate cooked egg well. October 2008
Vaccines could be cultured in insect cells rather than eggs. January 2010
Hypoallergenic eggs. July 2010
A useful overview of egg allergy. June 2007
Some other wine allergens. June 2007
Egg-free vaccines. April 2007
NB Information on this site is not a substitute for medical advice and no liability can be assumed for its use.