Vicki Montague of freefromfairy.com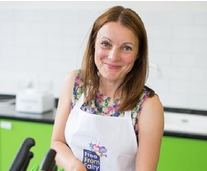 Many readers will already know Vicky – either because they have read about her here on our site or because they have tried her excellent gluten free flour blend, a silver award winner in the 2017 FreeFrom Food Awards.
But it is not all about freefrom flour. When Vicky was asked by Curry's PC World as part of their 'Fresh Approach' kitchen and cookery campaign to come up with some freefrom alternatives for a trad. roast dinner she went for a gluten free roast dinner, a vegan (and therefore milk and egg free) roast dinner and a low carb roast dinner!
For Vicki's blog, delicious recipes, reviews, places to eat, cookery lessons and plenty of useful information, check out her website at www.freefromfairy.com

Vicki's recipes
Click on the name of the recipe to jump to it.

Gluten free roast dinner
Gluten free roast dinner
Gluten, peanut, nut, nightshade and wheat free; to make milk free substitute soya milk for the cow's milk.

Ingredients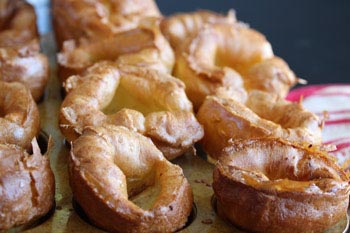 80g tapioca starch
90g full fat milk
3 medium eggs
Pinch of salt
½ tsp chicken fat, duck fat, lard, or coconut oil, enough for each hole of a 12 hole muffin tray
Method
1) Turn the oven on to 230oC (210oC fan, gas mark 8).
2) Place ½ tsp of your chosen fat or oil into each hole of a 12 hole muffin tray and place into the preheating oven. Once the oven is up to temperature, keep the tray in the oven for 5 minutes to heat the fat or oil.
3) Meanwhile, place the tapioca starch in a large jug and add the milk. Whisk to combine, then add the eggs and salt and whisk well until frothy on top.
4) Once the tray has been heating for 5 minutes at full temperature, quickly remove from the oven, close the oven door and pour an even amount of batter into each muffin hole. Quickly place the tray back in the oven.
5) Bake for 20-25 minutes until puffed up and golden.
Delicious served with roast chicken, steamed parsnips and honey-roasted carrots.
Vegan (milk and egg-free) roast dinner – Chickpea Roast Loaf

Gluten, milk, egg, peanut, nut, nightshade and wheat free
Ingredients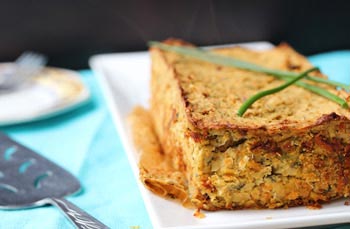 1 tbsp olive oil
1 medium red onion, finely chopped
1 clove of garlic, finely chopped
1 stick of celery, finely chopped
80g carrot, peeled and grated
150g courgette, grated
1 tbsp tahini
Zest of half a lemon and juice of a whole lemon
Dash of tamari or gluten-free soy sauce
2 tsp mixed herbs, finely chopped
1 can chickpeas
1 can cannellini beans
Black pepper to taste
Method
1) Line a small loaf tin measuring approx. 17cm x 7cm with greaseproof paper. Pre-heat the oven to 200oC (180oC fan, gas mark 6).
2) Place the vegetables into a large saucepan along with the oil. Stir and then place on the lid. Leave them to sweat over low heat until softened, stirring occasionally. This will take around 15 minutes.
3) Add the tahini, your choice of tamari or soy sauce, lemon zest and juice and mixed herbs, and stir well to combine.
4) Place the beans and chickpeas into a food processor and blend until fairly smooth. If you don't have a food processor, mash the beans and chickpeas with a fork or potato masher until smooth.
5) Add the bean mixture to the vegetable mixture, stir to combine and season with black pepper to taste (you shouldn't need salt because of the tamari/soy sauce).
6) Scrape the mixture into the prepared loaf tin and smooth the top. Bake in the pre-heated oven for around 45 minutes until golden and firm to the touch.
Serve with fluffy roast potatoes and blanched carrots, broccoli and green beans.
Low Carb Whole Roast Caulifower
Gluten, milk, egg, peanut, nut, nightshade, soya and wheat free
Ingredients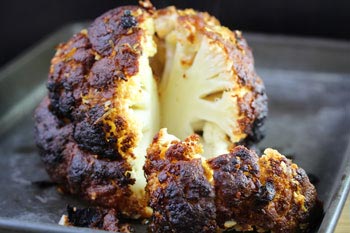 1 medium-sized cauliflower
2 tbsp olive oil
2 tbsp Dijon mustard
1 tbsp balsamic vinegar
1 tsp ground cumin
½ tsp smoked paprika
1 clove of garlic, finely chopped
Zest of one lemon
Olive oil for drizzling
Method

1) Pre-heat the oven to 200oC (180oC fan, gas mark 6).
2) Mix together the olive oil, mustard, vinegar, cumin and paprika.
3) Wash the cauliflower and remove the outer green leaves. Dab it dry with kitchen paper and place onto a baking tray lined with tin foil.
4) Spread the oil mixture onto the whole cauliflower, rubbing it into each floret.
5) Place in the oven and bake for 1 hour.
6) Remove from the oven, sprinkle over the lemon zest and garlic, and drizzle with olive oil.
7) Bake for a further 15-20 minutes.