Vicki Montague of freefromfairy.com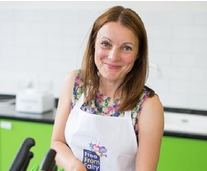 Hi, I am Vicki. Mum, scientist (degree in biochemistry and genetics), lover of healthy delicious food, creator of recipes that everyone can enjoy and IBS sufferer!
I have two children, a 5 year old boy and 7 year old girl, who was diagnosed with coeliac disease just before her third birthday (and previously had allergies to dairy milk protein and egg). The road to the coeliac diagnosis took a year. The doctors kept telling me there was nothing wrong, or that she had 'toddler diarrhoea' but I trusted my instincts and pushed and pushed until they finally tested her.
Since diagnosis she has continued to have some symptoms that the consultant has insisted are nothing to do with dairy, despite me suspecting them to be. He kept telling me to keep feeding her dairy and that she had IBS! Finally in April 2013 I decided to remove dairy from her diet as a test. Although this was not appreciated by my daughter, the results were almost immediate and she is no longer bothered about having cows milk!
Anyway, she inspired me to start a blog to share quick, simple, tried and tested recipes and information with other people who have limitations to their diets or have kids with limitations to their diets. I believe that with some kitchen experimenting everyone can eat delicious, healthy and nutritious food and nobody needs to feel left out!
I have suffered with IBS since my late teens (and am currently trying the Specific Carbohydrate Diet (SCD) to rid me of it and related issues) and have learnt a lot about food and the effect it has on the body during this time. I hope what I have learnt is useful to others.
Along with my website, I offer advice and support to individuals with food allergies, intolerances or coeliac disease as well as to businesses wishing to cater for these people. If you would like to contact me to discuss how I can help you please email me on freefromfairy@gmail.com specifying whether you are looking for individual advice and support or whether you are a business looking to cater for people with restrictions to their diet. Where possible I provide my advice and support for free.
For Vicki's blog, delicious recipes, reviews, places to eat, cookery lessons and plenty of useful information, check out Vicki's website at www.freefromfairy.com

Vicki's recipes
Click on the name of the recipe to jump to it.

Grain-free pancakes
Savoury tomato and herb scones
Grain-free Pancakes
Gluten-free, Dairy-free, Soya-free, Refined Sugar-free (can be nut-free), SCD, GAPS, Paleo
Serves 1
If you want a nut free version then leave the nut butter out. I did until this week and they were still lovely. I make my own almond nut butter by activating my nuts (soaking them in lightly salted water for 24 hours, then drying them in a very low oven for about 8 – 12 hours) then whizzing them in the blender or food processor. You can of course buy it too! Activated nuts, however, are much easier to digest than those that haven't gone though this process…

Ingredients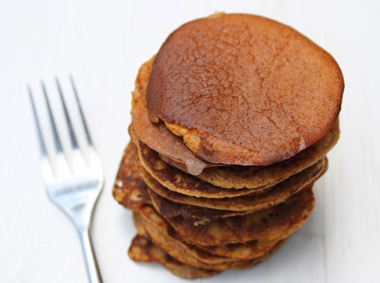 2 medium free range eggs
2 tbsp butternut squash puree
½ tbsp coconut oil, melted
1 tsp ground cinnamon
1 tsp honey (optional)
1 tbsp nut butter (activated nuts are best if you
have a sensitive tummy) - optional
¼ tsp bicarbonate of soda
¼ tsp cider vinegar
Method
Place all the ingredients in a small blender or food processor and blend until smooth.
Spoon tablespoonfuls of the mixture into a pre-heated frying pan over a medium heat.
Wait until the top looks like it is setting then
flip them over (about 1-2 minutes).
Repeat on the other side until golden.
Chicken Nuggets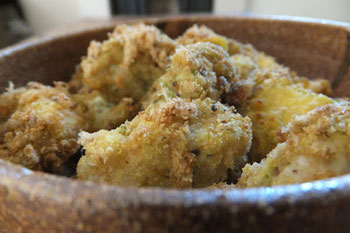 Gluten free, egg free, nut free, fish free, soya free;
can be dairy free if you make or buy a dairy free pesto
Serves 2 adults and 2 children!
I hope your kids and family enjoy these as much as we do! They are so simple…no need for buying ready made ones full of 'muck'!!
Ingredients
2 (organic) skinless chicken breasts
2 pieces of gluten free bread (check for other
allergens if avoiding multiple allergens)
2 tbsp pesto (either home made or bought…
checking ingredients carefully for allergens if the latter!)
Put bread into a food processor or chopper to create breadcrumbs.
Cut chicken into bite sized pieces.
Place chicken in a bowl with the pesto and mix together well.
Place breadcrumbs into a large bowl and take the pesto coated chicken, rolling it in the breadcrumbs.
Place the pesto and breadcrumbed chicken on a lightly greased baking tray.
Place in a preheated oven at 200 degrees for approx 15-20 mins until golden and crisp.
Savoury Tomato and Herb Scones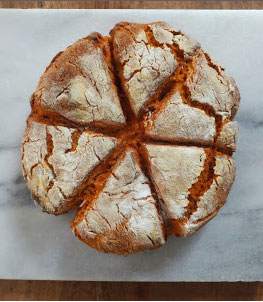 gluten-free, dairy-free, egg-free, nut-free, soya-free
Makes 12 pieces

Ingredients
300g gluten-free self-raising flour (I use Doves Farm)
100g gram flour
50g Orgran gluten substitute. (If you don't have gluten substitute
use 50g more flour and add 4tsp xanthan gum and 1tsp bicarbonate of soda)
2tsp baking powder
450ml tomato passata / tin of chopped tomatoes if you want 'bits'!
1tsp cider vinegar
80ml virgin or extra virgin olive oil
2tsp dried rosemary
2tsp dried basil
Ground pepper
(optional 40g salami, ham or other such meat)

Pre-heat the oven to 220 degrees or 200 degrees fan oven and add two baking sheets.
Place the dry ingredients, along with the salami or ham if using, into a large bowl.
Mix the 'wet' ingredients and herbs in a mixing jug.
Make a hole in the middle of the dry ingredients, add the wet ingredients and mix quickly until just incorporated. Do not overmix.
Liberally flour a work surface and put half the mixture on top. Add more flour to the top of the mixture and bring together into an approximate 6 inch circle, about 1 inch deep. Over working will make the scones tough.
Repeat with the rest of the dough.
Score the top of each circle with a floured knife to make 6 pieces. Make sure you don't cut all the way to the bottom of the dough...just half way
Place on the pre-heated baking trays and bake for approx. 20 minutes until golden.

Double Chocolate Tahini Cookies
Gluten-free, Dairy-free, Nut-free, Soya-free, (refined sugar-free without chocolate chips)
Makes 10 cookies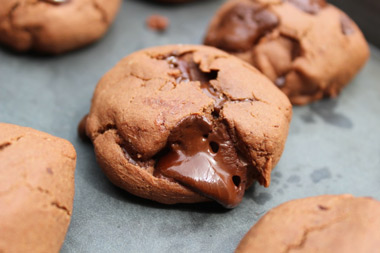 If you leave out the dark chocolate these contain no refined sugar and are packed full of antioxidants
and other important minerals found in the raw cacao powder and dark tahini paste. Perhaps that means you can eat two?!

Ingredients
50g tahini paste
15g raw cacao
50g honey
25g coconut butter, melted
1 egg
110g gluten-free self raising flour
40g dairy-free dark chocolate, chopped (optional)
Combine the egg, tahini, honey, cacao and melted coconut butter in a medium-sized bowl.
Add the flour and mix together until you have a dough.
Finally add the chopped chocolate chunks if you are using them.
Roll a walnut sized piece of dough into a ball and place on a greased baking tray.
Press down to flatten slightly. Repeat with the remaining mixture
Bake in a pre-heated oven at 180 degrees, 160 degree fan, gas mark 4 for 10 minutes