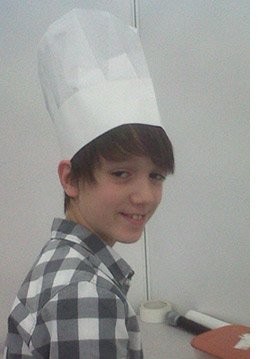 Nathan Bailey
My name is Nathan Bailey, a teenager who loves to cook.
Being Gluten Free means many everyday recipes that most teens would eat are totally unsuitable for me. As some of you know my mum is Christine Bailey, a well known chef and nutritionist.

I was asked to be involved in the judging for the children's category for the Free From Food Awards this year. I tasted some great products and am looking forward to meeting the companies involved at the Awards ceremony.
The following recipes are my creations (well, with my mum's help). Hope you enjoy them. You may also be intereted in my blog, Teen Cooks Gluten Free.
(For more on Nathan's mum's and a selection of her delicious recipes, click here.)
Nathan's recipes
Click on the name of the recipe to go to it.

Green Power Smoothie
Baked Ham with Sticky Orange Glaze
---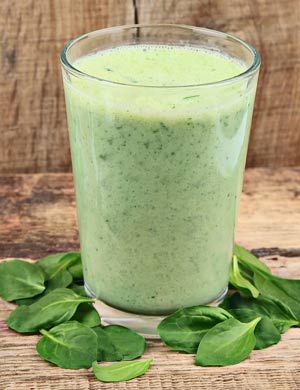 Green Power Smoothie
Dairy, egg, gluten, nut, soya and wheat free
Serves 2
Ingredients
handful of spinach
30g of protein powder
half a mango
1 banana
500ml of water or coconut water
Method
Simply put all ingredients in a blender and process
until smooth. Pour into a glass and enjoy. Best drunk straight away.
---
Baked Ham with Sticky Orange Glaze
Gluten, dairy, wheat, and nut free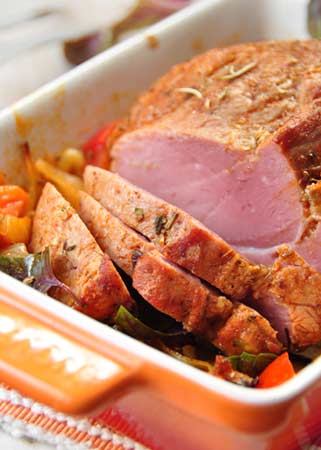 3kg gammon
1 onion, halved
3 oranges, zest removed with a vegetable peeler
4 star anise
cider or water
Glaze
3 tbsp orange marmalade
1 honey
2 tbsp wholegrain mustard (check ingredients to make
sure it is gluten free)
1tbsp tamari (check to make sure it is gluten and wheat free)
Put the gammon, onion, zest and star anise in a
large pan. Pour over cider or water so that the gammon is just covered. Bring to the boil, skim the surface to remove any fat, reduce to a simmer, then cover and cook for 3-3½ hours or until the meat is tender.
When the gammon is cooked, remove it from the pan.
Heat oven to 220C/200C fan/gas 7. Carefully cut the skin off the gammon, making sure to leave a layer of fat, and then lightly score the fat into diamond shapes. Place in a roasting tin lined with foil. Warm the marmalade, honey, mustard and tamari. Spoon over the scored fat.
Bake for 20-25 mins or until the glaze has caramelised. Slice and eat warm or cold.
---
Seared Raspberry Duck
Gluten Free, Dairy Free, Soy Free, Wheat Free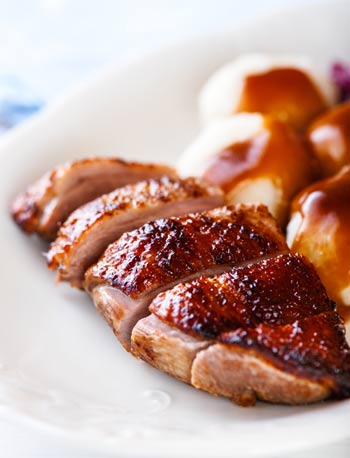 Serves 4

Marinade
1 red onion, sliced
4tbsp Coconut Aminos (snack bars)
2tbsp honey
6tbsp raspberry vinegar
2tbsp balsamic vinegar
4tbsp olive oil
1tsp Dijon mustard (gluten and wheat free)
seasoning
4 duck breasts
150g green beans, trimmed
250g mixed green leaves
150g cherry tomatoes, halved




Combine the marinade ingredients. Score the duck breasts on the fat side with a knife. Place in shallow dish and pour over the marinade. Leave to marinate for 1-2 hours or overnight.
Heat the oven to 200°C, gas mark 6. Heat a frying pan then drain the duck breasts and sear in the pan. Cook on a low heat for 10 minutes. Place the pan in the oven for a further 10 minutes.
Blanch the beans in boiling water for a couple of minutes then drain.
Place the green leaves on a platter and top with the beans and tomatoes. Slice the duck breasts.
Place the marinade in a pan and heat gently. Pour over the duck breasts to serve.
---
Summer Berry Oat Slice
Egg, gluten, soya and wheat free; can be dairy free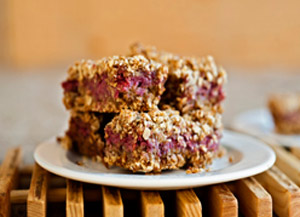 150g cashew nuts
225g Nairn's gluten free porridge oats
125g dates, chopped
1tbsp vanilla extract
125g coconut butter or butter melted
200g apple puree
Preheat the oven to 190ºC, gas mark 5.
Process the nuts in a food processor to form fine flour.
Add the oats and process again to break them down.
Place in a large bowl.
Place the dates, vanilla and coconut butter in a food processor and blend to form a paste. Add to the dry ingredients and mix well with your hands to form a crumbly dough. If too dry add a little water or additional melted coconut butter.
Place half of the mixture into a greased and lined 20cm / 8inch square shallow baking tin. Press the mixture down well with a back of a metal spoon.
Spread the fruit puree over the oat base then top with the remaining oat mixture pressing down lightly.
Bake in the oven for 25-30 minutes until golden brown. Allow to cool then cut into slices.
---
Lemon Curd Cheesecake
Dairy, gluten, nut, soya and wheat free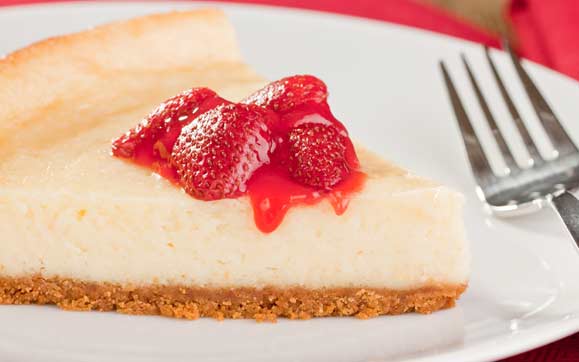 A fabulous gluten and dairy free cheesecake. I used gluten free oat cakes from Nairn's to make the base. Tofu is a great way of creating a creamy filling without the dairy.
Serves 8
150g Nairn's Gluten Free Oat Cakes
30g raisins
60g vegan spread or coconut butter
1 block firm tofu – I used Cauldron
300g lemon curd
2 eggs
Grease a 20cm spring form cake tin.
Preheat the oven to 150C, gas mark 3.
Place the oat cakes in a food processor and process until fine. Add the raisins and the melted spread and process to combine.
Press it into the cake tin firmly.
Place the tofu, eggs and lemon curd in a blender and process until smooth. Pour over the base.
Bake in the oven for 1 hour. Leave to cool before serving.

Click here for more guest recipes