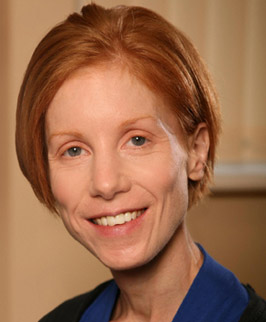 Christine Bailey
Christine is a qualified nutritionist, chef, food and health consultant and presenter on health and food matters.
She also follows a gluten free and dairy free diet.
During the pregnancy of my first son Nathan over 14 years
ago I was rushed into hospital for a life saving operation. The result was the removal of half my colon and the premature birth of Nathan at 28 weeks. Nathan who is now 14 years
old is healthy and well. He does however carry the coeliac genes HLA DQ2/8 and follows a gluten free diet.

One of his brothers Isaac who is 8 years old also suffers with an autoimmune disease (IgA linear Bullous disease). When Isaac was first diagnosed at the age of 2 years old he was covered in painful blisters and in terrible pain. As a nutritionist I was acutely aware of the link between autoimmune conditions, gluten sensitivity and coeliac disease. So not wanting Isaac to be put on steroids I took him off gluten and dairy foods. Within a month he looked a different boy: no blisters, rashes or pain and I had my wonderful boy back again. So Isaac continues to thrive on a gluten free and dairy free diet.
When I first embarked on a gluten and dairy free diet there was little available that was healthy and tasty. Being a chef and nutritionist I began developing delicious, nourishing recipes that were suitable for a range of allergies.
I established Advance Nutrition Ltd with the aim of providing research based nutritional advice, support and expertise on all things related to health and food. As a nutritionist I take a functional approach – this means I aim to treat the person, not the disease, the body systems not just the symptoms. This is a personalised approach and seeks to understand how body systems get out of balance and importantly how best to get them back in balance. This is particularly important when anyone presents with an autoimmune condition or allergy. Everyone is unique and therefore what is nourishing and healing for your body is unique to you.
I have published many recipe books including gluten free e books, paleo eBook and a range of healthy recipe books for children including The Top 100 Recipes for Brainy Kids, Top 100 Finger Food Recipes, Top 100 Baby Food Recipes as well as books such as The Juice Diet Book and The Raw Food Diet Book. My latest book, Nourish: Cancer Care, is a collaboration with the Penny Brohn Cancer Centre in Bristol.
I was awarded Coeliac Chef of the Year 2009 and work alongside Coeliac UK supporting individuals and regional groups – I run coeliac supermarket store tours, cookery demonstrations and talks on nutrition. I also regularly work with many health food manufacturers on recipe and product development. I am passionate about making allergy friendly food mainstream, healthy and delicious – with no compromise on taste.
You will also see many of my health and food features in national magazines and newspapers including Natural Health, Health & Fitness, Men's Health, Cook Vegetarian, Women's Running and Natural Lifestyle.
I regularly see clients at my clinic in Reading and London as well as in workplace for Corporates and Health clubs. www.advancenutrition.co.uk and email christinembailey@hotmail.com
Christine Bailey MSc PGCE BANT CNHC Director of Advance Nutrition Ltd.
Christine's recipes
Click on the name of the recipe to go to it.

Berry Chia Breakfast Pudding
Creamy Broccoli & Cashew Nut Soup
Chocolate and Cranberry Brownies
Berry Chia Breakfast Pudding
Gluten Free, Dairy Free, Soy Free, Sugar Free, Nut Free, Suitable for vegetarians, Suitable for vegans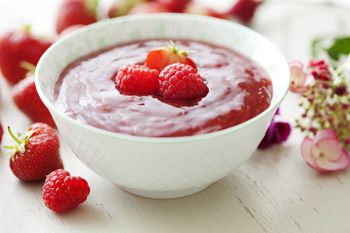 This recipe is taken from one of my books co-authored with Lorraine Nicolle. The Functional Nutrition Cookbook: Addressing Biochemical Imbalances through Diet. (Singing Dragon publishers). I love this dish as a healthy nourishing breakfast option or dessert. Chia is an incredibly nutritious seed – packed with omega 3 healthy fats, soluble fibre and rich in many minerals including calcium and iron.
Serves 4
50g / 1 ¾ oz / ½ cup chia seeds
250ml / 8floz / 1cup 100% unsweetened pomegranate juice
2tbsp tahini
12 soft pitted dates, chopped
Pinch of sea salt
Pinch of cinnamon
225g / 8oz raspberries
1. Place the chia seeds in the juice and leave to soak for 20 minutes. The seeds should swell up and thicken the liquid.
2. Place all the ingredients but only half of the raspberries into a blender. Process until smooth and creamy. Stir in the remaining raspberries.
3. Spoon into bowls and serve.
Creamy Broccoli & Cashew Nut Soup
Gluten Free, Dairy Free, Soy Free, Sugar Free, Seed Free, Suitable for vegetarians, Suitable for vegans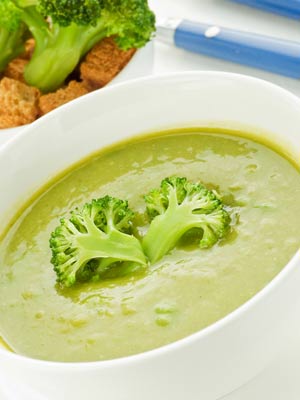 A velvety, creamy soup perfect for cramming in lots of
nourishing antioxidant rich broccoli. If your children
are a little vegetable shy this is a great recipe to try.
Drizzling over the oil provides a valuable source of
omega 3 fatty acids. This recipe is taken from my new book Nourish: Cancer Care cookbook, which contains a
wealth of nutritious recipes many of which gluten and dairy free.
Serves 4
1 litre vegetable stock
2 cloves of garlic, crushed
1tsp ginger finely grated
60g / 2oz / ½ cup cashews
1tsp fish sauce - optional
1tbsp apple cider vinegar
1tbsp tamari
Sea salt and black pepper to taste
500g / 1 lb 2oz fresh broccoli, cut into small pieces
1tbsp hemp oil or walnut oil
Dash of tamari to serve
Place the stock, garlic, ginger, cashews, fish sauce, vinegar, tamari in a large saucepan and bring to the boil.
Add the broccoli and simmer for 5 minutes until the broccoli is just tender.
Process the soup in a blender to create a thick, smooth soup. Add the oil and process again to combine. Season to taste.
Spoon into bowls and drizzle with a little tamari to taste.
Pesto Butterbean Burgers
Suitable for vegetarians, Suitable for vegans, Seed-Free, gluten free dairy free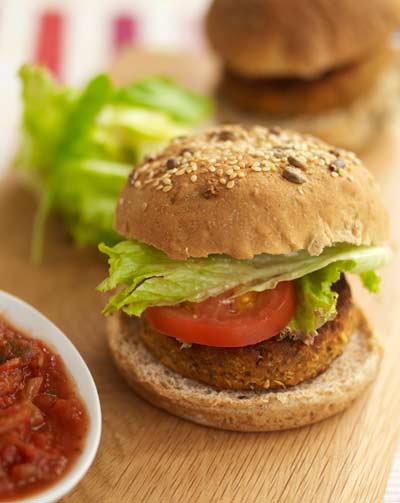 These creamy burgers have a lovely summery Mediterranean flavour with the addition of vegan pesto. Butter beans are a soft textured bean, creamy and mild tasting making them ideal for burgers as well as being a great vegetarian protein food. Easy to make these burgers can be prepared in advance and cooked when needed. They can also be cooked from frozen. Serve with a little salsa or place in rolls for a healthy fast food alternative.
Makes 8 burgers
2 x 410g cans butterbeans, drained and rinsed
3 tbsp vegan pesto e.g essentials pesto e.g. red pesto or rocket pesto
115g / 4oz gluten free breadcrumbs
1 garlic clove, crushed
1 red onion, finely chopped
Freshly ground black pepper
Gluten free rolls, salad leaves and sliced tomato to serve
Preheat the oven to 220ºC, gas mark 7.
Place the beans and pesto in a food processor and process until smooth. Add the breadcrumbs, garlic and onion and process lightly to combine. Leave some texture in the mixture.
Season with black pepper.
Using damp hands shape the mixture into 8 burgers. Place on a lined baking tray. Bake in the oven for 30-40 minutes until golden brown.

Serve in toasted buns with sliced tomato and salad leaves.
Strawberry Cream Tarts
Suitable for vegetarians, suitable for vegans Dairy Free, Seed Free, Soy Free, Gluten Free, Egg Free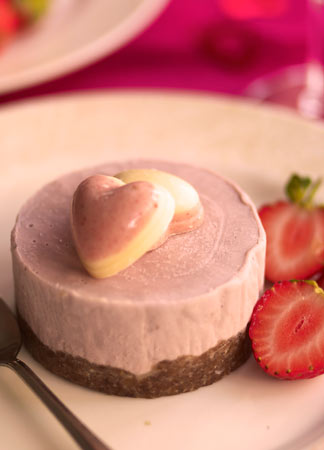 I recently developed this recipe for Rice Dream with Valentine's in mind. This is a perfect celebratory dessert – creamy, rich and sweet. Top with a fresh sliced strawberry or chocolate heart for a truly romantic treat.
Serves 6
125g pecan nuts
75g pitted, soft dates
2tsp melted coconut butter
Filling:
250g cashews
200ml Vanilla Rice Dream
225g strawberries, chopped
3tbsp maple syrup
Pinch of Himalayan salt
115g melted coconut oil
Grease 6 metal rings and line the sides with a
strip of baking parchment. Place on a lined baking sheet.
To make the base grind up the pecan nuts in
a food processor until very fine. Add the dates and coconut oil and process to form a sticky dough. Divide the dough between the metal ring bases and press down firmly to form a crust.
Place in the freezer for 30 minutes to harden.
To make the filling place all the ingredients in a blender and process until smooth and thick. Divide the filling between the metal rings. Return the rings back into the freezer and freeze for 1-2 hours until firm. Carefully remove the rings and place the desserts on individual serving plates.
Place in the fridge and allow to defrost for an hour before serving. They can be kept in the fridge until needed.
Top with berries or a chocolate heart to serve.
Pear and Chocolate Muffins
Gluten Free, Dairy Free, Soy Free, Nut Free, Seed Free, Suitable for vegetarians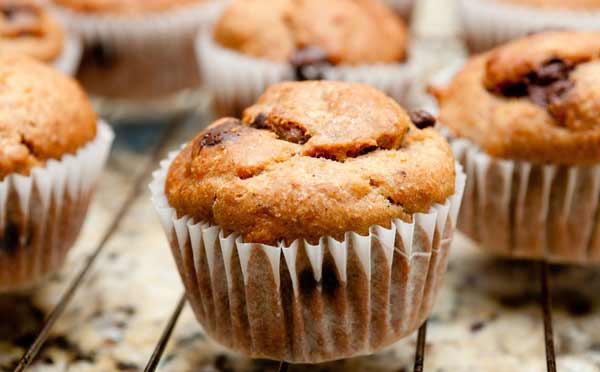 My children love baking with me so I like creating healthy recipes that are quick and simple for them to make. This is a delicious muffin recipe – gluten free and dairy free. I used Doves Farm gluten free flour mix but you could easier make up your own mix with a combination of rice, tapioca and potato or ground almonds. For an egg free option you could replace the egg for 1tsp psyllium husks. I try to keep the sugar to a minimum and use xylitol or coconut sugar which have a lower glycemic index than other options. These muffins freeze well too and make ideal treats in lunch boxes.
Makes 6-8 muffins
280g gluten free flour e.g Doves Farm
2tsp baking powder
1/2tsp bicarbonate of soda
Pinch of sea salt
60g xylitol or coconut sugar
1 egg
200ml Milk alternative
2 pears grated
100g chocolate chunks, dairy free
6tbsp olive oil or melted coconut oil
Preheat the oven to 180C, gas mark 4
Line muffin moulds with paper cases.
In a large bowl, mix together the flour, baking powder, bicarbonate of soda, salt and sugar.
Beat together the egg and milk alternative in a jug.
Pour into the flour and mix to combine. Stir in the pear and chocolate.
Fill the muffin cases then bake for 25 minutes until they are golden brown.
Leave in the tins for 5 minutes before placing on a wire rack to cool.
Chocolate and Cranberry Brownies
Suitable for vegetarians, Suitable for vegans Dairy Free, Seed Free, Soy Free, Gluten Free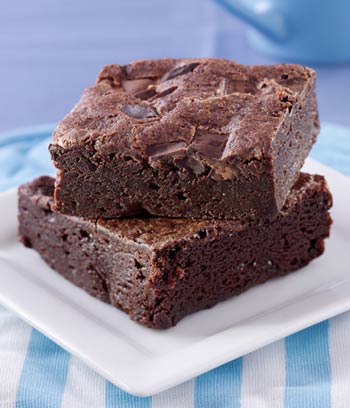 A healthy brownie? These are positively brimming with nutrients to support your child's health. Moist and chocolately they include prunes to replace a lot of the sugar found in conventional recipes.
Makes 10-12
100g (3½oz) ½ cup ready to eat prunes
50g (2oz) ¼ cup xylitol
125g (4oz) dark chocolate, dairy free if needed
100g (3½oz) heaped ¾ cup dried cranberries
25g (1oz) ¼ cup pecan nuts, chopped
1tsp vanilla extract
50g (2oz) scant ½ cup gluten free self raising flour
1tsp baking powder
1tbsp ground flaxseed
3 eggs, free range or organic, separated
Preheat the oven to 180ºC, gas mark 4.
Grease and base line a 15cm square shallow cake tin with baking parchment.
Place the prunes and xylitol with 3tbsp water in a liquidiser and puree to form a paste.
Melt the chocolate over a pan of simmering water. Remove from the heat and cool slightly. Stir in the cranberries, pecan nuts, vanilla, flour, baking powder, flaxseed and egg yolks.
Whisk the egg whites until they form soft peaks. Fold carefully into the chocolate mixture.
Spread the mixture in the tin and bake for 20-25 minutes until firm to touch. Leave in the tin to cool. Cut into squares to serve.

Click here for more guest recipes