Michelle's Free From nettle and pinenut pilaf
Corn, dairy, egg, gluten, lactose, nightshade, nut, soy and wheat free
In my nettle enthusiasm this week (see Nettle soufflé and, next week, Nettle soup) I completely forgot about Nettle Risotto… How could I? Especially since that was the title given by my good friend Anna del Conte, to her memoirs – Risotto with Nettles….
You can buy all of Anna's books here on Amazon in the UK and here on Amazon in the US.
So off I went, at once, to find her recipe. But, when I found it I discovered that, for starters, she used 300g/11oz nettles and I only had 100g/4ozs left… And then her recipe used lots of fresh butter and about half a pint of double cream – not ideal for a 'freefrom' recipe. So, here, with a sideway obeisance to Anna, is a freefrom nettle and pine nut pilaf which only needs 100g nettles and uses no dairy products!
Out of nettle season you could also make the pilaf with almost any other fresh green leaf – spinach, parsley, coriander, mint, watercress…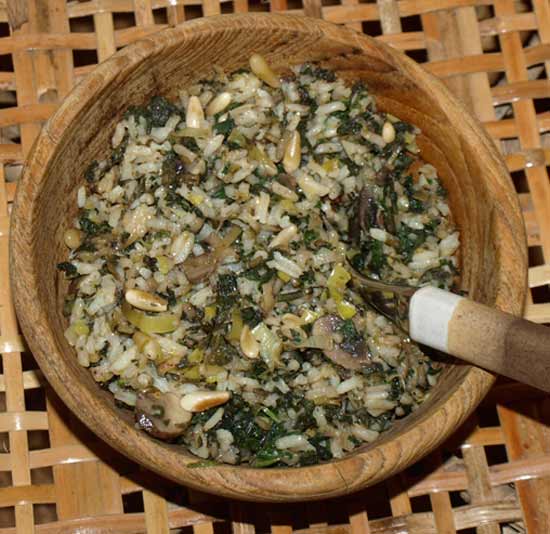 Serves 4
3 tbsp olive oil
3 large leeks, very finely sliced
150g/6oz button mushrooms, wiped and sliced
200g/7oz long grain rice
500ml/18 floz gluten and wheat-free vegetables stock
50g/ 2oz pine nuts
100g/4ozs fresh nettles (or other green leaf)
sea salt and freshly ground black pepper
Heat the oil in a wide pan and gently cook the leeks until they are going transparent then add the mushrooms and continue to cook slightly more briskly until they start to give their juices.
Add the rice, stir well around for a few minutes then add the stock. Bring to the boil then reduce to a simmer and simmer for approximately 15 minutes or until the liquid is absorbed and the rice cooked. Add a little extra liquid if needed.
Meanwhile, dry fry the pine nuts until they are lightly browned all over and lightly shop the nettles (or other green leaves) in a food processor. You just want them shopped small so me careful not to over process them into mush!
When the rice is cooked, mix in the pine nuts and chopped nettles and season to taste with sea salt and freshly ground black pepper.
Serve warm or at room temperature with a green salad.
Back to more freefrom vegetable and vegetarian recipes