Michelle's Freefrom Nettle and Anchovy Soufflé
Corn, gluten, lactose, milk, nightshade, nut, peanut, sesame & wheat free; can be soya free
This is a really lovely, delicately flavoured soufflé. I made it for two but if you want to make it for four people, just double up on the ingredients and cook for 45 minutes or until the soufflé is well risen a lightly browned on top. People get very scared of soufflés but as long as you put in enough eggs and are sure to use one more white than you do yolk, you really cannot go wrong…
Serves 2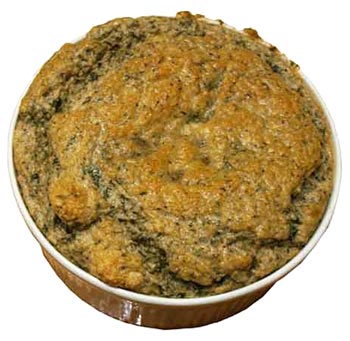 Ingredients
oil from a 50g / 2oz tin of anchovies, canned in olive oil if possible, plus 1 extra tbsp olive oil

1 small leek, sliced very finely

4 large anchovies from the tin, chopped small

100g / 4oz young nettle tops and leaves

1 level tbsp gluten and wheat free flour

250ml / 8floz oat milk or unsweetened soya milk

freshly ground black pepper

the yolks of 4 and the whites of 5 medium free-range eggs
Method
Heat the oils in a heavy pan and very gently fry the leeks and anchovies until both are softening – around 10 minutes.

Meanwhile, wash the nettle tops thoroughly and dry lightly – make sure that you wear rubber gloves and that you discard all the tough stalks.
Chop them very briefly in a food processor – you want the leaves chopped small but not pureed to a mush.

Add the nettles to the leeks and anchovies, cover the pan and sweat very gently for a further 10 minutes.

Heat the oven to 180C/350F/Gas mark 4.

Add the flour to the mixture and stir over the heat for a few moments, then gradually add the oat milk or soya milk.
Continue to cook and stir gently until the mixture thickens slightly.
Remove from the heat.
Leave for a couple of moment to cool slightly.

Separate the eggs and stir the yolks into the spinach mixture.

Whisk the whites with a hand whisk until they hold in soft mounds – do not whisk them really stiff as you would for meringues.

Gently stir approximately 1/3 of the whites into the nettle mixture with a folding/stirring motion, getting them well amalgamated.
Then gently fold in the remaining whites.

Pour into a soufflé dish approximately 15cm / 6 inches in diameter. (If your dish is smaller and the uncooked mixture is likely to fill the dish completely, make a collar of foil or greaseproof paper round the dish, tied with string, to hold the mixture in if it rises above the edges of the dish.)

Cook for 30 minutes or until the soufflé is risen and lightly browned on top.
Serve at once followed by a green salad.
We have over 800 delicious freefrom recipes on this site all of which are gluten free, most of which are dairy and lactose free and many of which are free of most other allergens. Please go to the following sections to try them out: