FreeFrom chicken salad with tomato and coconut milk sauce

Corn, dairy egg, gluten, lactose, nut, soya and wheat free

You can make this salad with cold roast chicken or which cold poached chicken, if you also wanted to make the delicious Greek Avgolemono soup. If so, see the soup recipe. The texture of the meat will be much softer if you use poached, rather than roast, chicken.
The sauce is a little like a gaspacho! An effect that you can reinforce by added the finely chopped celery to the sauce.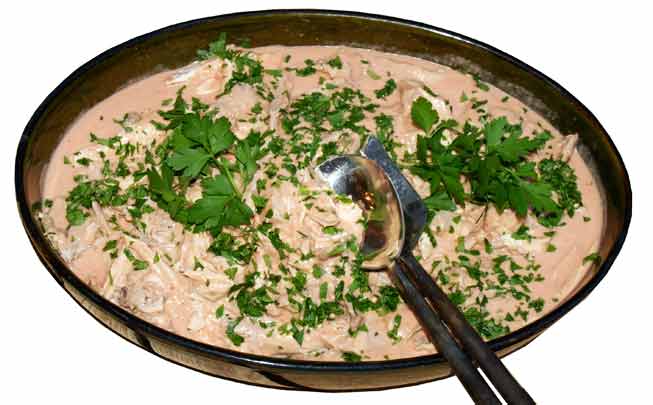 Serves 4 – 6 depending on the size of the chicken
the meat from 1 cooked chicken, sliced
3 cloves, garlic, sliced
1 birds eye red chilli, de-seeded and chopped small
500g/1lb 2oz very ripe tomatoes, chopped roughly
240ml/8floz coconut milk
juice 1–2 lemons
1 stick freshly celery, chopped celery small (optional)
handful chopped fresh parlsey
Lay the meat out on a flattish dish.
Put the garlic and chilli into a food processor with the tomatoes and the coconut milk and whiz very thoroughly until you have a smooth cream.
Season too taste with the lemon juice, salt and pepper.
Add the chopped celery if you are using it and spoon over the chicken making sure it is all well covered.
Decorate with the chopped parsley and serve at room temperature with a filling salad such as this butterbean and chard salad.
Serves 4 - per portion:

245 Calories
38g Protein
9g Fat ( 6.5g Sat fat, 0.8g mono, 0.5g poly)
4g Carbohydrate of which 4g Sugar
0.1g Fibre, 100mg Sodium, 0.2g salt
15mg Calcium

Good Source: Niacin, B6
Back to more freefrom meat recipes