FreeFrom butterbean and chard salad
Corn, dairy, egg, gluten, lactose, nightshade, nut, soy and wheat free
A nice filling but fresh tasting salad.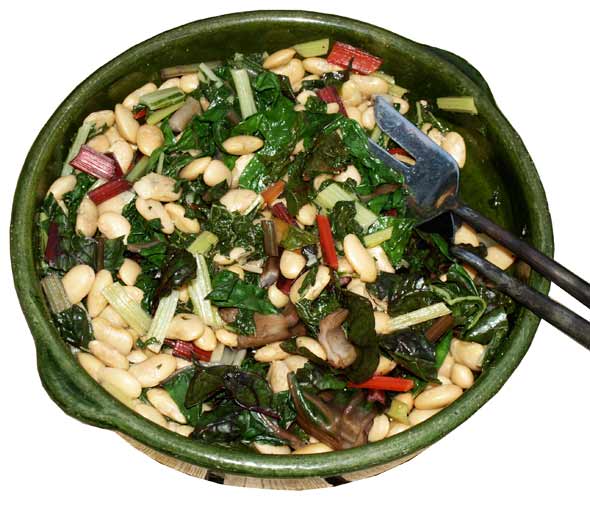 Serves 4
2 x 400g/14oz tins butterbeans
500g/generous 1lb fresh chard, washed
sea salt and freshly ground black pepper
2 tbsp red wine, fruit or cider vinegar
4 tbsp olive oil
Turn the bean into a saucepan in their liquid and heat gently until quite warm, the strain and turn into a bowl. (The beans absorb the flavours of the dressing much better when they are warm.)
Meanwhile, chop the chard roughly and steam for 8–10 minutes.
Mix the chard into the warm beans and while both are still quite hot, dress them to taste with salt and pepper, and the vinegar and oil.
Leave aside for an hour or so to allow the flavours to get well absorbed and then serve at room temperature.
Serves 4 – per portion:
224 Calories
10g Protein
12g Fat ( 2g Sat fat, 8g mono, 1.3g poly)
20g Carbohydrate of which 2g Sugar
8g Fibre, 788mg Sodium, 2g salt
83mg Calcium

Good Source: Mg, Folate, Vit C
Back to more freefrom vegetable and vegetarian recipes