Freefrom Tomato, Anchovy and Spinach Flan
Corn, gluten, lactose, milk, nut, peanut, sesame, soya & wheat free
We had several packs of G Free pastry in the freezer so we had a bit of a flan fest with them. You can either use a proprietary ready-made pastry or pastry mix, or make you own – see my Artichoke and Spinach quiche recipe.
Serves 4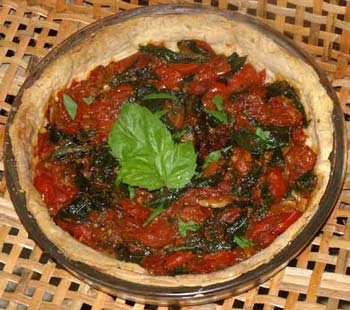 Ingredients
1 x 20cm/8inch gluten-free pastry flan case, baked blind

2 tsp olive oil

2 tsp oil from the anchovy tin

10 anchovies tinned in olive oil, finely chopped

6–8 large cloves garlic, peeled and finely sliced

600g / 1¼ lb cherry or plum tomatoes, halved or quartered

100g / 4oz fresh spinach leaves, chopped coarsely

freshly ground black pepper
Method
Heat the oils in a wide pan then add the anchovies and garlic and fry very gently for 10–15 minutes or until the anchovies are disintegrated and the garlic is soft.

Add the tomatoes and continue to cook gently for a further 10–15 minutes or until the they are totally broken down and most of their liquid has evaporated. Take care they do not burn or cook dry.

Wash the spinach and dry lightly. Add to the tomato mix and just allow to wilt.
Mix thoroughly but gently into the tomatoes.

Spoon into the flan case and grate over lots of coarsely ground black pepper. You can also sprinkle it with a few chopped fresh basil leaves.

Eat warm or at room temperature.
We have over 800 delicious freefrom recipes on this site all of which are gluten free, most of which are dairy and lactose free and many of which are free of most other allergens. Please go to the following sections to try them out: