Freefrom Artichoke and Spinach Quiche
Corn, gluten, nightshade, nut, peanut, sesame & wheat free; can be egg, lactose, milk & soya free
A quiche is a bit of a disaster area for anyone with any of the classic allergies or intolerances - diary, wheat/gluten or egg - as a 'normal' quiche contains substantial quantities of all three. You can make a very satisfactory quiche filling with non-dairy milks and gluten-free pastry with one of the many alternative flours and non-dairy spreads - but there is really no way that you can get the true texture of a quiche without the eggs. However, the mixture that we have used - cream cheese and milk - does make for a very pleasant and tasty flan with a good texture - even if it is not quite the same as a classic quiche.
Serves 6
Ingredients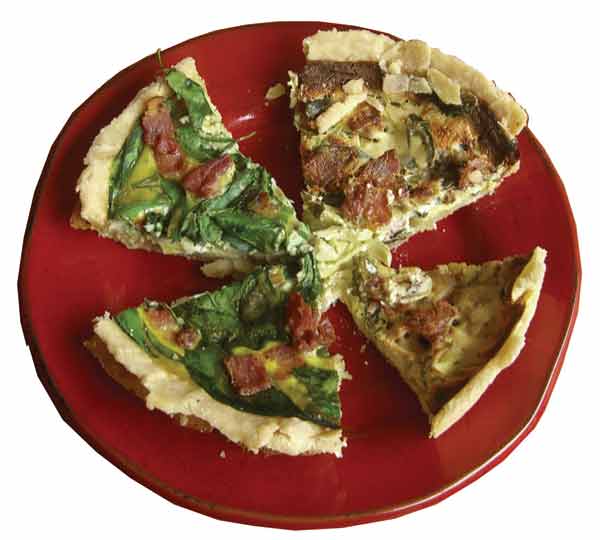 Pastry
300g / 10½ oz flour - you can use your own favourite gluten-free flour, a proprietary mix such as Doves Farm or 200g / 7 oz gram flour with 100g / 3½ oz rice flour - well sifted

150g / 5½ oz butter or dairy-free spread - we used Pure

50-75ml / 1.5-2.5fl oz ice cold water
Filling
3 rashers (slices) of back bacon
½ tbsp olive oil

4 tinned (canned) artichoke hearts

large handful of fresh baby spinach leaves

4 eggs

400ml / 13fl oz cow, goat, sheep, soya or oat milk

sea salt and freshly ground black pepper
Egg-free filling
substitute 300g / 11oz soft cream cheese (cow, sheep, goat or soya) for the eggs
reduce the amount of milk to 250ml / 8fl oz
Method
Put the flour in a food processor with the butter or spread and whizz till it has the texture of breadcrumbs.
Add the water and whizz again briefly.
Remove from the processor, roll into a ball and wrap in clingfilm and chill for 15 minutes.
Meanwhile heat the oven to 180C/350F/Gas Mark 4.

Roll out the pastry and line a 20cm / 8" flan dish.
If the pastry crumbles just use pieces to patch.
Line with greaseproof paper, weight with beans and bake blind for 15 minutes.
Remove the paper and beans and continue to cook for a further 15 minutes or until the pastry is crisp.

Cut the bacon into small dice.
Heat the olive oil in a pan and fry the bacon pieces briskly until they are crisp and tanned but not burnt.

Drain the artichoke hearts and cut into quarters.
Mix the artichokes hearts, spinach and bacon well and strew over the bottom of the flan dish.

Beat the eggs in a bowl and add the milk.
Season with sea salt and freshly ground black pepper.

Pour the milk mixture over the vegetables and bacon in the flan dish and bake for 30 minutes or until the flan is slightly risen and firm to the touch.
Allow to cool slightly before serving.
Egg-Free Method

Proceed as above until the eggs.

Instead of eggs, put whichever soft cream cheese you can eat (cow, goat, sheep or soya) in a food processor and add 250ml / 8fl oz of whatever milk you can use (cow, goat, sheep or soya) and purée.
Season lightly (depending on how salty the cream cheese you are using is) and pour the mixture over the vegetables.

Bake for 20-30 minutes or until the top of the flan is lightly browned.

Cool slightly before serving.

Serves 6 - per portion
500cals - 15g protein
31g total fat - 16g sat / 10g mono / 2g poly
42g carbohydrate of which 4g sugar
2g fibre - 443mg sodium / 1.1g salt
Good Source of: Vitamins B6 & B12, calcium
We have over 800 delicious freefrom recipes on this site all of which are gluten free, most of which are dairy and lactose free and many of which are free of most other allergens. Please go to the following sections to try them out: