Michelle's Freefrom Smoked Mackerel and Artichoke Heart Flan
Corn, gluten, lactose, milk, nut, peanut, sesame, soya & wheat free
We had several packs of G-Free ready to roll pastry in the freezer so we had a bit of a flan fest with them. You can either use a proprietary ready-made pastry or pastry mix, or make you own – see my Artichoke and Spinach quiche recipe.
Serves 4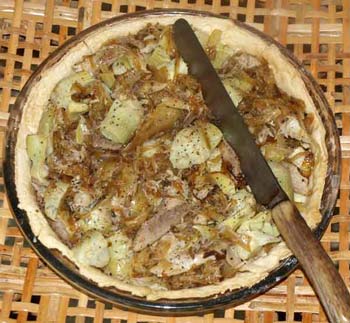 Ingredients
1 x 20cm / 8 inch gluten-free pastry flan case, baked blind

2 tbsp olive oil

1 large onion, peeled and sliced

200g / 7 oz smoked mackerel, peppered or not as you prefer

1 x 400g / 14 oz tin artichoke hearts, drained

juice 1 large lemon

sea salt and freshly ground black pepper
Method
Heat the oil in a wide pan and very gently fry the onions.
You want to caramelise them so this will take 20–30 minutes of very slow cooking.
Stir regularly to stop them catching.

When the onions are very soft and lightly tanned, turn them into a bowl.
Skin the mackerel fillets and break up into bite size pieces; quarter the artichoke hearts.

Mix the fish and artichoke hearts gently into the onion trying not to break them up too much.

Season lightly (the mackerel is often quite salty and if you have used peppered mackerel it will already be peppery) with sea salt and freshly ground black pepper and drizzle with the lemon juice.

Serve at room temperature.
We have over 800 delicious freefrom recipes on this site all of which are gluten free, most of which are dairy and lactose free and many of which are free of most other allergens. Please go to the following sections to try them out: