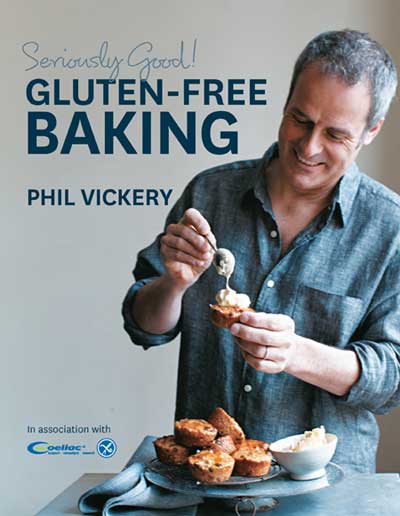 Seriously Good Gluten-free Baking
by Phil Vickery
You can buy the book here on Amazon.
This is a follow up to Phil's first gluten-free cookbook, Seriously Good Gluten-free Cooking, and is just as appealing in both looks (lovely photographs from Tara Fisher) and in terms of recipes but this time he focuses entirely on that bane of the gluten-free cook, baking.


A good introduction gives you a some insight into Phil's approach to gluten-free baking, his essential ingredients and his three basic flour mixes designed for cakes, biscuits and yeast-based baking. The recipes which follow include biscuits, cup cakes and muffins, cakes of all shapes and sizes, puddings, sweet treat and some breads. Most are relatively simple and should not trouble any moderately competent gluten-free cook.

The recipes include exotica such as Sweet courgette and Saffron Butterfly Cakes or Blue Cheese Buttermilk Muffins to Polenta Cake with Raspberry Drizzle frosting, Plum and Almond Butter Cake and eternal favourites such as Squidgy Chocolate Fudge Cake and Rich Fruit Christmas Cake. We chose the Roasted Banana Walnut Cake to feature below.

The bread section is relatively short and although it does include delicious goodies such as the Sultana Brioche loaf below, Christmas chestnut and cranberry tealoaf, foccacia, crispy tortilla chips, poppyseed breadsticks and and Indian-style flat breads we were slightly disappointed that there were no basic bread recipes. Just as well that there are now so many good fresh gluten-free breads on the market!

However, this will make an excellent gift for any gluten-free baker – and you could do worse to give it to a baking enthusiast who had never thought of going gluten-free – it could just give them some ideas!!

Seriously Good Gluten-free Baking by Phil Vickery
is published by Kyle Cathie at £19.99 ISBN 978-1-85626-923-0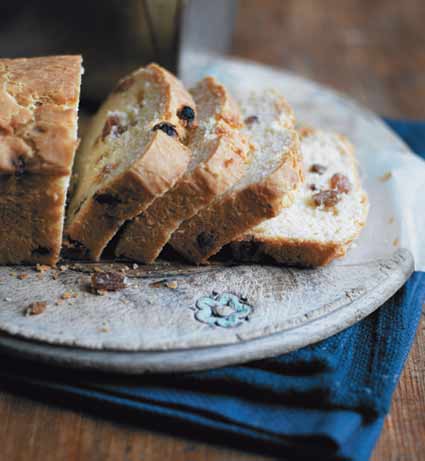 SULTANA BRIOCHE LOAF
One of the nicest breads to eat, especially for breakfast. This recipe goes very close to the real thing, with a lovely flavour and texture.
Makes: one 23 x 13 x 7cm loaf
Preparation: 15 minutes
Proving time: 1 hour or so in a warm place
Cooking: 25–30 minutes
vegetable oil, for oiling
125ml semi-skimmed milk
1 large egg, at room temperature
325g Gluten-Free Flour Mix A (see page 22)
1 teaspoon xanthan gum
1 teaspoon salt
25g caster sugar
7g sachet easy-blend dried yeast
200g unsalted butter, chilled and cubed
75g sultanas
Lightly oil a 23 × 13 × 7cm loaf tin.
In a small pan, warm the milk with 75ml water, add the egg and beat lightly.
Put the flour, xanthan gum, salt, sugar and yeast in a food processor and pulse to mix. Add the butter and process briefly to cut the butter into the mixture. Leave the butter in very small pieces; you don't want it to go to breadcrumbs.
Empty the contents of the food processor into a large bowl. Make a well in the centre and add the sultanas, and the milk and egg liquid. Fold the ingredients together briefly; it will still be a bit lumpy.
Spoon the mixture into the prepared tin. Cover with clingfilm and pat down to flatten nicely, then lift off the film and cover with a fresh piece of clingfilm.
Prove in a warm place for 1 hour.
When proved, preheat the oven to 200°?C/gas mark 6. Cook for 25–30 minutes, or until well risen and dark golden. Remove and eat while warm and fresh.
TO STORE: The brioche will keep for up to 2 days, stored in an airtight container.
TO FREEZE: Slice when cold, double wrap in clingfilm and freeze in an airtight container. Remove individual slices of the bread and toast from frozen as required.
ROASTED BANANA WALNUT CAKE WITH MAPLE ICING
This combines some of my favourite flavours in one moist sponge cake. Made with roasted bananas for a great texture, and drizzled with a deliciously sticky maple icing – fantastic!
Makes: one 23 x 13 x 7cm loaf
Preparation: 15 minutes
Cooking: 40–50 minutes
For the cake
450g bananas with skin on (about 250g after roasting)
150g light muscovado sugar
125ml sunflower oil
1 teaspoon glycerine
3 medium eggs, at room temperature
225g Gluten-Free Flour Mix B (see page 22)
1/2 teaspoon xanthan gum
1/2 teaspoon bicarbonate of soda
1/2 teaspoon baking powder (see box, page 19)
2 tablespoons creme fraiche or cream cheese
50g walnut pieces
For the maple icing
3 tablespoons maple syrup
75g fondant icing sugar
crushed walnuts, to decorate
Preheat the oven to 200°?C/gas mark 6.
Make a slit in each banana and place on a baking tray. Roast the bananas in their skins for about 10 minutes until soft. Cool, mash roughly, and set aside.
Reduce the oven temperature to 180°?C/gas mark 4. Oil a 23 × 13 × 7cm loaf tin and base-line with baking parchment.
Tip the sugar into a large mixing bowl and, using a handheld electric mixer, whisk in the oil, glycerine and eggs, one at a time.
Sift together the flour, xanthan gum, bicarbonate of soda and baking powder and mix this into the bowl, with the crème frache or cream cheese. Stir in 250g mashed banana and the walnuts and mix all the ingredients thoroughly.
Smooth the mixture into the prepared tin and bake for about 45 minutes until firm and springy when touched. Test with a skewer, which should come out clean when inserted into the centre. Cool in the tin for 10 minutes. Turn the cake out of the tin, peel off the paper and cool on a wire rack.
For the icing, mix the maple syrup into the fondant icing, with just enough drops of water to make a runny icing. Set the cake on a serving plate, drizzle the maple glaze over and scatter some crushed walnuts on the top. Cut into slices to serve.
TO STORE: The un-iced cake will keep for 1 week in an airtight container.
TO FREEZE: Wrap the un-iced cake in baking parchment and foil and freeze in an airtight container. Defrost for 1–2 hours and ice after defrosting