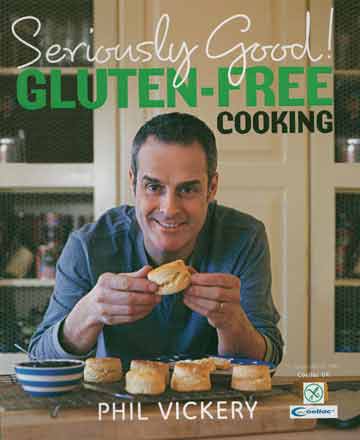 Seriously Good! Gluten-free cooking
by Phil Vickery
And seriously good Phil Vickery's book really is – and what is even more seriously good about it is that it is a mainstream cookery book by a mainstream chef who has no personal or family problem with gluten but just feels that those on gluten-free diets should be given a better deal in the cookery stakes!
The result is a great book with some delicious recipes. How about Borlotti bean, chilli and pine nut bake, or Easter roast chicken with tarragon and asparagus, or Lemon and leek risotto, or Japanese salmon with fresh mint chutney, or Aubergine cannelloni with beetroot salsa, or Fudgy almond cake with mint syrup and frosting, or Frozen cappuccino or – maybe the best of the lot – Plain gluten-free scones.....
The recipes are easy to follow and the pictures are mouth watering.
Seriously Good! Gluten-free Cooking by Phil Vickery is published by Kyle Cathie at £19.99
You can buyt it here on Amazon.
Chestnut and roasted onion bread
I could write a whole book on gluten-free bread as it's such a huge subject and very difficult to get the structure just right. However, this chestnut bread is easy and simple to prepare. The sweet roasted onions really help to bring out the nuttiness in the loaf and so this is absolutely the place to start before you build up your bread-making repertoire.
5 tablespoons olive oil
2 medium onions, finley chopped
3 teaspoons sugar
1 x 7g sachet dried yeast
1 teapsoon xanthan gum
400ml warm water
300g chestnut flour
100g potato flour
1/2 teaspoon gluten-free bakign powder
1 medium egg, lightly beaten
salt and freshly ground black pepper
oil, for greasing
Preheat the oven to 180C/375F/gas mark 4.
Oil a 900g loaf tin.
Heat 2 tablespoons of the olive oil in a frying pan, then add the onions and 2 teaspoons of sugar Cook down, stirring occasionally until light golden. This will take a few minutes. Once cooked set aside to cool.
Add the yeast, xanthan gum and the remaining olive oil to the warm water and stir until dissolved.
Combine the flours, remaining sugar, baking powder, egg, 1 teaspoon salt and black pepper in a large bowl and mix well.
Pour into the prepared tin and cook for 30 minutes or until well risen and lightly browned. Remove and cool slightly.
Turn out and slice when ready.
Crispy pork salad with lemon dressing
This salad makes a little great value-for-money British pork go a long way. It's a really simple, tasty salad that is quite unusual - and it is also dairy and egg free.
4 rashers streaky, dry-cured bacon cut in strips
400g minced British pork
1 tablespoon Chinese five spice powder
2 tablespoons vegetable oil
salt and freshly ground black pepper
For the dressing
3 tablespoons clear honey
finely grated zest and juice of 2 large lemons
3 tablespoons olive oil
1 tablespoon molasses
2 tablespoons tamari
1 teaspoon caster sugar
For the salad
1/2 iceberg lettuce, very finely sliced
1 small mouli (Japanese radish) very finely sliced into shreds
8 pepperdew peppers, roughly chopped
1 small bunch watercress.
Preheat the oven to 200C/400F/gas mark 6.Heat a non-stick frying pan and cook the bacon strips until crispy. Set aside on kitchen paper.
Meanwhile, place the pork, Chinese five spice powder and 1 teaspoon salt in a bowl and mix well.
Heat a large non-stick pan, add the vegetable oil and then the pork mixture. As the pork heats up, break it up with a wooden spoon or spatula, until the meat is all loose and cooking nicely. You will find that the meat starts to boil, this is quite normal. Let it boil, stirring all the time. After a few minutes, the water will evaporate and the pork will start to cook in the small amount of oil, plus the fat from the pork.
Once the pork is really brown and crispy, after about 5 minutes, spoon it into a colander over a bowl to catch the fat and oil. Discard the excess fat. Season the pork well.
Next make the dressing by placing the honey, lemon zest and juice, oil, molasses, tamari, sugar and a little salt and pepper into a bowl and whisk well.
Place the lettuce, mouli, pepperdew peppers and
watercress together in a large bowl and spoon over the dressing, mix carefully. Add the warm crispy pork and again mix well, but carefully. Divide between 4 plates and top with the crunchy bacon. Serve at once.