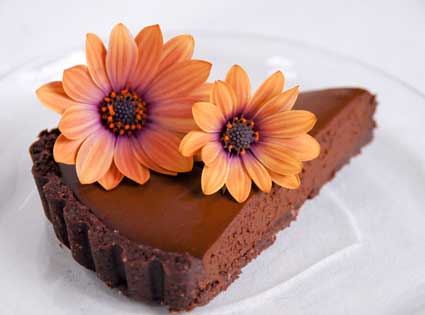 I Love Raw Chocolate– by Liz Bygrave
25% discount for foodsmatter.com visitors - see below
In 2008 Cressida Boyd reviewed one of Liz Bygrave's chocolate workshops, and Foods Matter featured a couple of her recipes and her booklet 'I Love Ice Cream!' Now Liz has brought out a recipe book that makes working with raw chocolate and other raw, healthy and delicious ingredients EXTREMELY straightforward.
Liz has kindly offered Foods Matter readers a 25% discount on her e-book, 'I Love Raw Chocolate!' Click here to buy at the reduced price of £7.50, using code FMRCB001 in the discount box in the shopping cart.
Dividing the e-book into four parts, Liz has started with recipes that use the simplest, easy-to-find ingredients to allow you to change your chocolate consumption from wheat, dairy and sugar-based chocolate puddings to healthy, tasty, freefrom chocolate desserts.
Each section introduces different ingredients, starting with raw chocolate, agave nectar and sweet freedom, with the nutrient benefits of each ingredient given in detail, as well as a warning about the stimulant effects of too much raw chocolate! Some recipes have more than one use, and Liz includes variations in ingredients such as using yannoh to get a coffee flavour.
The author herself likes easy recipes, so even the triple layer chocolate cake and the rich chocolate ice cream will not overwhelm the infrequent cook. All ingredients can be sourced in the UK, even the more exotic foods, and all are also available on the Sweet Sensations website. As the title suggests, all the recipes are raw, so one piece of equipment you won't need is an oven. Any sort of grinder will suffice, as well as a blender, plus the usual measuring equipment.
The e-book is pleasingly laid out, and the recipes include a raw chocolate spread to eat on your toast instead of fat-laden, generic chocolate spreads, some interesting and guilt-free ice creams, truffles, tarts and cakes. The last chapter introduces superfoods to add even more pizzazz to pudding time. These include chocolate goji ganache, butterscotch bars containing lucuma powder, and superfood truffles. For those with children there are alternative recipes for teatime treats such as millionaire's shortbread and rocky road chocolate chunks.
Liz Bygrave's 'I Love Raw Chocolate' is a valuable asset for anyone with a sweet tooth who is looking to be a little more healthy, and will make a great chocolate lover's Christmas present.
Exclusive 25% discount for Foods Matter's readers!
Put FMRCB001 into the discount box in the shopping cart.
Return to cookery writers home