Abnormal Liver Function - and coeliac disease
Sarah Jones, who makes wonderful celebration gluten-free cakes, suffered for years from abnormal liver function before, by chance, she tried a gluten-free diet.
I started feeling unwell in my early teens (around 17 years ago) but no-one could really work out why. Tiredness and recurrent infections were my main symptoms. After many upheavals such as moving to a closer school and giving up swimming (my passion at school) blood tests revealed I had very abnormal liver function.
Once all the major types of hepatitis had been ruled out, the medics were at a loss as to what was really wrong with me. I lived with feeling unwell for quite a few years and then in my late teens I heard about a new patient of my mother's (she is a GP) who had had similar symptoms to mine but had felt much better on a gluten free diet. Investigating further, she found some research that had connected abnormal liver function with coeliac disease. This was all around 13 years ago when research on coeliac disease was far less widely available than it is today.
So, I thought I would give going gluten free a go and, no surprises, I improved immediately. My energy levels soared within two weeks! My mum pushed for me to have the relevant tests as my own doctors didn't accept that I could have coeliac disease because I was neither anaemic nor stick thin. In fact, because I had to give up the sports I loved, I had become overweight.
The biopsy for coeliac disease came back as inconclusive but, as I had improved so much on the gluten-free diet, I was going to stick to it whether anyone told me to or not. As you can imagine, by that time I was sick to the back teeth of tests and hospitals! In hindsight I probably didn't gorge enough on wheaty products before my gluten challenge to show up on the biopsy. These days, doctors who are much more knowledgeable about the condition feel that it is pretty certain that I do have coeliac disease. Moreover, my liver function tests went back to normal within 6 months of going gluten free!
It wasn't until after a few years of living gluten free that I started to experiment with gluten-free baking. I think I was so relieved to feel better that I thought not being able to bake 'normal' products was just something I had to live with. But I had always loved baking and, along with my gorgeous doggy, baking kept me sane while I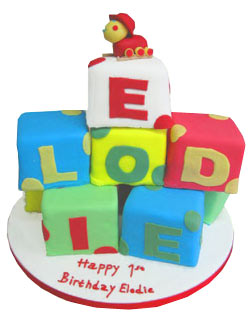 was at home all that time during my teens.
It was while I was travelling in Australia about seven years ago that I discovered gluten-free cakes in cafés that actually tasted nice! I was amazed – and it started me thinking...to me. To cut a long story short, when I got home, I started Especially Delicious and then, into 2008, decided to focus on free-from celebration cakes – which is what we now make. Please take a look at my new website at www.especiallydelicious.co.uk.
I feel very blessed that after all those years of feeling yuck I have been able to build a great business to help others who have to live on restricted diets enjoy great cakes.
First published in September 2010
Click here for more articles on the causes of coeliac disease.
If you found this article interesting, you will find many more general articles and research reports on coeliac disease here, and lots of information on the management of coeliac disease here.
You can also find articles and research reports on gluten intolerance here and articles on a wide range of other digestive conditions here.
For hundreds of gluten free foods see our freefrom food section here, and for nearly 800 gluten-free recipes see here.
And if you would like to get our FREE fortnightly e-newsletter with new products, recipes, articles and all the latest news from the allergy and freefrom world, just sign up here.