Peanut free sections in baseballs stadiums welcome allergic fans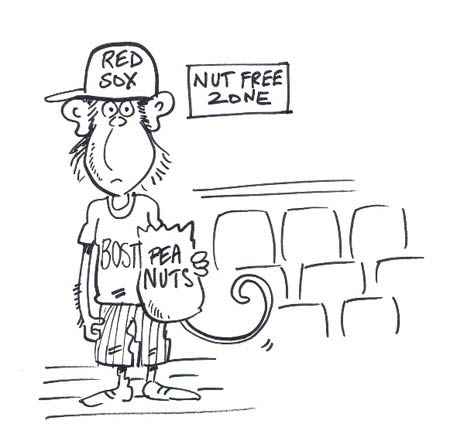 For those allergic to peanuts, what was once a fraught family outing to a baseball game, where every peanut cracked open by a neighbouring fan, or every shell trodden underfoot is a potentially fatal, anaphylactic reaction waiting to happen, is now, thanks to efforts made by the teams, fun once again.
By changing the menu to remove any peanut products and banning the sales of nut products nearby, washing the chairs with bleach in a special section guarded by medical staff, and posting signs to make others aware of the nut-free zone, the nut allergic fans can now enjoy at least one game a season hosted by each of roughly half of the big-league baseball teams.
Teams such as the St Louis Cardinals, Seattle Mariners, Boston Red Sox, San Diego Padres and New York Mets are involved, and the Rochester Red Wings even has one grassy beam on the third baseline, which is a dedicated nut-free zone for every game. Their stadium also has a FREE concession stand serving food free from basic allergens like nuts, wheat, dairy and shellfish. Peanut allergy affects between 0.5-1% of the population, and reactions vary from hives, swelling of the lips and tongue, to trouble breathing, nausea, a drop in blood pressure which can sometimes lead to death. Peanut allergy is also on the rise, though experts are still unsure why.
Courtesy of Reuters
First published in June 2012
If you found this article interesting, you will find many more articles on peanut and tree-nut allergy here, and reports of research into the conditions here.
You can also find articles on anaphylaxis here, cow's milk allergies here, egg allergy here, histamine intolerance here and articles on a wide range of other allergic and intolerance reactions to a wide range of other foods here.