Which are the best airlines for allergic travellers?
Inveterate gluten-free traveller Catherine Rose checks out the airlines' freefrom food offer

Summer is finally here and it's not looking terribly "summery" is it? So if, like me, you are thinking of jetting off somewhere to catch some rays and relax, allow me to help you out with some advice on what airline to travel with when you have allergies.
I have mentioned in my first travel article that if you are travelling with allergies, one way to ensure that you will always have safe food with you is to bring some with yourself. I have lost count of the amount of times my suitcase consists of clothes and toiletries in one half and gluten free bread and snacks in the other half!
Most airlines will also give you extra baggage allowance if you have a doctor's note explaining the allergy and the need for safe food. I managed an extra 10kg of weight for my trip to Japan which was used to carry a whole extra duffel bag of Ilumi pouches and gluten free soy sauce! But always call up your airlines "Special Requirements" number beforehand to check.
In terms of on flight though, who can offer the best service for allergies?
British Airways
It has been reported in the past year that British Airways have stopped giving out snacks on short haul flights. It was usually a meat or veggie option of a roll or sandwich of some kind. Whilst that was great for the "normies", us with allergies had nothing. The veggie options usually contained egg or dairy and all of them contained gluten.
You would have thought that knowing this, British Airways would have at least kept some bags of crisps handy to placate those with allergies, but no. BA fast became my most loathed airline. I prefer Easy Jet or Ryan Air because then at least I could buy  some olives, crisps or popcorn!
So, the move for BA to scrap free treats and instead team up with M&S to offer food for purchase in flight is almost an improvement! The selection isn't great for those with allergies but at least it offers options. Plus….Percy Pigs!
RyanAir
Detailed in the in-flight magazine, RyanAir has lots of snacks available on board but also some hot meals too. The menu is not easy to see online, but when you are on board, it's got a really clear layout showing all allergens within food.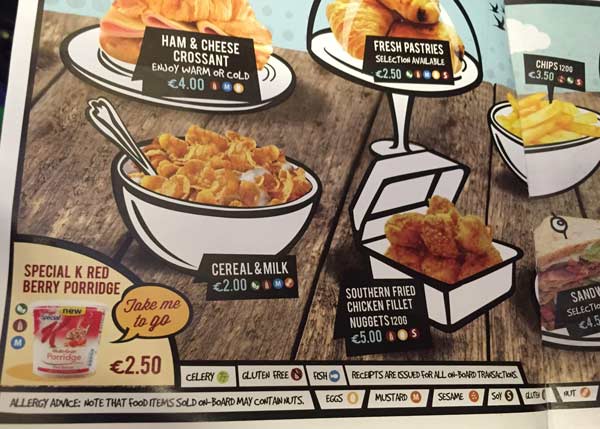 This is extremely helpful and really puts your mind at ease. The selection may not be greatly diverse but it shows an awareness and respect for people with allergies. If all else fails, Ryan Air area really happy for passengers to bring food purchased in the Duty Free lounge on board.
Easy Jet
Again, like RyanAir, Eay Jet offer in flight purchases. Their menu isn't as concise as Ryan Air and it only shows what is gluten free, vegetarian or vegan. But there are good savoury options such as a multigrain salad, mezze boxes, crisps and olives.
Lufthansa
Lufthansa's long haul and short haul flights have pre booked allergy friendly meals and the cost is included in your ticket price which is nice, innit?
The only option as standard is gluten free but after calling the airline, I was told that other allergies can be catered for and that it's best to book as far in advance and confirm on check in. Sadly the higher the class you travel in, the better your options will probably be! But even for Economy, Lufthansa are pretty good with pre-booked allergy friendly meals.
Long haul
For long haul flights, all airlines offer meals. Some that I have tried, include American Airlines, United Airlines, Virgin Airlines, British Airways and El Al and all have been incredibly accommodating.
Allergy special meals must be ordered in advance. To ensure that your meal actually makes it onto your flight, place your order when booking your ticket or at least a week ahead of time, and then follow up with the airline twice: 48 hours before your flight and when arriving at your gate.
If you have multiple allergies or allergies that aren't listed when booking your ticket, always call the Special Assistance number and speak to someone (worth taking down their name too so you can refer to them if anything doesn't go to plan.)
Finally, always bring snacks with you just as back up for your peace of mind. Lie back and look forward to all the local food when you arrive at your destination.
August 2017
For more articles on travelling with allergies and intolerances see here.
For more articles on the management and treatment of food allergy and intolerance