The state of the nation's understanding of Anaphylaxis
Ruth Holroyd reports on the EAACI meeting
My allergy diary has taken me across Europe this year to the European Academy of Allergy and Clinical Immunology (EAACI) where I attended an The EAACI anaphylaxis programme, sponsored by Meda, who supply the EpiPen adrenaline auto injector (AAI).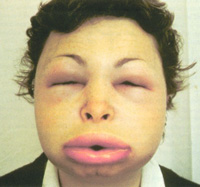 This was one of the key presentations I had highlighted
to attend as I wanted to know what all the representatives
from across Europe and the rest of the world had to say. What were the main issues they faced? What mistakes had been made and how they planned to overcome them. What was the future for anaphylaxis?

We know it's an uphill battle educating friends, family, colleagues and the general public; awareness is growing but you would expect a fairly good understanding amongst doctors, paramedics, chemists and pharmacists and even teachers, wouldn't you? At least better than the rest of the community. Well think again. The level of understanding of anaphylaxis across Europe is very poor.

Various studies looked at chemists and pharmacists, teachers, paramedics and doctors to see what the current situation was and how we can improve and learn for the future.

Chemists and pharmacists need to be empowered to save lives after the death of teenager in Dublin who died on the pavement outside a pharmacy where the chemist refused to give her mother an AAI without a prescription. That chemist could have saved a life – we MUST learn from this. The child may have survived had she been carrying her own injector – we must ALL learn from this. Never, EVER leave home without yours.

Primary school teachers are not well informed about allergies and anaphylaxis – a recent survey of 237 Primary school teachers uncovered that a massive 93.7% had no idea that adrenaline was the initial drug that should be used for a life threatening allergic reaction. 52% knew which children had an allergic disease. 10.1% had heard of an Adrenaline Auto Injector (AAI) but only 6.8% knew how to use one. 93.7% had no idea where on the body adrenaline should be administered. There were allergy action plans in place at 5.9% of schools. (Ref: Ercan H et al, Pediatric Allergy Immunology. 2012 Aug 23)

Over half of paramedics don't understand anaphylaxis – In a survey of 3537 paramedics in the US, 53.8% failed to recognise adrenaline as the initial drug of choice. Only 38.9% chose the intra-muscular route of administration. Of these 60.5% identified the deltoid as the preferred location. Only 39.5% carry AAIs in response vehicles. 36.2% thought there were contraindications to adrenaline use for Anaphylaxis. My own experience in the UK has been excellent so perhaps things in the UK are better. (Ref: Jacobsen et al, Prehospital Emergency Care, Dec 2012)

Most doctors are unaware of how to correctly administer adrenaline – In the UK just 5% of doctors knew the correct procedure for using adrenaline. The best results were from Portugal with 18% and New Zealand where 20% knew what to do. This is very serious since incorrect administration of adrenaline in anaphylaxis has caused patients serious harm, including death. (Ref: Kemp et al, WAO Journal 2008, UK)

One of the other very startling statistics which came out of these studies was that a massive 80% of fatal reactions occurred where there had previously only been mild reactions. A stark warning to monitor your own reactions, even mild ones, don't take risks and always, ALWAYS carry your auto injectors.

These studies are shocking but they date from 2013 and 2012 so one would hope that if they were redone the results would improve. In my own efforts lobbying parliament with the NASG and The Anaphylaxis Campaign it feels we are asking the same questions five years on – there is still an HUGE unmet need, not just in getting a diagnosis and support but after an allergy diagnosis – many people feel lost, alone, confused and frightened about living with the fear or a life threatening allergy.
Nikos Papadopoulos, President of EAACI sees his role as continually lobbying the European Parliament for tougher guidelines and better awareness. EAACI ran a campaign this year focused on how 150 million people with allergies feel trapped by their condition. Their video is a good start but could have gone so much further. There is still a very long way to go.
We cannot escape the fact that the number of people with allergies is on the rise but we should all take some comfort and hope in the huge efforts being taken by all the members of EAACI who understand the problems and are exploring ways to improve understanding in the future.
August 2014

If you found this article interesting, you will find many more articles on anaphylaxis here, and reports of research into anaphylaxis here.
You can also find articles on peanut and tree-nut allergy here, cow's milk allergies here, egg allergy here, histamine intolerance hereand articles on a wide range of other allergic and intolerance reactions to a wide range of other foods here.