Veal simmered with carrots and fennel seeds
Low histamine, corn, egg, gluten, lactose, milk, nightshade, nut, peanut, sesame, soya & wheat free
Serves 4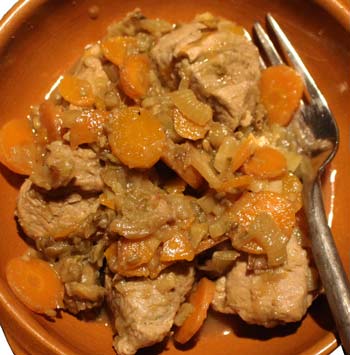 Ingredients
50g coconut oil (or butter)
3 tspn fennel seeeds, lightly crushed with the end of a rolling pin or mallet
1 medium leek, finely sliced
4 medium carrots, scrubbed and sliced in thin rounds
450g stewing veal, trimmed and diced
sea salt an freshly ground black pepper
200ml water
100ml dry white wine
Method
Heat the coconut oil in a heavy pan and add the fennel seeds, leek and carrots with a pinch of salt (to stop the leeks burning).
Sauté genlty for 8–10 minutes or until the leeks are quite soft and thecarrots softening.
Add the, turn up the heat and fry briskly for a couple of minutes.
Season generously then add the water and the wine.
Bring back to the boil, cover and simmer gently for 30–45 minutes or until the veal is cooked.
Adjust the seasoning to taste and serve with a green vegetable.
We have over 800 delicious freefrom recipes on this site all of which are gluten free, most of which are dairy and lactose free and many of which are free of most other allergens. Please go to the following sections to try them out: