Celeriac and apple soup with ricotta
Low histamine, corn, egg, gluten, nightshade, nut, peanut, sesame, soya & wheat free; can be lactose, milk free
Serves 4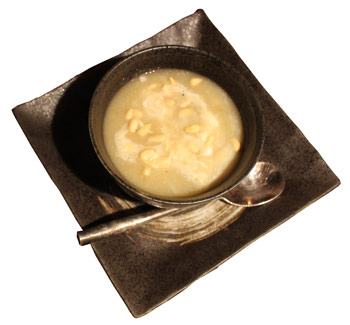 Ingredients
1 celeriac bulb - approx 800g
1 sharp eating apple
1 small leek
750ml hazelnut, almond, coconut or cow's milk – whichever you can tolerate
700ml water
sea salt and freshly ground black pepper
4 heaped teaspoons fresh ricotta cheese, cow's milk or buffalo milk
handful pinenuts
Method
Trim the celeriac aand cut into largish pieces.
Peel and core the apple and cut into largish pieces.
Clean the leek and slice thickly.
Put all into a deep pan with whichever milk you are using and thewater. Bring to the boil and simmer gently for 15 minutes or until the celeriac is soft.
Purée in a food processor or liquiser and return to the pan.
Reheat and season to taste with sea salt and freshly ground black pepper.
To serve, ladle the soup into four bowls then swirl a teaspoonful of ricotta into each bowl. Sprinkle with a few pine nuts and serve at once.
We have over 800 delicious freefrom recipes on this site all of which are gluten free, most of which are dairy and lactose free and many of which are free of most other allergens. Please go to the following sections to try them out: