Chicken thighs with ginger and celery
Low histamine, corn, egg, gluten, lactose, milk, nut, peanut, sesame, soya & wheat free
Serves 4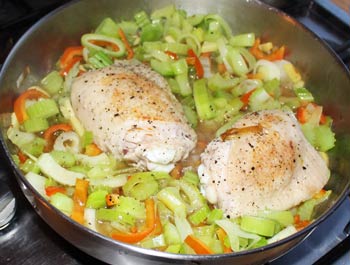 Ingredients
2 tbsp coconut oil
2 large leeks, sliced moderately thinly
3 large sticks celery, sliced crossways thinly
1 red pepper, pipped and sliced into shortish segments
75g piece of fresh ginger, peeled and sliced into thin matchsticks
4 chicken thighs
seal salt and freshly ground black pepper
200ml water
Method
Heat the coconut oil in a wide pan and add the leeks, celery, pepper and ginger.
Cook all fairly gently for 5–10 inutes or until the vegetables are starting to soften.
Push the vegetables to the side of the pan (or remove them onto a plate with a slotted spoon), turn up the heat and briskly fry the skin side of the thighs for 3–4 minutes to colour the skin.
Reduce the heat, turn the thighs over and return the vegetables to the pan.
Season generously with sea salt and freshly ground black pepper and add the water.
Cover, reduce the heat till the dish is just simmering, and cook for 35–40 minutes or until the thighs are cooked through.
Grind over a little more black pepper 'for looks' and serve with green beans.
NB. Those on low histmine diets should not eat the chicken skins.
We have over 800 delicious freefrom recipes on this site all of which are gluten free, most of which are dairy and lactose free and many of which are free of most other allergens. Please go to the following sections to try them out: