Chicken breasts or thighs with beetroot, red cabbage and butter beans
Low histamine, corn, egg, gluten, lactose, milk, nightshade, nut, peanut, sesame, soya & wheat free
Serves 4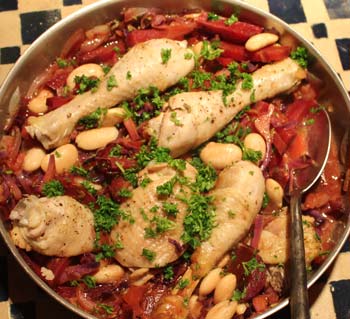 Ingredients
50g coconut oil (or butter)
2 tsp coriander seeds, lightly crushed
2 largish red onions, peeled and chopped roughly
1 large beetroot, scrubbed and cut into thickish fingers
1/4 red cabbage, sliced thinly
1 small, tart eating apple, peeled and chopped small
4 chicken breasts or 4 thighs and/or drumsticks
sea salt and freshly ground black pepper
200ml water
400g tin butter beans, drained
handful of fresh parsley, chopped
Method
Heat the coconut oil in a heavy casserole and add the coriander seeds and onions with a pinch of salt to stop the onions burning.
Cook gently for 5 minutes to soften the onion.
Add the beetroot, red cabbage and apple, mix well adnd cook together for a few minutes.
Lay the chicken over the vegetables, season generously and pour in the water.
Cover the pot, bring to the simmer and cook genty for 35 minutes. You could also put the casserole, covered, into a moderate oven - 180 C/ 350F / Gas mark 4.
Add the drained butter beans and gently mix with the vegetables.
Cover the casserole again and continue to cook for a further 15 minutes on the hob or in the oven.
Sprinkle with parsley and serve alone or with a green vegetable or salad.
We have over 800 delicious freefrom recipes on this site all of which are gluten free, most of which are dairy and lactose free and many of which are free of most other allergens. Please go to the following sections to try them out: