Broccoli and cauliflower florets with pine nuts and cavolo nero
Low histamine, corn, egg, gluten, lactose, milk, nut, peanut, sesame, soya & wheat free
Serves 4 as a main course, 6 as a vegetable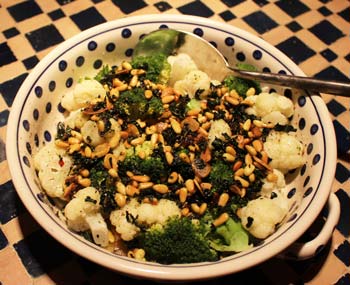 Ingredients
2 tbsp coconut or olive oil
4 large cloves garlic, peeled and thinly sliced
2 small red bird's eye chillis, pipped and cut into very small pieces
3 leaves of cavolo nero, stalks removed, washed and cut into very thin short ribbons
75g pine nuts
800g (approx) mixed cauliflower and broccoli florets – around 1 medium head of broccoli adn a small cauliflower
sea salt and freshly ground black pepper
extra olive oil
Method
Heat the oil in a heavy small frying pan and add the garlic and chilli. Sauté very gently so that they do not burn for 4–5 minutes or until the garlic is soft.
Add the cacolo nero riboons adn teh pine nuts adn contin eu to sauté gently for a further 8–10 minutes or until the pinenuts are coloured dn teh cacolo nero softened.
Meanwhile steam the broccoli and cauliflower florets for 5 –7 minutes or until they are cooked but still slightly crunchy.
Turn the broccoli and caulifloewr into a serving dish, drizzle with olive oil and season with sea salt and freshly ground black pepper.
We have over 800 delicious freefrom recipes on this site all of which are gluten free, most of which are dairy and lactose free and many of which are free of most other allergens. Please go to the following sections to try them out: