Asparagus with quinoa tabouleh
Low histamine, corn, egg, gluten, lactose, milk, nut, peanut, sesame, soya & wheat free
Serves 4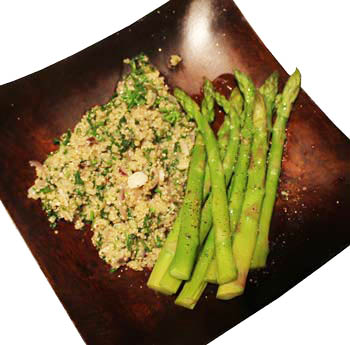 Ingredients
8–10 asparagus stalks each, depending on size
2 tbsp coconut oil
2 medium red onions, peeled and chopped fairly roughly
sea salt
8 pieces of okra (ladies' fingers), topped, railed and sliced in thickish rounds
4 cloves garlic, peeled and sliced thinly
125g quinoa, rinsed
approx 550ml water
freshly ground black pepper
2 large handfuls of parsley, washed and chopped finely
extra virgin olive oil
Method
Heat the coconut oil in a wide pan and add the onions and a pinch of salt to prevent them burning. Sauté gently for a couple of minutes
Add the okra and garlic and continue to cook gently for 8–10 minutes or until. they are quite soft but not burnt.
Add the rinsed quinoa, cook for a few minutes then add half the water and plenty of freshly ground black pepper. Cook moderately briskly, adding more water as needed, for 10–15 minutes until the liquid is absorbed and the quinoa is soft but not disintegrated.
Meanwhile, steam the asparagus stalks (or cook them in an asparagus pan) for 5–8 minutes or until they are just soft but still have texture. Remove from the pan, drain, then lay out on individual plates or a serving platter, drizzle with olive oil and grate over a little black pepper.
Stir the chopped parsley into the quinoa, adjust the seasoning to taste and pile on the plates or dish beside the asparagus.
Serve at once.
We have over 800 delicious freefrom recipes on this site all of which are gluten free, most of which are dairy and lactose free and many of which are free of most other allergens. Please go to the following sections to try them out: