Apricot brown betty
Low histamine, corn, egg, nightshade, nut, peanut, sesame, soya free; can be gluten, lactose, milk & wheat free
Serves 4
If apricots are out of season you could use dried apricots, soaked for a few minutes in boiling water, or tinned.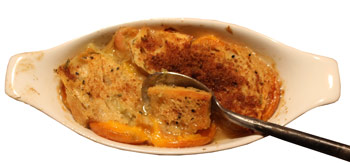 Ingredients
8 apricots, halved and stones removed

4 tbsp apple purée or apple juice
3–4 thin slices of whatever bread you can tolerate with the crusts removed
butter or coconut oil
1–2 tbsp dark or light muscovado sugar
Method
Heat the oven to 180C/350F/Gas Mark 4.
Lay the apricots, cut side up, flat in an ovenproof dish that just fits them.
Spoon or pour over the apple purée or juice. (Purée ideally is better but either will do.)
Cut the bread slices intol shapes so that they lie flat over the apricots and apple.
'Butter' the bread on on e side generously with either butter or coconut oil.
Lay the bread, buttered side up, over the apricots.
Cover the dish with a lid of with foil and bake for 20 minutes.
Remove the foil, sprinkle more or less generously (depending on how a sweet tooth you have) with the sugar and return to the oven for a further 15 minutes or until the bread is crispy and the sugar slightly caramelised.
Serve as it is or with whatever sort of cream, yogurt or ice cream you can eat.
We have over 800 delicious freefrom recipes on this site all of which are gluten free, most of which are dairy and lactose free and many of which are free of most other allergens. Please go to the following sections to try them out: