S
About Sukrin
Sukrin Ltd is the UK Licensee of the brand Sukrin founded in 2007 by the Norwegian company Funksjonell Mat AS. We make a range of all-natural zero calorie sugar alternatives, low-carb whole food flours and low-carb, sugar and gluten free easy-to-bake bread and cake mixes.
We are passionate about helping people to live a healthier lifestyle, by providing products and ingredients that allow easy, simple changes to be made to the diet. Whether for a special diet that needs to be low in carbohydrates or sugars, be gluten-free, or high in fibre, or for those just want to add more healthy foods to their recipes, the Sukrin range is perfect. All of our products are as natural, unprocessed and good for you as we can possibly make them, plus we are introducing fantastic new products all the time.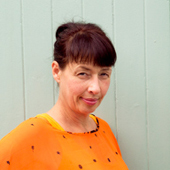 About Debbie Russell
Debbie develops healthy recipes for Sukrin, using their great range of innovative health products. She trained at Leith´s School for Food and Wine before working as a chef and development chef for many years. She has always had a keen interest in a healthy lifestyle, following a Paleo lifestyle herself to combat autoimmune issues, and is currently studying to be a Nutritionist. Working for Sukrin is her dream job!
Click here for more information on Sukrin

FreeFrom recipes from Sukrin

Click on the name of the recipe to go to it.
Garlic Baguette with Sukrin Bread Mix
Sesame Flour Houmous
Icing Orange Mousse
Almond Flour Almond Cake
Gold Healthy Chocolate Cake
Granulated Mango Ice Cream
Garlic Baguette with Sukrin Bread Mix
Gluten free, wheat free, sugar free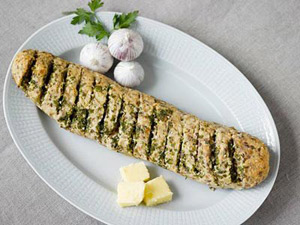 Really Low carb garlic bread that's delicious?!
You can be really generous with the garlic, as Sukrin low carb bread has so much flavour anyway, making this a really decadent treat. If you use wet hands when shaping the
dough it will be much easier and less messy! If you are watching the calories you could use half fat butter if you like. How about chilli and garlic bread, or garlic and rosemary? Mmmmm.
Ingredients
• 1 pack of Sukrin Bread Mix
• 250 ml water
• 30g softened butter
• 2 cloves garlic
• 1 tblsp chopped parsley

Preheat the oven to 175ºc.
Mix bread mix with water and form into a baguette shaped loaf about 25cm in length, on a baking sheet lined with parchment paper.
Make cuts along the length, about ? of the way through the dough at regular intervals, and bake for 25 minutes.
Finely chop (or crush) the garlic and mix it with the soft butter and parsley.
Remove the bread from the oven, fill carefully with the garlic mixture, and return to the oven to melt for a further 8-10 mins. Serve hot.
Sukrin Sesame Flour Houmous
Gluten free, wheat free, sugar free
Sesame flour has all the flavour of tahini, with less than half the fat, with only 20g fat per 100g compared to tahini with 54g per 100. Coupled with that I didn`t add much oil, just enough to make it not too worthy! This really is a delicious revelation.
Ingredients
• 1 can chickpeas
• 30g Sukrin Sesame Flour
• Juice of 1-2 lemons
• 1 tblsp water
• 2 tblsp EV olive oil (or Flax or hemp to make it even healthier)
• 1/2 tsp smoked paprika
• 1 clove garlic, crushed
• Sea salt to taste
Simply place everything in a small food blender, or crush everything up in a large pestle and mortar to keep it really chunky.
Add more or less of any of the flavourings to your taste.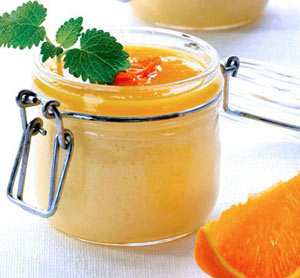 Sukrin Icing Orange Mousse
Gluten free, wheat free, sugar free
This is a really yummy mousse which uses Sukrin Icing to sweeten it, which is our version of icing sugar but with zero carbs, zero calories. It is easy to make, and really shows off Sukrin Icing to it´s best effect! You honestly can't tell that it hasn't been made with sugar, it tastes luxurious and decadent!
We made it in teacups which looked gorgeous.

Ingredients
• 6 sheets leaf gelatine
• 50 ml boiling water
• 3 Medium eggs
• 6 tablespoons Sukrin Icing
• 300 ml whipping cream
• 1 orange


Soak the leaf gelatine in cold water for 5 minutes to soften.
Whisk the eggs with the Sukrin Icing until light and fluffy.
Whip the cream to a soft peak.
Gently combine the sukrin-egg mixture with the whipped cream.
Grate the zest of the orange, and squeeze the juice.
Squeeze the water out of the gelatine, then dissolve in 50ml of boiling water.
Stir the dissolved gelatine, orange juice and grated orange zest into the cream and sukrin-egg mixture.
Pour the mixture into a serving bowl or bowls. Chill for a couple of hours before serving.
Decorate with orange slices or grated orange zest.
A little orange extract can be added to increase the flavour if desired.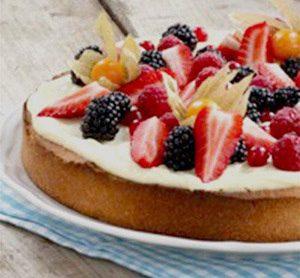 Almond Flour Almond Cake
Gluten free, wheat free, sugar free

This is a lovely cake to serve as a dessert, I topped this one with some zero fat Greek yoghurt sweetened with Sukrin Icing, and lots of fresh fruit, finished with passion fruit. Lovely in the Winter topped with some cold stewed fruit, sweetened with Sukrin Icing. Really easy to make and adapt.

Ingredients
• 130 ml Oil
• 2 Eggs - medium
• 250 ml Milk
• 200g Sukrin Almond Flour
• 3 teaspoons G/F Baking powder
• 170g Sukrin Granulated
Grease and line a 24cm cake tin, and preheat the oven to 200C.
Mix the milk and the oil in a bowl. Whisk the eggs.
Mix the sukrin almond flour with the baking powder and sukrin granulated in another bowl.
Add the liquids and stir well. Pour mix into the prepared cake tin.
Bake for 20 minutes or until the cake springs back when you press
it gently.
Decorate as desired.
Gold Healthy Chocolate Cake
Gluten free, wheat free, sugar free

This is very brownie like, a really great low carb, low fat, gluten free version, with a hint of orange and some walnuts for texture. I used Sukrin Gold to add richness, it works just like brown sugar in that respect, and the sesame flour adds a lovely underlying nuttiness, with no bitterness like you sometimes get from sesame. Good with ice cream!
Ingredients
• 3 Eggs - medium
• 200g Sukrin Gold
• 100g Sukrin Sesame Flour
• 50g Gluten free plain flour
• 1/2 teaspoon G/F Baking powder
• 50g Cocoa powder
• 2 teaspoons Vanilla extract
• 1/4 teaspoon Salt
• 1 teaspoon Orange zest, grated
• 50g Walnuts, chopped
• 300 ml Quark or buttermilk
• Sukrin Icing to dust
Preheat oven to 200C. Grease and line a 24cm
square cake pan.
Whisk eggs and Sukrin Gold (or Granulated) until well combined.
Mix Sukrin Sesame Flour with the flour, baking powder, cocoa powder and salt. Fold gently into the egg mixture.
Stir in the quark, or buttermilk, vanilla extract, grated orange zest and
chopped walnuts, reserving a few for the top.
Pour the mixture into the tin, sprinkle with the reserved nuts, and bake for approximately 30 minutes.
Take out of the oven while still a little soft, just like you would a brownie.
Allow to cool in the tin for a few minutes, then turn out onto a wire rack until cold. Dust with Sukrin Icing to serve, if liked.
Granulated Mango Ice Cream
Gluten free, wheat free, sugar free
This is a brilliant low carb ice cream, adaptable to any fruit puree, we would also suggest adding a little extra sweetness if the fruit is a bit sour, I added a little Sukrin Plus.
Ingredients
• 2 Mangoes
• 500 ml double cream
• 3 Eggs - medium
• 4 tablespoons Sukrin Granulated
Peel the mango, remove the flesh from the pit (seed), and puree with a hand blender. Whip the double cream to a soft peak.
Beat the eggs and Sukrin Granulated together with an electric whisk until light and fluffy.
Fold in the mango puree and the cream.
Place in an ice cream maker to churn, following the manufacturers
instructions. If you don't have an ice cream maker, you can place the ice cream in a freeze-proof container, and stir every hour for four hours to break down the ice crystals and create a smooth ice cream.