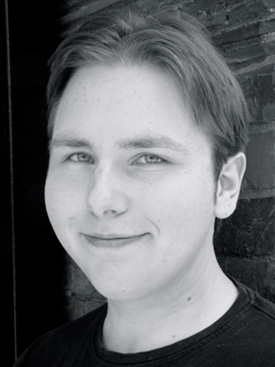 Stephen Davidson of www.livefreeandeatpie.org
This is what Stephen says about himself on his blog:
My name is Stephen, and I love food. I love to grocery shop, cook, read recipes, and most of all eat! I also have a big long list of foods I can't or don't eat, like meat, eggs, dairy, wheat/gluten and nuts.
The spirit of this blog is that anybody- no matter what diet they ascribe to- can enjoy a huge variety of foods, and enjoy cooking
them as well. I try to find a balance of traditional and adventurous recipes- I hope you'll cook them all at home yourself!
If you are vegan, vegetarian, pescetarian, gluten-free, wheat-free, have an allergy, or all of the above - every recipe here is safe for you. If there's anywhere you could go wrong (for example tamari vs. regular soy sauce) I'll give you fair warning. And if any of the above applies to a family member, friend, or guest you're new to cooking
for fear not; there is a whole host of things you can make without
feeling deprived yourself. Maybe you'll even find a new favourite!
I'm a Canadian, based in London UK. I'll do my best to tell you where to look for ingredients where you are, and I'd love to hear any tips that anybody has about what's out there. When I'm not cooking I teach music lessons in London (go to www.londonclarinetstudio.co.uk for more info on that). I also do a little bit of acting and standup comedy, and write fiction in my spare time.
You can also follow me on twitter! @livefreeandeat
By the way, do check in to the gluten-free flours page of Stephen's blog where he has a great table logging the crumbliness-versus-stickiness of gluten-free flours.
Stephen's recipes
Click on the name of the recipe to go to it.

Mango bread
Fresh fruit spring rolls with coconut mango sauce
Mango bread
Dairy, egg, gluten, lactose, nut and wheat free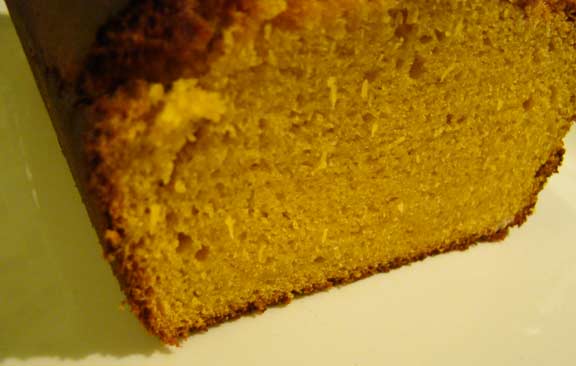 This is a super easy and fast snack bread, lovely for breakfast or afternoon tea. I personally guarantee it's moisture and firm but springy texture- just like you'd want in a sweet loaf. If you'd like a proper mango cake, add a touch more sugar and whip up a simple icing- you're all set!
The can of mango pulp is from Waitrose (world food section), but many Indian groceries stock it. In some parts of India it's added to spicy foods to balance or mellow them, in a similar way to coconut milk in a curry. The sweetness varies, hence the 'to taste' sugar measurement. The big can was just a tiny bit more than I needed, so I took out a few spoonfuls and used them for Fresh Fruit Spring Rolls; you could also simmer it down to reduce moisture and intensify the flavour, if you have the time.
Ingredients:
200 g (heaped 1 1/2 cups) Bob's Red Mill all purpose gluten-free flour, or other well balanced mix
200g (1 1/2 cups) buckwheat flour
350-400g (about 1 2/3 cups) sugar, to taste
2 tsp baking powder
1 tsp baking soda
pinch guar or Xanthan gum
pinch salt
3 cups/750 ml reduced mango
juice and zest of 1 lime
6 tbsp coconut oil
Preheat the oven to 180/350 and lightly grease 2 loaf tins, or other pans. Mix all of the ingredients together, pour evenly in pans and bake for approximately 45 minutes. A toothpick inserted right into the middle should meet resistance the whole way, and come out reasonably clean. Keep an eye out for browning, if the top gets dark before it's ready, try giving it a tin foil hat.
Cool before cutting! Otherwise the middle gets squidgy. Trust me on this, I'm very impatient...
Fresh Fruit Spring Rolls with Coconut Mango Sauce
Corn, dairy, egg, gluten, lactose, nut, soya and wheat free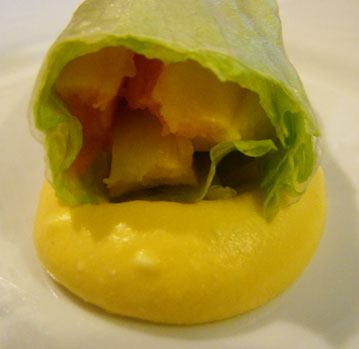 No really, stay with me on this- these are really delicious! I made them for breakfast, and it felt like a super healthy way to start off the day. Don't fret about the lettuce in with your fruit- it's a mild flavour, and the crunch it adds is excellent... Not to mention the structural integrity!
If you don't have mango puree to hand, some mango or other nice juice will do the trick, or you could just add a bit of icing sugar to the coconut cream and whip it. Slightly less healthy perhaps, but certainly delicious :p
Ingredients
1 ripe mango
1 ripe papaya
iceberg lettuce, ripped into pieces slightly larger
than your palm
rice paper wraps
2 big spoonfuls coconut cream (from the top of a can of coconut milk)
80-100 ml mango puree (mine was left over from this recipe)
Mint leaves, lime zest, shredded coconut or any other extras you'd like (optional, of course)
Peel the papaya and cut in half lengthwise. Discard the seeds and slice into strips. Peel the mango and carefully cut the flesh away from the pit, then slice lengthwise as well. Stir together the mango puree and coconut cream and set aside for dipping sauce.
Fill a big bowl or pan with warm water and set out a plate. Soak a sheet of rice paper in the water for 5-10 seconds, until it starts to soften. Put it flat on a plate and place lettuce, mango, papaya and any other fillings you'd like in the middle, then roll up carefully as you would a burrito. Use the lettuce leaf to help you pull it tight on the first fold, then tuck the sides in and keep rolling.
Repeat for as many rolls as you'd like, and serve with the dipping sauce. Leftover mango and papaya? Good work, you made fruit salad too!
South Indian Salad
Corn, dairy, egg, gluten, lactose, nut, soya and wheat free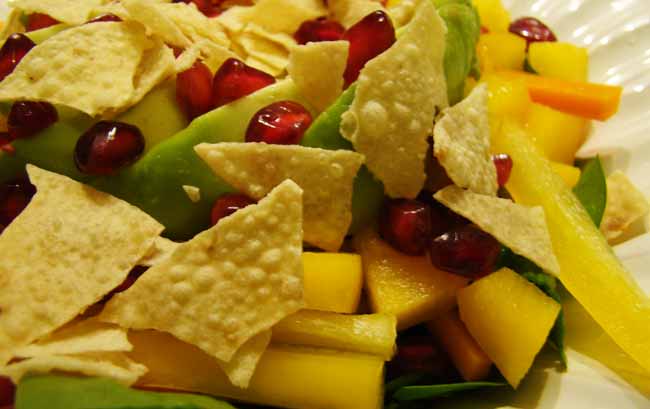 Well, South Indian inspired salad, more accurately. I love South Indian food for it's light and sour flavours, and because a huge amount of it is vegetarian. If you're not familiar, take yourself out for a dinner sometime; you won't be disappointed. In place of heavy nan bread and overly creamy chicken tikka, you'll find small, crisply flavoured dishes with a huge array of flavourful sides.
Ingredients
1 ripe mango
1 ripe avocado
100 g (1/2 cup) pomegranate arils (seeds)
1 bell pepper (capsicum)
2 big handfuls spinach or other salad green
1 carrot
2 spicy popadom/papadum
2 tsp tamarind pulp
2 tsp lemon or lime juice
2-3 tbsp olive oil
1 hot pepper
Handful fresh cilantro
First, get all of the veg ready. Julienne or chop the carrot, slice the bell pepper, peel the mango and cut into small pieces, and wash the spinach. I roughly chopped my spinach as well to make it easier to handle. Leave the avocado for last, as they don't like to be left sitting about too long.
To make the dressing, combine tamarind, lemon, and olive oil. Mix well with a fork, then chop the cilantro and pepper and add. Assemble the salad, topping with sliced avocado and broken up popadom (they make amazing spicy croutons!). Makes 2 big salads.
Tempeh with Figs
Corn, dairy, egg, gluten, lactose, nut and wheat free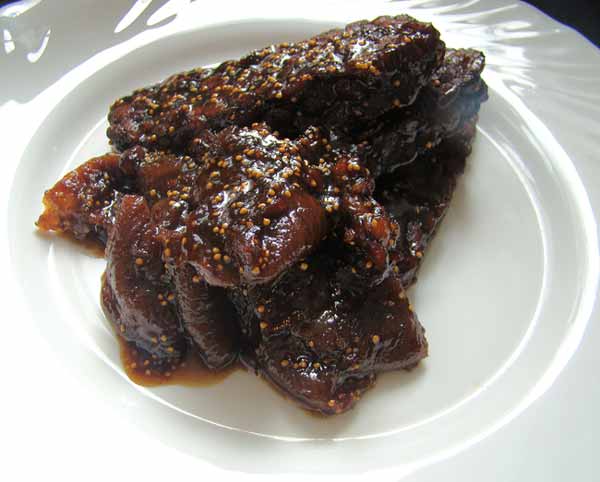 This picture can't quite do it justice; this tempeh is to die for. Sweet and sour, with chewy bits of fig, it's one of the best tasting tempeh recipes you'll find. It uses firm tempeh sticks- they've been pressed and cooked already. If you've got a fresh or frozen square of raw tempeh, you'll need to cook it a little longer and slice it yourself; I'd recommend frying it lightly in a drop of sunflower oil. It won't be quite as firm, but it will still be delicious!
Ingredients
2 packages of tempeh (240 grams)
12 dried figs
1 tbsp braggs or tamari soy sauce
3 tbsp pomegranate molasses
Add water to just cover the bottom of a pot, and put on to boil. Quarter the figs, and take the tops off. Add all 4 ingredients to the pot and cook, stirring occasionally, for about 10 minutes. You may need to add more water, depending how much your figs need to plump up. It's ready when the figs are soft and the sauce has slightly thickened.
Spinach Salad with Oven-dried Grapes
Corn, dairy, egg, gluten, lactose, nightshade, soya and wheat free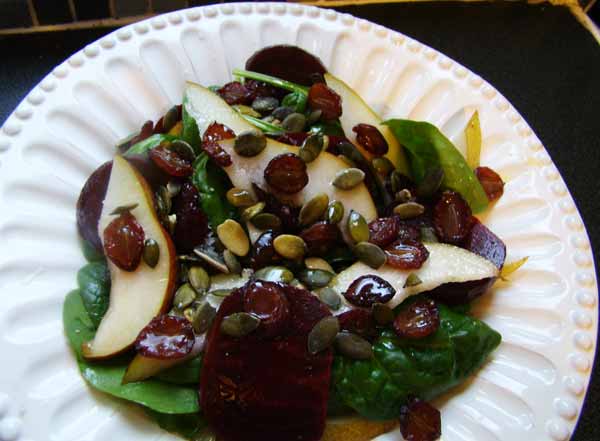 This is a beautifully light and colourful salad, using ingredients that are easy to come by in Britain all year round. I love the pairing of fruit and spinach; the sweet and bitter balance each other out perfectly.
2 large handfuls spinach
1 pear
2 beets, cooked, peeled, and sliced*
1/4 cup pumpkin seeds (pepitas)
1/4 cup oven roasted grapes (below)
2 tbsp white balsamic vinegar
2 tbsp olive oil
pinch sea salt
This is a really easy salad to put together; just wash the spinach, slice up the pears and beets and serve with garnishes. Use the balsamic vinegar and olive oil to dress, or any other dressing you like. This recipe makes two good sized salads.
*If you've got fresh beets, give them a quick wash, top and tail them, and boil for about 45 minutes. Rinse in cold water, and the skins should slip right off. Big beets might take a little longer- they're ready when soft through to the middle.
Oven Roasted Grapes
You might hear the phrase, "dried grapes" and immediately think of raisins. "Why would I want to make raisins?" you might ask. Well, let me assure you these are something different. The texture is more like a sun dried tomato, and the flavor is beautifully concentrated. The effort required to make them is minimal, though they will need a few hours of time in your oven. Try using them anywhere you would use raisins; or sundried tomatoes for that matter.
The recipe is this; slice the grapes in half, put them on a baking sheet and bake at 100 C/200F for about 4 hours, or until you like the texture they've got. If you want them softer use a hotter oven for less time; chewier use a colder oven for longer.

Click here for more guest recipes