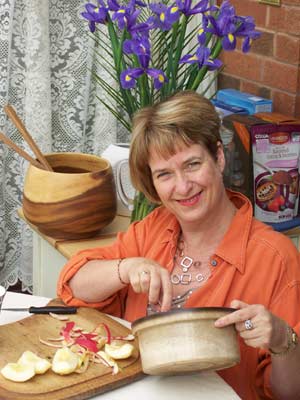 Shelley Howell
Personal experience of living with M.E. has taught me the benefits of healthy eating, and in particular for me, the positive daily effects of having less added sugar. I love puddings and sweet treats and found it almost impossible to buy these without added sugar or artificial sweeteners in the 90's. Consequently I have spent many hours since creating and developing my own versions of sweet treats.
My EAT WELL! BE WELL! STAY WELL! philosophy stems from the three areas that have helped me most in my own healing journey and M.E. recovery .
i) eating healthily in a freefrom way – free from added sugar (and initially wheat free and dairy free too )
ii) gaining support and information from others and
iii) focusing on positivity and creativity for relaxation and wellbeing.
See www.thefreefromcoach.co.uk

I have now put together a collection of my recipes in the hope that others can try them, enjoy them, and find health benefits. It goes without saying that I have tried and tested all the recipes – and on some of my closest friends and family who have given me very honest feedback over the years!

Through my recipe collection and website I would like to share with you my personal collection of favourite desserts, puddings and teatime treats so that you too can try them too – you don't have to have M.E. to enjoy them! There is also a free recipe page on www.thefreefromcoach.co.uk which I regularly update.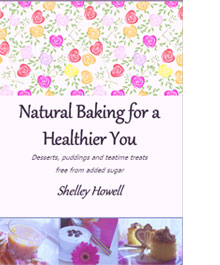 Why "no added sugar"? Not all sugars are bad. It's just a case of knowing how best to eat them and in what context. My Ebook recipes contain natural fruit sugars which, when eaten whole with the pulp and fibre of the fruit itself, slow down the digestion and absorption of the sugars. You will find more details about the impact of sugar on the body on my website.

'Natural Baking for a Healthier You' (40 recipes in a cookery card format) is available from my site at a cost of £6.50 which includes a donation to Action for M.E. I am now working on a Special Occasions' Ebook and have included here two of the recipes from this collection which should be available in 2014.

Ideas & Comments
If you have any ideas or comments, or want to go onto my mailing list please contact me via my comments web page or email me.

Shelley's recipes
Click on the name of the recipe to go to it.

Strawberry ice cream
Cherry Berry Tartlet with apricot crème
Strawberry Ice cream – no stir – from new Special Occasions collection
Wheat free/gluten free/nut free/no added sugar/soya free
A lovely summer dessert. Ice cream with no added sugar. Serves 4 -6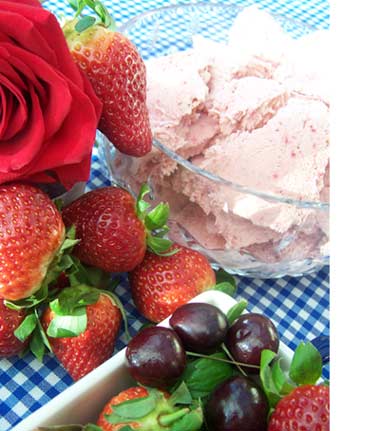 400g fresh strawberries
2 small eggs – separated
4 dessert spoons strawberry fruit spread – no added sugar
4 dessert spoons raspberry fruit spread – no added sugar
300ml double cream
Selection of berries to serve
Wash & chop strawberries.
Blend fruit with fruit spread until it becomes a puree. (Small pieces of fruit add to the texture of the final ice cream.)
Whisk egg whites until mixture is solid and forms stiff peaks. Whisk in the egg yolks and fruit puree mix. Continue to whisk in the double cream for approx 3 minutes until mix is pink and slightly frothy.
Add to freezer proof container and freeze for approx 6 hours. Remove from freezer and allow to defrost for approx 20 – 30 mins before serving with selection of berries.
NB this mix obviously contains uncooked eggs so may not therefore be suitable for some.
---

Cherry Berry Tartlet with apricot crème – from new Special Occasions collection
Wheat free/gluten free/no added sugar/ soya free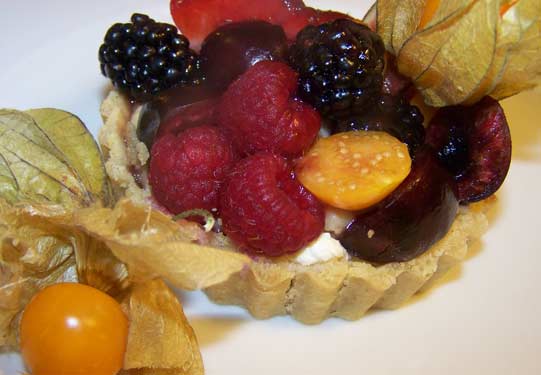 [Shelley's recipe is not dairy free but you could make it so with a few judicious substitutions – see below. Ed].
Makes 4

Pastry
55g ground almonds
170g rice flour (brown, white or mix)
1 teaspoon ground coriander
130ml melted butter (or dairy free spread)
4 tablespoons water
2 teaspoons strawberry fruit spread – no added sugar
Egg white for glazing
150ml double cream
(You could also use coconut yogurt if you wanted to make it dairy free – the Coyo brand is very thick – or a mild soya cream cheese. However, be aware that some of the soya cheeses are sweetened and the Coyo does use a very small amount of xylitol. Ed.)


Apricot crème
2 egg yolks
15g cornflour
2 dessert spoons apricot fruit spread – no added sugar
150ml milk (cow, sheep, goat, soya, oat or rice)
Half vanilla pod

Handful of fresh cherries & berries for top of each tartlet
Half sheet gelatine
1 heaped dessert spoon strawberry fruit spread – no added sugar
1 dessert spoon water

NB You will need loose bottomed tartlet cases for these as the pastry is very short and crumbly.

Grease the tartlet cases and preheat oven to 190C/375F/Gas mark 5.
Mix the ground almonds, rice flour and coriander together in a bowl.
Make a well in the centre and add the melted butter (or spread). Stir mixture to incorporate the butter.
Add water and stir into a moistened mix that will form into a quite crumbly dough when pressed together with your hands.
Divide the pastry in half and roll out each half sandwiched between 2 pieces of cling film, until 4-5mm thickness. Roll carefully as pastry is very delicate.
Use a fish slice to support the pastry whilst moving it to the tartlet case. You will probably have to 'patch up' the case where the pastry breaks.
Try to ensure that the pastry sticks up over the edges of the tartlet case (no trimming yet). Bake blind for approx 12 mins. Remove baking beans and leave to cool slightly.
Trim the excess pastry from the sides of the tartlet case with a knife so that you have a neater tartlet edge. Brush the inside of the tartlet pastry with egg white. This will help to seal the pastry and also help it to hold together. Cook for another 12 minutes.
Remove from the oven and leave to cool.
Remove pastry from tartlet case when it is cold and pastry is firmer. Care is needed to ensure tartlet stays intact. Place on individual serving plates.
Brush each tartlet case with half teaspoon strawberry fruit spread.
Whip the double cream until fairly thick (or use the coyo or soya cheese) and add 1 dessert spoon to each tartlet, smoothing it into a layer of filling. Set tartlets aside.

Make crème filling.
Trim the end of the vanilla half pod and cut down the side lengthways.
Add the milk to the saucepan and add the half pod to infuse. Weigh and sieve the cornflour and set aside. Beat the egg yolks with the apricot fruit spread until well mixed.
Fold in the flour a little at a time.
Warm the milk over a low heat and then remove from heat to scrape vanilla seeds from the pod into the liquid. Discard the pod itself.
Return milk to the heat and bring it almost to the boil – it will start to go slightly frothy.
Take a hand whisk and whisk the yolk and flour mix continually as you gradually add the warmed milk. Whisk well together.
Return the mix to the pan and bring it to the boil stirring continuously to prevent it from going lumpy.
The mix will thicken like a custard and once boiled turn down the heat and simmer for approx 3 minutes to cook the flour. Keep stirring. Scrape thickened crème into a bowl .
Grease some baking parchment and press this down onto the top of the crème whilst it cools.

Prepare fruit.
Stone cherries and wash other fruit. (I used strawberries, raspberries, blackberries, fig and physalis but this should be your preferred choice.)
When cooled , either pipe from a piping bag or spoon some of the apricot crème over the fresh cream in each tartlet to make another layer of filling. This should come to just below the tartlet edge.
Add the half gelatine leaf to cold water and leave for 5 mins.
Mix strawberry fruit spread with water and either heat in a small pan or in the microwave until hot and bubbling. Squeeze water from gelatine and stir into hot fruit spread mix.
Arrange prepared fruit on the top of the apricot crème so that the berries nestle into the soft crème layer. Spoon a teaspoon of gelatine/fruit spread mix which is still warm and liquid, over the top of the berries on each tartlet to give them a shiny glaze.
Set aside until ready to serve and enjoy.
---
Lemon Soufflé
Gluten, wheat, dairy and soya free, no added sugar.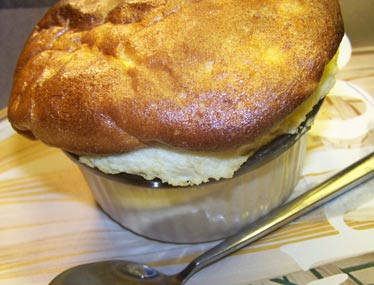 This is as lovely light dessert. A real lemony delight that conjures up the taste of Sorrento in springtime!
Makes 2 servings
Ingredients
1 dessert spoon butter or dairy-free spread to
coat the sides of the ramekin dishes
3 medium eggs
2 heaped tbsp no-added-sugar lemon fruit spread
Preheat oven to 200C/400F/ Gas Mark 6.
Grease the sides and base of 2 ramekin dishes
with butter or spread.
Separate the eggs and place the egg whites in a large clean bowl and the yolks in a separate bowl.
Beat the yolks with the lemon fruit spread until a paler colour.
Whisk the egg whites until they form stiff peaks.
Using a metal spoon, mix a little of the stiff egg white mixture into the lemon mixture to loosen, then fold in the rest taking care to keep in as much air as possible so that it will stay light and fluffy.
Put the combine mixture into the ramekins and place in a shallow dish of cold water.
Cook for 10–12 minutes or until the soufflées have risen and have a golden top.
Serve immediately.
---
Banana, date and walnut loaf
Corn, dairy, gluten, lactose, soya and wheat free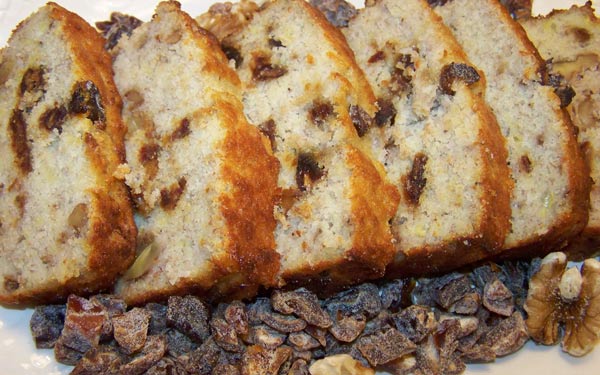 When you've got these teatime munchies or if you are having a few friends over for afternoon tea, this is a brilliant sweet snack. Add dairy-free spread or butter if you want to be really indulgent.
3 mashed bananas (fairly ripe and speckly)
130g ground rice
20g ground almonds
50g dairy-free spread or butter
2 tsp gluten and wheat-free baking powder
1 egg
1/2 tsp salt
50g walnut pieces
50g dried dates, chopped
Heat oven to 180C/350F/Gas mark 4.
Mash the bananas with the dairy-free spread or butter.
Add the beaten egg and salt and mix together.
Add ground rice, ground almonds and baking powder and beat together. The mixture will remain lumpy.
Add dates and walnuts and stir until coated with the mixture.
Spoon into greased loaf tin and cook for 40–45 minutes.



Click here for more guest recipes