For 22 years Paul was executive chef at the amazing Lanesborough Hotel at Hyde Park Corner in London. While he was there he developed what he christened vegetarian 'haute cuisine' – imaginative, light, delicious and exciting vegetarian dishes – a million miles away from the solid lentil burgers and nut cutlets of 1980s vegetarian food.
And now he has turned his attention to freefrom. For Riso Gallo, a sponsor of the Freefrom Eating Out Awards, he has developed these two delicious rice-based freefrom dishes. Watch him demonstrate both – and then try them for yourselves!
For all of the winners of the FreeFrom Eating Out Awards, see here. To come over the next few weeks, recipes from Pathfinder Award winner, Chef Dominic Teague of Indigo at One Aldwych and chef Mark Kennett of Oscar and Bentley's, last year's awards winners.
Pan Roasted Halibut with squid risotto, avocado, seaweed vierge

Gluten-free, Dairy-free, Egg-free, Soya-free, Nut-free
Serves 4


Ingredients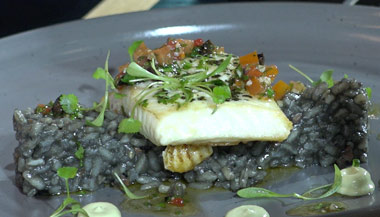 4 halibut fillets
2tb olive oil

For the risotto:
2tb olive oil
1 shallot, finely chopped
100g squid, finely diced
150g gran Riserva risotto rice
300-400ml fish stock
2 sachets squid ink
75g  chorizo sausage, skinned chopped

For the vierge sauce:
40ml olive oil
75g roasted red pepper, cut in small dice
75g tomatoes, cut in small dice
30g pitted black olives, cut in small dice
1tb chopped fresh coriander
Juice of ½ lemon
1tsp nori seaweed ( blitzed to a fine powder)

For the avocado puree:
1 avocado
Little lime juice
15ml olive oil

To serve:
100g chorizo crisps

Baby coriander cress to garnish

Method
Preheat oven to 180c
For the chorizo crisps, cut the chorizo thinly into slices, place on a baking paper lined tray, bake for 8-10 minutes or until lightly golden and crispy
For the risotto.. heat the oil in a heavy based pan, add the shallots and chorizo and cook until softened
Add the rice, mix well, add the hot fish stock a little at a time , adding more as the previous liquid has been absorbed, about 15-17 minutes
Stir in the squid, squid ink, cook for a final 2 minutes , season to taste.
For the vierge, heat the olive oil in a pan , add the garlic, tomatoes, olives ,peppers and seaweed and heat on a gentle heat for 2-3 minutes, before stirring in the coriander, season to taste.
For the avocado puree, place the avocado in a small blender with the olive oil, lime juice and about 75ml mater, blitz to a smooth puree.
Cook the halibut in hot non- stick  pan in little olive oil for 3-5 minutes
To serve, dress some squid and chorizo risotto on a serving plate, smear a little avocado puree to one side
Top the risotto with a piece of cooked halibut, spoon over a little of the vierge sauce, garnish with the chorizo crisps and coriander cress.
Serve immediately
Cumin roasted winter root salad, date, pomegranate, black rice and carrot hummus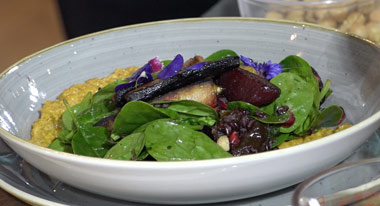 Gluten-free, Dairy-free, Egg-free, Soya-free

Serves 4
Ingredients
12 baby carrots
12 baby parsnips
4 small cooked beetroots
1tsp freshly ground cumin
3tb olive oil
8 ready to eat medjool dates, halved
50g toasted walnuts
30g pomegranate seeds
100g baby spinach
100g venere black rice
For the dressing:
4tb rice wine vinegar
1tsp sugar
6tb olive oil
Juice of ¼ lemon
50 g torn fresh mint leaves
For the carrot hummus:
100g roasted carrot puree
200g canned chick peas, rinsed, drained
2 garlic cloves, crushed
65g tahini paste
100ml olive oil
Juice of ½ lemon
To serve:
1tsp zaatar seasoning (optional)
Cook the venere black rice in a pan of boiling water for 25-30 minutes or until just tender, then drain , return to the pan, keep warm under a lid.
Place the root vegetables on a baking tray, drizzle over some olive oil, season with sea salt, ground cumin, roast in the preheated oven for 12-15 minutes or until just tender, remove keep warm.
To prepare the carrot hummus, place the roasted carrot puree in a blender, add the chick peas, blitz until smooth, add the remaining ingredients and 200ml of hot water and blend to a very smooth puree, season to taste. Remove from blender into a bowl.
Prepare the dressing by mixing all the ingredients together in a bowl, season to taste
To serve. place the spinach, cooked black rice, dates, walnuts and pomegranate seeds in a large bowl. Add a little of the dressing to coat the leaves, toss gently together.
Spoon the carrot hummus on a serving plate, using a hot spoon make an indentation in the centre to form a deep well.
Arrange the tossed salad in the centre of the hummus .
Reheat the roasted roots, then arrange attractively on top of the salad
Sprinkle over a little zaatar seasoning if using
Serve warm