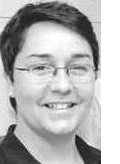 Micki Rose
Micki is an experienced clinical nutritionist and a lifelong food sensitive. Over the last two years, she has been digging into gluten sensitivity and hyper-permeability after her symptoms improved dramatically when she realised she was an undiagnosed coeliac and went grain free. She has set up a specialist site at www.trulyglutenfree.co.uk where she is beginning to question and explore how we diagnose and treat gluten illness and food sensitivity.
Her premise is that:
Coeliac disease is just one form of gluten illness, and is probably not even the most common one.
Many coeliacs are not diagnosed because of what she sees as inefficient and unreliable testing methods. She feels full genetic testing, case history and diet trial is possibly a better way forward.
Most coeliacs and gluten sensitives do not get well whilst they continue to eat so-called 'safe' grains. In truth, there is actually a form of gluten in every grain which some (she thinks many) genetically-sensitive people can react to in the same way as gliadin grains. She developed the TrulyGlutenFree approach to help people remove grains effectively.
Food sensitivity is the result, in some people, of damage done to the body barriers by a known gluten/zonulin process which results in hyper-permeability – a leaky body, not just a leaky gut. She invented the Barrier Plan to help re-heal the broken barriers and lower the damaging inflammation and auto-immunity reactions that come with them.
She explains her three dietary approaches to gluten :
The traditional gluten free diet usually given is is gliadin free ONLY (wheat, rye, barley and sometimes oats).
The Truly gluten free approach is free from ALL grains and dairy to remove all glutens and not just gliadin. You can get full food lists and details in the Truly Gluten Free ebook. This is most suitable for those who are traditional gluten free as above, but not feeling well or healing.
The Barrier diet is free from anything that would stop the hyper-permeability and gluten damage healing. This is grain, dairy and legume free and free from any of the known foods that affect barrier integrity. This is totally unique and does not exist anywhere else. It is essentially based on the Primal, SCD and TGF diets with added research on specific barrier hyper-permeability issues. You can get full diet lists and details in the Barrier Plan. This is most suitable for people with multiple allergy, inflammatory and auto-immune disorders, whether or not you know the problem is related to gluten (most have no idea).
Micki has so far published the diet plans above and written one recipe book: TGF Breakfasts. The first two recipes are from that.

Please note: being TrulyGlutenFree or following the Barrier Diet involves ensuring that no grain gets in at all. Corn especially is ubiquitous. Who would have thought your dried fruit could be coated in rice flour, your juice have corn-derived citric acid in or you could get ill from eating grain-fed meat and fish? I have tried to add tips, but, to be sure, you need to follow the full diet guidelines in the appropriate plan.
Micki's recipes
Click on the name of the recipe to go to it.

Honey nut granola
Grain and dairy-free liver paté
Honey Nut Granola
Grain, dairy, nightshade, legume free, suitable for TGF and Barrier diets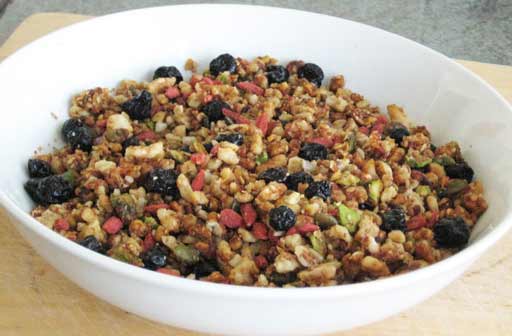 A big bowl of crunchy goodness for any time of day

Sometimes, you just want something like cereal that you can throw into a bowl, splash some milk, yogurt or juice on and you're off. This Granola should suit. The recipe will yield a good jar full that will last a week or so.
2 cups nuts and/or seeds of your choice
1 cup nut flour (eg almond, walnut, pecan)
½ tsp bicarb of soda
Pinch of salt
Squeeze of honey
Splash of grapeseed oil
I egg (Woodland ones from supermarkets seem to be Ok for most TGFers)
Stick everything in a big bowl, adding your egg last (this will also work with just egg white).
Spread the mix out very thinly using a couple of foil or paper-lined trays as needed and bake in a medium oven for about 15-20 minutes. It will rise up and look odd. Don't panic. Half way through, simply mix the granola up and spread out again.
When the time is up and you think the egg is cooked, mix it round again and leave in the warm oven for an hour or so, or on your kitchen surface to dry out. It may take longer.
When dry, scoop into a jar and add some dried fruit, mixing thoroughly. Enjoy as a dry snack or with yogurt/milk/juice.
Simple Muffins
Grain, dairy, nightshade, legume free, suitable for TGF and Barrier diets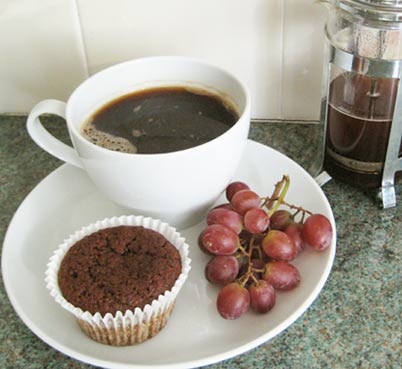 My usual mid-morning snack


Muffins are simply the easiest TGF food.
I use them in tons of variations for
breakfast, snacks, desserts and even lunch. They freeze wonderfully so I always make about 18 and freeze 12 for when I don't have time to cook. Not the standard high
fat, high sugar muffins you usually get,
these are high protein, nutrient dense and very filling little powerpacks.
Simple Muffin

2 and a half cups of nut flour (almond, pecan, walnut, hazelnut etc)
¼ cup of honey
½ teaspoon of bicarb of soda
3 eggs (Woodland)
Fruit of your choice or good dash of
non-alcohol vanilla extract
a sprinkle of salt if you like
fruit juice (no citric acid) or water if you need to make it runnier
Blend the whole lot together, adding the fruit juice/water if you need to loosen it up. It should be a thick-ish pourable batter.
Stir in a flavouring of your choice eg. a ripe banana, raisins (no oil or coating) or other chopped dried fruit, vanilla extract (non-alcohol), orange water or zest, chocolate chips (cut yourself from TGF safe chocolate).
Pour into muffin cases and bake in a medium oven for about 15-20 minutes or until they feel springy when you press them. They collapse a bit as they cool but hey ho.

TIP: If you don't want eggs, use some kind of fruit puree like pear or apple.

TIP: For no added sugar muffins, simply use fruit puree OR 3 or 4 ripe bananas and a cup of frozen berries, leaving out the honey

TIP: If you need more fat (the malabsorbers out there), add grapeseed or other oil instead of or as well as the fruit juice.

Obviously, these would be fab as a dessert or a snack too. I often have them with yogurt and seeds for breakfast with a drizzle of pineapple juice on top. You can make frosting but I am usually pushed for time so I serve mine with whipped coconut cream (from the top of a full-fat tin of coconut milk, watch the ingredients) sweetened with honey or drizzle melted chocolate over the top.
Flaxseed Foccacia
Grain, dairy, nightshade, nut, legume free, suitable for TGF and Barrier diets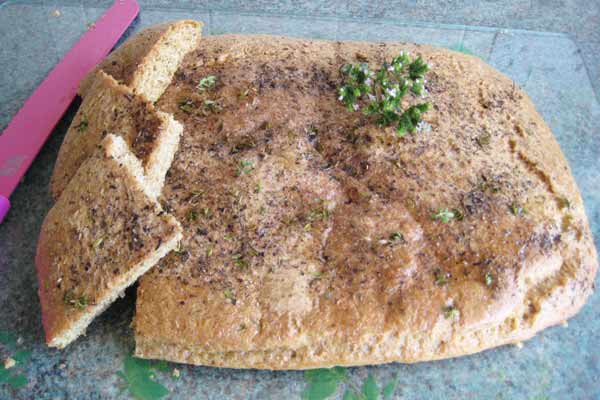 Himalayan Pink Crystal salt, oregano, thyme and olive oil flaxseed foccacia

This recipe was sent into the TGF Food page and there are many variations on the internet. It has become a real hit and really helps people who want bread but can't do nuts.

Serves 10-12

2 cups ground flaxseeds
1 tsp baking powder OR 2-3 egg whites
4 eggs
½ cup water
1/3 cup olive oil
Salt

Preheat a fan oven to 180 degrees C /350 F
Combine all the dry ingredients in a large mixing bowl. Add water, olive oil and eggs and mix well.
Line a baking tray with baking paper and pour in the flaxseed mixture. Run a spatula around the mixture to create an even layer of around 1 – 1.5cm thickness.
Place the tray in the oven and bake for 20 minutes or until cooked.
NB: If not using baking powder, separate 2-3 eggs and beat the whites until stiff peaks form, then gently fold into the focaccia mixture. This will help aerate the mix.

TOPPINGS
Place your ingredients on top of the basic focaccia before baking in the oven. Here are some ideas:

Olives & Sun dried Tomatoes – 1/3 cup pitted olives; 1/3 cup sun dried tomatoes;
Herbs & Salt – Oregano; Italian herbs; salt
Olive & Rosemary – 1/3 cup pitted olives; rosemary leaves; salt
Roast Pepper & Onion – 4 slices roast capsicum diced; 1 small onion finely diced
Herb & Pecan – 2 tbs oregano; 1 tbs Italian herbs; 2/3 cup pecans (Place herbs on focaccia and bake for 10 minutes. Remove from oven, add pecans and bake for a further 10 minutes)
Grain and dairy-free liver Pate
Grain, dairy, nightshade, legume free, suitable for TGF and Barrier diets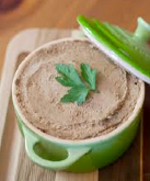 This is not actually my pate as I forgot to take a photo – but look at the
cute pot!
Many gluten sensitives have a problem maintaining iron levels. Let me state straight away, I detest offal BUT needs must, I tried this and before you say
'eurgh' or however you spell that, it's actually REALLY TASTY!



A 1lb pack of 100% Grass-fed beef, calves or lamb's liver. I get mine from Sheepdrove Farm who may well give you 10% discount if you say you found them through me!
1 onion
1 leek
3 spring onions
Olive or coconut oil
Fresh or dried rosemary and/or thyme
Sprinkle of nutmeg
3 large eggs
¼ of a block of solid coconut cream
Salt and pepper
Chop the leek and spring onion very finely or preferably blitz in a processor for speed. Saute them in a little olive or coconut oil.
Next, get a peg on your nose (I actually did this as I can't bear the smell. Hey, good look!). Snip 1lb of liver straight into the pan, trying not to look. Stir it round to help it brown on a mediumish heat. You want to get it cooked through but slightly pink. When it stinks, its overdone so don't let it get too stinky. I am selling this, aren't I?
Add in a few fresh herbs like rosemary and thyme, plus a generous sprinkle of nutmeg – dried herbs will do if you've none fresh or even a little mustard powder is nice. Stir through letting the liver cook for about 10 minutes or however you like it done: stinky or non-stinky. OK, I'll stop with the nasal teasing now, sorry
Crack the eggs straight into the pan and stir around until cooked. Season, then pop the whole lot into a processor and blitz until smooth.
Add the coconut cream. Blitz that in, check the taste, peg off nose now, and season to taste.
This makes quite a lot of pate which I put into various ramekins, cover and freeze for iron-deficient days. I have mine very cold from the fridge on hot grain free walnut toast with crunchy cucumber on top.
Delish: that sounds much more appetising now, doesn't it?
Brazil nut chocolate
Grain, dairy, nightshade free, suitable for TGF diet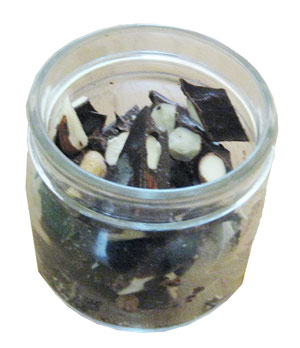 Yummy fridge-jar of tasty chocolate
When I was younger, I loved those boxes of Chocolate Brazils. Something about the crunch and goodness of the brazil nut and smooth thick chocolate coating does it for me every time. On the TGF diet it's difficult to know what's in shop-bought stuff and luckily it is simplicity itself to make your own.
This makes a goodly amount – and would be fab as a treat gift for anyone, TGF or not. Also, since many TGFs are terrible absorbers, think of all the lovely selenium and magnesium in the brazils and all the antioxidants in the chocolate. What's not to like?
150g raw cocoa butter
3 heaped dessert spoons of raw cocoa powder
100g ground brazil nuts
300g organic brazil nuts, whole or pieces
Pinch of salt, preferably pink Himalayan or other such quality stuff
Grind 100g brazils if you haven't got ready ground brazils, and set aside.
Melt the cocoa butter on a low temperature. I use my Thermomix but you could use a heat-proof bowl over steaming water.
Tip your whole brazils into a flat sandwich tin.
Add the ground brazils, salt and cocoa powder to the melted cocoa butter and mix thoroughly but gently in your mixer or by hand with a whisk. Try not to dip your finger in. Fail. Enjoy.
Pour the chocolate over your brazils. Shake and tip it a bit so the chocolate seals all around the sides of the tin and bang it a couple of times on the kitchen surface to get rid of any bubbles.
Pop in the freezer for half an hour. Get out and it should simply tip out as a block onto your board. Get a sharp knife and chop into bits, or 'shards' if we are being trendy. Store in the fridge covered – I have some in a little jar and the rest is left in the tin covered with foil until I need to cut some more. Heaven. And SO easy.

Click here for more guest recipes