Chef Mark Kennett of Oscar & Bentley's, winner of the 2015 FreeFrom Eating Out Awards
Chef Mark Kennett and Sarah Ormond Smith of Oscar & Bentley's talk to Michelle about running an award-winning freefrom restaurant – while Mark cooks:
Pudla (curried pancake) & Brinjal pickle
Vegan Bean Cassoulet with Dumplings
Pudla (curried pancake) & Brinjal pickle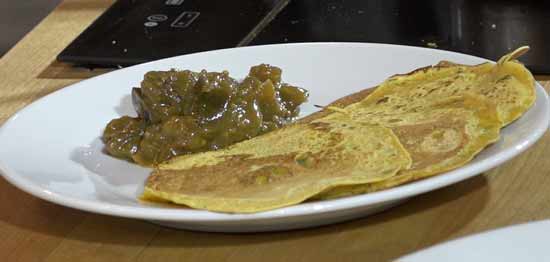 We regularly make pancakes for our customers as they are unexpected and not normally part of free from menus. 
Allergens:  The pudla is free of all known allergens.  The brinjal pickle contains mustard, sulphites, allium & nightshade.
Pudla (Curried Pancake)
300g chick pea (gram) flour
470ml water
50g fresh coriander, finely chopped
1 tsp. fresh ginger
2 tsp. salt
½ tsp. turmeric
cooking oil spray for pan
Mix ingredients in a large bowl, add the water & mix until a smooth, even mixture.
Allow to stand for 30mins (min)
Cook as normal pancake in a frying pan
Brinjal (Aubergine) Pickle
1 large aubergine, in 2cm chunks, salted and drained
1 onion, sliced
12g fresh ginger, finely grated
2 garlic cloves, crushed
¼ tsp. cumin seeds
¼ tsp. fenugreek seeds
½ tsp. yellow mustard seeds
¼ tsp. coriander seeds
1 cinnamon stick
¼ tsp. chili flakes
¼ tsp. ground turmeric
125g. soft, dark brown sugar
150ml. white wine vinegar
Fry aubergine chunks until lightly browned, but not softened.  Fry onions for 6 minutes, then add to aubergine.
Dry fry the cumin, mustard & coriander seeds.  Take off the heat & add the cinnamon & chili.  Grind to a powder.
Add all the spices to the aubergine/onion mix.
Add sugar & vinegar, simmer, stirring regularly until thick. 
Once cooled, store in airtight containers.  Allow to mature for at least a month, preferably longer.
Mixed Bean Cassoulet & Dumplings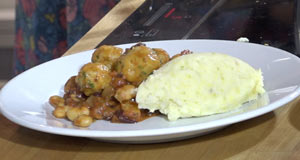 This is an immensely popular dish with both our dairy-free and vegan customers.  The dumplings are particularly appreciated, again not an element many restaurants offer in their free-from menus.  This was the dish our judge enjoyed when we won the 2015 FFEOA.  She loved the flavours, the dumplings and the reassurance that the staff were able to give her that her allergies were being treated seriously and catered for.
Allergens: allium; nightshade; celery; soya; sulphites, citrus
Cassoulet
1 onion, chopped
2 cloves garlic, chopped
1kg chopped tomatoes
1 tsp. tomato puree
200g. kidney beans (cooked)
200g. butter beans (cooked)
200g. pinto beans (cooked)
½ butternut squash, chopped
1 splash vegan Worcestershire sauce
1 red chili, chopped
1 pint vegetable stock
Fry onion and garlic in a large saucepan, add all the other ingredients and leave to simmer for 30 minutes.
Dumplings
100g gluten free, self-raising flour
150g vegan, gluten free breadcrumbs
1 cooked sweet potato
400g chick peas, cooked and pulsed
80g gluten free vegetable suet
2 tbsp. fresh herbs, finely chopped
pinch cayenne pepper
pinch smoked paprika
Mix all the dumpling ingredients in a bowl to form a dough.  Roll into dumplings, place on top of the cassoulet and cook for 25 minutes
For the dish to be vegan & dairy free we serve with crushed new potato.  Alternatively we serve with colcannon and a little crème fraiche.
Parsnip & Maple Syrup Cake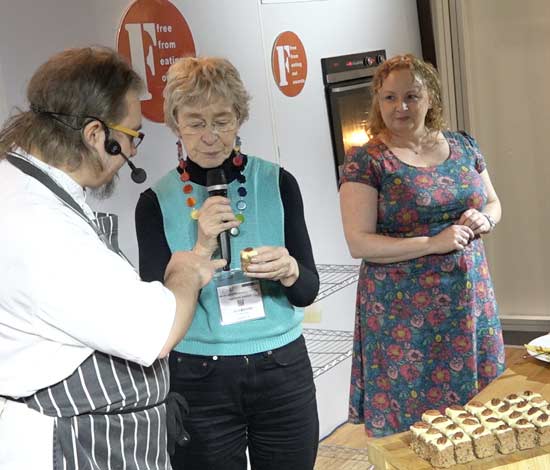 Our customers love this cake, it's very similar to a carrot cake, but the parsnips, provoke their curiosity.
Allergens:  Nuts, dairy, eggs, sulphites
Cake
200g parsnip, grated
200g gluten free self-raising flour
150g castor sugar
50ml maple syrup
140g butter
140g sultanas
80g pecans
1 tsp. cinnamon
1 tsp. gluten free baking powder
3 large free range eggs
Icing
150g softened butter
175g icing sugar
maple syrup (to taste)
100g toasted pecan nuts to garnish
Place parsnip, sultanas & nuts in a food processor and mix to a pulp.
Beat butter, sugar, maple syrup in a mixer until creamy soft.
Combine the wet ingredients above and gently mix in the egg.
Add flour, baking powder & cinnamon and mix.
Cook in a lined baking tin at 160 for 25-35 minutes.
Combine all icing ingredients and decorate cake once cooled