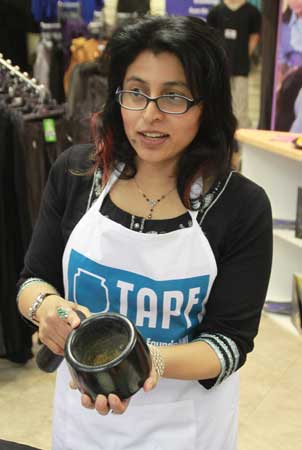 Manju Malhi
Manju Malhi is a well know British Indian chef known for offering western cuisine to India and Indian cooking to
the Western world. Through her website, books, TV shows, cooking demonstrations and charity work, she is able to combine her western background with an eastern upbringing.

Recently, she has championed British foods in India and encouraged over 80 million viewers to eat British cuisine in her TV series 'Cooking Isn't Rocket Science'.

Her style and approach to cuisine simple, laidback, quick and accessible and whenever possible she uses fresh,
and usually local ingredients.

Manju's fourth cookbook, 'Classic Indian Recipes' celebrates the richness of cuisines from the Indian states; her latest book, 'Easy Indian Cookbook' explores new ways to encourage more and more people to experiment with spices.
Check in here for Manju's site and click here to find all Manju's books at Amazon.
Manju's recipes
Click on the name of the recipe to go to it.

Pyaaz Pakora – onion fritters
Aloo aur Shimia Mirch – green peppers with potatoes
Galouti kebabs – cardamom flavoured lamb patties
Pyaaz Pakora – onion fritters
Corn, dairy, egg, gluten, lactose, nut, soya and wheat free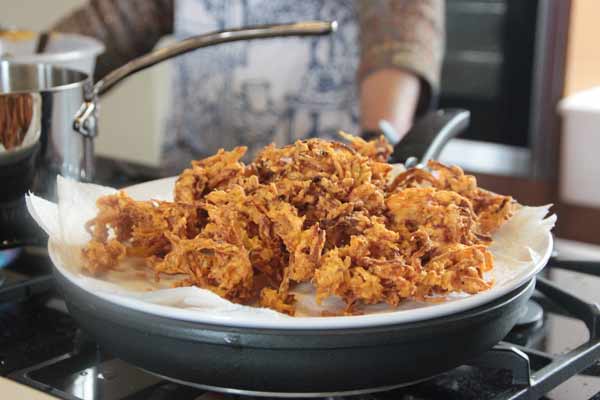 Makes 24
Pakoras are batter-fried snacks usually eaten as an appetizer. The batter is made of spiced besan or gram flour, and often other vegetables or fish are used to create a variety of fritters. Pakoras are also known as Bhajis or Bhajias.
500ml vegetable oil for frying or enough to fill a deep-fat fryer
200g besan or gram flour
3 onions, sliced
1 tsp cumin seeds, crushed
1 tsp coriander seeds, crushed
1/2 tsp chilli powder
½ tsp salt

Heat the oil in a deep saucepan or deep-fat fryer. Meanwhile sift the flour in a bowl and add the onions, cumin seeds, coriander seeds, chilli powder and salt.
Add 4 tbsp water to the flour and mix the ingredients together with a fork to make a thick and stiff batter. If it appears too runny, add some more flour.
Check that the oil is hot enough by adding a drop of the batter into it. If it sizzles, the oil is ready.
Place tablespoon size drops of the mixture into the oil. They take about a minute to cook and should turn golden brown.
Remove and drain on kitchen paper. Taste one before you fry the whole batch and adjust the seasoning if necessary. They can be warmed in the oven for 10 minutes before serving.
Serve hot.
Baked Beans Balti
Dairy, egg, gluten, lactose, nut, soya and wheat free
When my mother and father eloped to Britain in the late sixties, they both embraced British culture at a time when Britain was swinging. She came across Baked Beans and used to combine Indian spices to make a quick lunchtime snack for me and my brother when we were kids. Many Asian households in the UK have their own recipe and I also made this in India for a TV show and they absolutely loved it. Incidentally, Balti does mean bucket. This is a truly quick and comforting dish.
From my British Spice book published by Penguin

Serves 2
2 tbsp sunflower or vegetable oil
1 onion peeled and chopped
1 green chilli, finely chopped
¼ tsp garam masala
¼ tsp ground cumin powder
¼ tsp ground coriander powder
400g/14oz can baked beans (make sure that they are gluten, wheat and dairy free – Heinz beans are thickened with cornflour)
A pinch of salt (optional)

Heat the oil in a small saucepan, then put in the onion. Fry for 1 minute, add the chilli and cook for a couple of minutes, stirring continuously, until the onions begin to turn golden brown. Add the spices and fry for another minute. Add the beans, reduce the heat and cook for 3 minutes. Taste, then season with salt, if necessary. Serve hot with chapatis, naan, pitta bread or just on toast.
Aloo aur Shimia Mirch – green peppers with potatoes
Corn, dairy, egg, gluten, lactose, nightshade, nut, soya and wheat free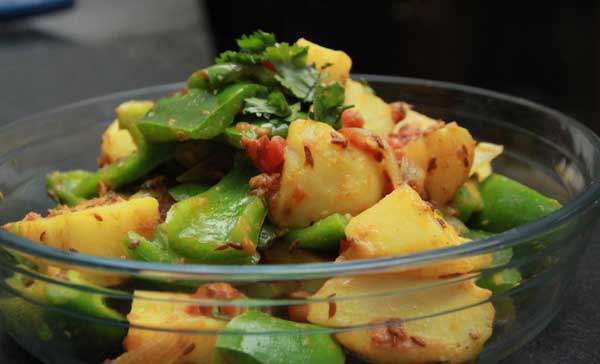 A touch of turmeric, cumin and coriander adds a warm golden glow to a quick and colourful dish. This can be prepared in a matter of minutes.
Serves 2-3
3 tbsp sunflower oil
1/2 tsp cumin seeds
1 onion, sliced
1 tomato, chopped
1/2 tsp coriander powder
1/4 tsp turmeric
2 green peppers, sliced
200g potatoes, boiled, peeled and cut into 2cm pieces
a pinch of garam masala
1 tbsp coriander leaves to garnish
Heat the oil in a large frying pan or wok and add the cumin seeds. When the seeds splutter, tip in the onions and fry for 3-4 minutes until the onions are glossy. Add the tomato, coriander powder, salt and turmeric and mix.
Cook till the mixture is quite thick. Tip in the peppers and fry for 2 minutes. Add the potatoes and mix.
Add the garam masala and sprinkle over the coriander leaves. Serve hot.
Galouti Kebabs – cardamom-flavoured lamb patties
Corn, dairy, egg, gluten, lactose, nightshade, soya and wheat free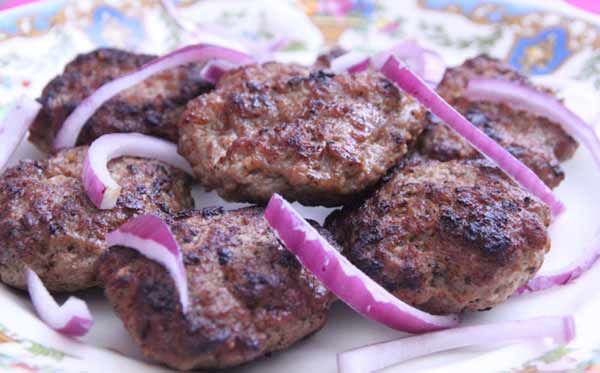 Awadhi is considered India's most subtle cuisine and is typical of Uttar Pradesh.
There are hundreds of varieties of kebabs also spelt kabab, such as kakori kebabs, galawat kebabs, shami kebabs, and seekh kebabs. 'Galouti' means 'melt in the mouth'. The meat was diced, minced and pounded to a fine paste and then flavoured with herbs and spices. After being moulded into shapes, the kebabs were grilled, fried, or skewered and baked in a charcoal oven. To achieve the tangy taste, I've used mango powder (amchur), but you could use lemon juice or half an unripe mango, finely chopped.
Makes 8 patties
1 tbsp Bengal gram or channa dal or yellow split peas
250g minced lamb, minced several times to make it smooth
1 tsp peeled and roughly grated root ginger
2-4 garlic cloves, crushed
¼ tsp mango powder or 1 tbsp lemon juice
1 tsp chilli powder
2 green cardamoms, seeds only, crushed
½ tsp salt
1 tbsp rapeseed oil
Pick over the channa dal to check for small stones. Place a small pan or frying pan over a low heat and roast the channa dal for 2 minutes, making sure that it doesn't burn. Grind it into a fine powder using a pestle and mortar or coffee grinder. Mix all the ingredients together except the oil and blend in a food processor till the mixture becomes a coarse paste. Cover and refrigerate for 2 hours or overnight. Wet your hands and divide the mince into eight equal parts. Shape into flat, round patties 1.5cm thick.
Heat the oil in a frying pan and shallow fry the patties over a medium heat, cooking either side for about 10 minutes or until cooked through, making sure both sides brown evenly. Alternatively, preheat a grill to medium and grill for 10 minutes each side or until cooked through. Serve hot with a tomato chutney.
Vegetarian kebabs
Corn, dairy, egg, gluten, lactose, nightshade, soya and wheat free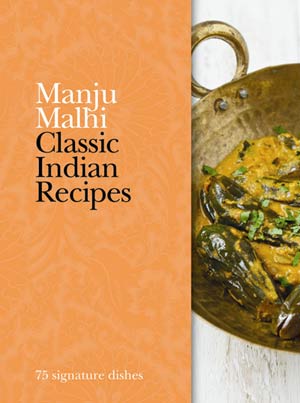 Vegetarian Kebabs or Hara Bhara Kebabs. Kebabs are usually made with meat, fish or chicken. These have evolved from the Mogul-style kebabs and been adapted for the vegetarian market. 'Hara Bhara' means 'laden with greens or vegetables'.
Makes 6-8 kebabs
115g spinach leaves, finely chopped
115g white or red potatoes, peeled and boiled
115g green peas, cooked
2 green finger chillies, finely chopped
1 tsp peeled and grated root ginger
½ tsp salt
2 tbsp roughly chopped coriander leaves
3 tbsp cornflour
3-4 tbsp sunflower oil
Wash the spinach thoroughly in salted cold water. In a large bowl, mix together the potatoes, peas, spinach, chillies, ginger, salt, coriander leaves, and cornflour. Mash until fairly smooth. Take a spoonful of mixture, the size of a golf ball, and flatten to make a burger shape. Repeat with the remaining mixture.
Heat the oil in a heavy-based frying pan and lightly fry the patties for 2 minutes on each side, cooking them well until lightly browned. Drain on kitchen paper. Serve hot with a tomato relish.

Click here for more guest recipes