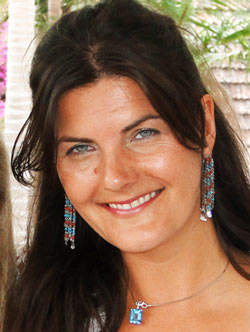 Kristina Locke of Conscious Foods
Kristina is a yoga teacher, a pioneering expert in digestive health and 'visionary' cook.

Founder and director of Conscious Food UK, she is the creator of the only multi-award-wining gluten and dairy-free gourmet snacks to be served at the 3 Michelin star restaurant the Fat Duck! She was also the inspiration behind the revolutionary D'Mix – a natural supplement which has proved very helpful in alleviating the symptoms of digestive disorders.

Conscious Foods are the first company to import Organic Palmyra Jaggery - one of the healthiest natural sweeteners on the planet - to the UK. 30–40% sweeter than ordinary sugar (so you need much less), palmyra jaggery delivers serious amounts of nutrients while remianing low on the glycaemic index and low in frustose. (For a more complete nutritional breakdown of jaggery, see Micki Rose's report on the FreeFrom Supplements site.)
Kristina recently experimented with these jaggery recipes on a group of 20 yoga retreat attendees and, she tells us, every single morsel was eaten!
For more details on the jaggery and on Conscious Food's other products check their website.
Kristina's recipes
Click on the name of the recipe to go to it.

Toasted granola
Miso glazed aubergines with soba noodle salad
Toasted Granola
Gluten free, dairy free
Serves 4

I love this in the morning with coconut yoghurt. I prefer mine grain free but you can incorporate gluten free oats.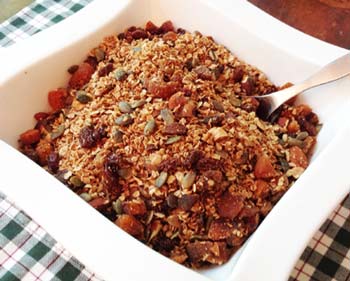 Ingredients:
200g gluten free oats
100g sunflower seeds
100g almonds
100g cashews
100g coconut flakes
2 tsp cinnamon
1/2 tsp vanilla
1 tbs flax seeds
1 tbs chia seeds
6 tbs melted coconut oil
4 tbs Palmyra Jaggery
100g chopped apricots and raisins
In a bowl mix the oats, sunflower seeds, almonds, cashews, coconut flakes, cinnamon, vanilla, flax and chia seeds.
In a separate bowl add the melted coconut oil. Sprinkle the Palmyra Jaggery into the oil and mix well. Pour over the dry mix and stir well.
Pour onto a lined baking tray and put into a pre-heated oven 160 degrees for 15 minutes. Take out, mix again and put in the oven for 10 minutes.
Add the chopped apricots and raisins. Mix well. Leave to cool and serve!
Miso glazed aubergines with soba noodle salad
Gluten free, dairy free
Serves 4

For the miso glazed aubergines:
2 aubergines
1 tsp salt
sesame or olive oil
3 tbs sweet miso
4 tbs mirin
3 tbs palmyra jaggery
1 dash tamari
2 spring onions
2 tbs white or black sesame seeds

Pre-heat the oven to 180C
Take 2 aubergines and slice them in half lengthways. Sprinkle with salt and leave for 20 minutes, then drain salt and pat dry and score in diamond shapes.
Place on a baking dry and drizzle some sesame or olive oil and place in the oven for 25 minutes.
In a bowl mix the sweet miso, mirin, palmyra jaggery and tamari.
Take the aubergines out and brush the glaze generously over the aubergines and then put back in the oven for a further 25 minutes or until the aubergines are nicely caramelised.
Chop the spring onions finely and toast the sesame seeds. Sprinkle both on the aubergines and serve with cold soba noodle salad or a green salad with Japanese ginger dressing.
For the soba noodle salad:
1 pack gluten free soba noodles
1 cucumber
1 bunch of spring onions
1cm ginger
1 clove garlic
5 tbs brown rice vinegar
2 tbs palmyra jaggery
2 tbs toasted sesame oil
Juice of ½ a lime
1 medium red chilli finely chopped (optional)

Cook the noodles according to instructions and keep chilled.
Finely julienne the cucumber and spring onions and add to the drained noodles.

Finely grate the ginger and garlic.
Add the brown rice vinegar, palmrya jaggery, toasted sesame oil, lime juice and chilli.
Whisk all the ingredients together, pour over the salad and serve.
Chocolate Mousse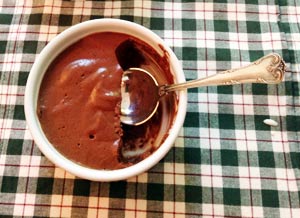 Gluten free, dairy free
Serves 4
Ingredients:
170g/6oz good-quality dark chocolate, minimum 60 per cent cocoa solids, roughly chopped
zest of one orange
7 free-range egg whites
¼ tsp lemon juice
40g/1½oz palmyra jaggery
Melt the chocolate in a heatproof bowl set over a pan of simmering water (do not allow the base of the bowl to touch the water).
Whisk the egg whites and lemon juice in a large, clean bowl until they form soft peaks. The lemon juice will stabilise the egg whites, make them easier to work with and help to prevent over-whisking.
Add the sugar and continue to whisk until firm peaks form when the whisk is removed. Do not whisk beyond this stage - the egg whites will start to collapse and separate into dry froth and runny liquid, and you'll lose all the air that you've whisked in.
When the chocolate has melted, remove the bowl from the heat. Add the orange zest. Whisk one-third of the egg whites into the hot chocolate quickly and vigorously, until thick and well combined - if you add the egg whites in too slowly, their cold temperature can make the hot chocolate seize, solidify and result in a lumpy mousse.
Fold the remaining egg whites into the chocolate mixture, using a spatula, until all of the egg white has been completely incorporated into the chocolate. Don't overmix at this stage as you'll knock out the air bubbles and the mousse will be dense.
Spoon the mousse mixture into four Martini glasses. Chill in the fridge for 2-3 hours, or until set.
Clementine almond cake
Gluten free, dairy free

This recipe is a delicious gluten free version. It can be made grain free by removing flour and adding extra almonds.

Makes 12 small cakes
Ingredients:
250g dairy-free spread (or butter if you can tolerate it)
150g Palmyra Jaggery
4 eggs
zest of 2 clementines and juice of one clementine
200g ground almonds
80g gluten free flour
½ teaspoon sea salt
1 teaspoon ground cinnamon
1 teaspoon mixed spice
In a bowl beat together the jaggery and butter together until light.
Slowly add the eggs one at a time until well mixed.
Add the zest and juice and gently fold in the rest of the ingredients to make a smooth batter.
Pour into individual wrappers and bake for 40 minutes or until a knife comes out clean.
Best ever light fruit cake
Gluten free, dairy free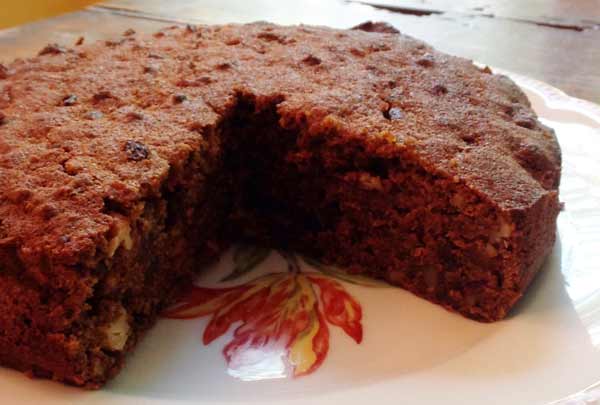 Ingredients:
250g dairy-free spread (or butter if you can tolerate it)
150g jaggery
4 eggs
200g ground almonds
100g gluten free flour (or spelt flour if you can tolerate gluten)
grated rind of orange and juice of an orange if needed if the mixture is too dry!
1 tsp of baking powder
300g mixed chopped dried fruits e.g. apricots, sultanas, mixed peel, dates
200g chopped walnuts
coat the dried fruits in 2 tablespoons of flour to make sure it doesn't stick to the bottom.
Preheat oven to 180 celcius.
In one bowl, cream together butter and jaggery, in a separate bowl gently whisk the eggs.
Add the eggs to the jaggery and butter mixture and then fold in the ground almonds and flour and baking powder and orange zest. If mixture seems too dry then add some of the juice of the orange.
Then add the mixed dry fruit and nuts and gently fold into the mixture.
Pour the mixture into a greaseproof paper lined spring form cake tin and pop into a preheated oven for 40 minutes or until a knife comes out clean. You may need to cook it for a further 10 minutes but if so put some greaseproof paper on the top to prevent the top from burning.