Lilly
I am Olivia Abrahmsohn, also known as Lilly. I grew up loving painting, cooking, nutrition and these loves have sculpted my activities and directed the paths I have taken throughout my life.
I have created paintings for my home, and have qualified as a makeup artist. But my biggest love of all is entertaining and cooking. I frequently take cooking courses. (I have recently been aired on channel 4 Come Dine With Me – Series 31, Episode 24).
I have completed a BSc in Biology and MSc in Nutrition as I am extremely interested in science, food, and it's effects on the body.
During my masters my published research article describes and quantifies a type of sugar, fructan, in commonly eaten breads (including gluten free breads). This paper also references fructan effects on the body in terms of IBS.
Int J Food Sci Nutr. 2011 Aug;62(5):498-503. Epub 2011 Mar 23. Fructan content of commonly consumed wheat, rye and gluten-free breads.
While travelling California, I 'discovered' wine tasting, and to my surprise, a wine connoisseur diagnosed me with a professional nose and a sensitive palette for tasting hidden flavours in wines. This has been invaluable for my current career in which I have been able to combine my tasting skills with my love for both food and science: I work as a product developer (aka Chief Taster) for Innocent Drinks. I develop the recipes, taste our ingredients and products on a daily basis to maintain their quality, and I train Innocent employees' taste buds to qualify them for our expert tasting panels.
To address my own digestive problems I have eaten gluten free for five years and I love finding new and interesting ways to make the most of my gluten-free diet! I frequently tweet about all the new gluten-free foods I find in supermarkets around the world, gluten-free restaurants I go to, and gluten-free foods I cook.
My Twitter name is @glutenfreeness.
Thanks to Foodsmatter who inspires all of us with every information packed newsletter and a very helpful, user friendly website!
Lilly's recipes
Click on the name of the recipe to go to it.

Curried butternut squash soup
Curried butternut squash soup
Corn, dairy, egg, gluten, lactose, nighshade, nut, soya and wheat free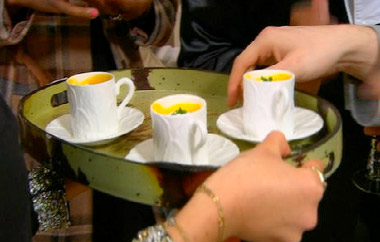 Serves 4
500g butternut squash, peeled and diced
1 white onion, chopped
2 cloves garlic, chopped
2 tbs olive oil
500ml gluten/wheat-free stock
1 tsp gluten/wheat-free mild curry powder
salt and pepper
chives, to garnish
Caramelize the onions, garlic in olive oil in a large pan until the onions turn golden.
Place the squash, stock, salt and pepper and curry powder in the pan with the onions and cook in a saucepan and simmer gently for 30 minutes.
Blend until smooth then season to taste and ladle into mugs/bowls.
Sprinkle the chives before serving to add a little interest to the dish. If you aren't dairy free, you could add a little (1/2 tsp) crème fraiche too.
Thai green chicken curry
Dairy, egg, gluten, lactose, nut, soya and wheat free
Serves 6
For the green curry paste
6 small fresh green hot chillies
handful of fresh coriander, chopped
4-5 Thai shallots, chopped
1 tsp chopped lemongrass
3 kaffir lime leaves
1 tsp coriander seeds, toasted and ground
½ tsp salt
½ tsp ground white pepper
4-5 cloves garlic, peeled and finely chopped
good squeeze of lime juice
3-4 tbsp coconut milk
½ tsp cumin seeds, toasted and ground
7 thin slices Thai ginger
To make the curry:
2 tbsp olive oil
1 medium onion, peeled and chopped
750g boneless skinless chicken thighs, cut into chunks
½ small aubergine, cut into small cubes
3 Thai aubergines, halved
100g baby sweetcorn
1 tbsp Thai fish sauce (check ingredients)
1 tbsp palm sugar
1 green chilli, pipped and chopped finely
small handful Thai basil
400g can coconut milk
500ml gluten and wheat-free chicken stock
zest of 1 lime
2 kaffir lime leaves


Make the curry paste by blending all the ingredients together into a paste using a food processor or blender. You will make more than you need for this dish, so seal the rest in a jar, and keep for up to a couple of months in the fridge.
To cook the curry, heat the oil in a frying pan and fry the onion until soft. Add 1 tablespoon of paste and stir-fry for a few minutes until fragrant. If you feel you need more paste for flavour, add more, but be careful that it is not too chilli hot!
Add the chicken and fry until sealed, then add the remaining ingredients and simmer until the chicken is cooked through and the sauce reduced down.
Spoon into bowls and serve with rice and greens.
Gluten-free cupcakes
Gluten, nightshade, nut, soya and wheat free; can be dairy free and lactose free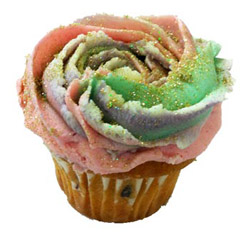 Serves 4

110g meltd butter or PURE dairy-free spread
110g caster sugar
110g Doves Farm gluten-free self-raising flour
2 medium eggs
3 tbsp cow's milk, soya milk, oat milk or coconut milk
Few drops of vanilla extract

For the buttercream icing
250g soft butter or PURE dairy--free spread
1 tsp vanilla extract
500g icing sugar
Splash of whichever milk you can tolerate
Food colourings, preferably natural ones
Preheat the oven to 180°C/350F/gas mark 4.
Beat the butter or spread and sugar in a bowl with an electric whisk until smooth and pale.
Beat in the flour bit by bit, and the eggs one by one, folllowed by the milks and vamilla. The mixture should smooth and fluffy.
Spoon the mixture into silicone or paper cases in a bun tin, filling three-quarters full. Bake for 20 minutes until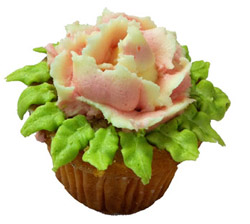 risen and golden then cool the cupcakes on a wire rack.

For the buttercream, beat together the butter, vanilla and icing sugar until smooth, adding a splash of milk to get a loose enough mixture to pipe.
Divide the buttercream into portions and add a different colour to each (colouring can be quite strong, so start with a tiny pea size amount, and add more if necessary).
Spoon into piping bags and spoon or pipe the buttercream onto the cooled cupcakes in as fancy patterns as you can devise!
Strawberry cake
Gluten, nightshade, nut, soya and wheat free; can be dairy free and lactose free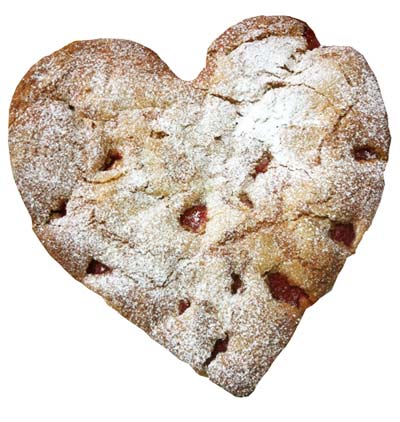 Makes about 8–10 cookies
4 tbl spoons unsalted butter or PURE dairy-free spread
350g Doves Farm gluten-free flour
230g + 2 tbl spoons caster sugar
1.5 tsp gluten and wheat-free baking powder
½ tsp salt
1 large egg
120ml whatever milk you can tolerate
1 tsp vanilla extract
450g strawberries (stalk removed, and cut in half)
Preheat oven to 180C/350F/Gas mark 4.
Grease a tin around 150cm diameter.
Beat the butter and 230g sugar together until pale.
Mix in egg, milk and vanilla.
Gradually mix in sifted flour, baking powder and salt.
Transfer mixture to buttered tin.
Place strawberries on top of batter and sprinkle remaining 2 tbl spoons caster sugar over the top.
Bake cake 10 minutes at 180C/350F/Gas Mark 4, then reduce temperature to 160C/300F/Gas mark 3 and bake until golden brown. Check at around 45minutes, test the centre of cake with a skewer – the skewer should come out clean.
Let cake coo slightlyl on a wire rack and then, if you want, you can cut it into a heart shape. When its cool, you can sprinkle with icing sugar before serving.