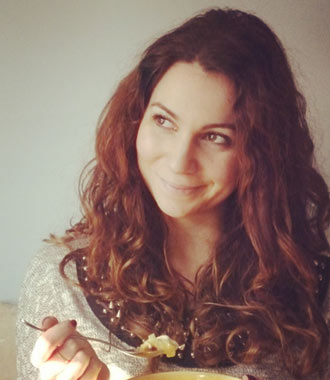 Sim and Knead Bakery

Diagnosed with allergies as a child, Sim quickly learnt that what we eat can have a profound influence over our general health and wellbeing.
At the age of eleven, after years of misdiagnosis, she was advised to follow a gluten, dairy, yeast and sugar free diet. Within a few weeks of paying careful attention to what she ate, all of her symptoms were controlled and some even eradicated.

As any parent of children with food allergies will know, catering for multiple allergies can be quite a challenge and at a time when few free-from products existed, it was very much down to her mother to deploy her baking skills. A lot of trial and error in the kitchen!

Having spent years scanning ingredients labels and frustrated with the lack of products available for multiple allergy sufferers, Sim decided to launch her own brand, Knead Bakery. When you find that your favourite foods need to be eliminated from your diet, the future can seem pretty bleak. Moreover, research has shown that being sensitive to one allergen increases the chances of developing sensitivity to others. Sim therefore wanted to create delicious products suitable for those who were not just allergic to gluten and dairy but who sought to eliminate other allergens along with cane sugar and yeast - either because they were allergic or intolerant to them, or simply as a healthier alternative.
New products are launched in supermarkets and health food shops every day but although the free-from shelves are expanding, they're filling up with products that are so packed with cane sugar, additives and preservatives that their taste, texture and nutritional qualities leave much to be desired. The truth is you can eat wonderfully tasty things that don't generate any nasty reactions. Living with multiple allergies needn't be restrictive.

Sim is passionate about offering multiple allergy and intolerance sufferers great tasting products that don't compromise on quality. Knead Bakery products have been given the crucial seal of approval from people who don't suffer from allergies or intolerances who "can't tell the difference between a Knead Bakery brownie and a 'normal' one!" Sim believes that you can recreate foolproof recipes in your kitchen at home and serve up something at the dinner table that no one would ever think of as alternative or free-from.
www.kneadbakery.co.uk
Facebook
Twitter
Launch video

Sim's recipes
Click on the name of the recipe to go to it.

Provencal spinach soup
Hand made Gnocchi with butternut squash and sage 'butter'
Classic American-Style Blueberry Pancakes
Provencal spinach soup
Free from gluten, egg, nut, soy, milk, celery, mustard, yeast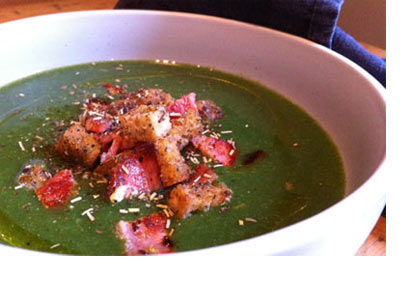 Serves two
200g potatoes
100g spinach
3 teaspoons bouillon powder or a stock cube (yeast and sugar free if required)
¾ litre of boiling water
olive oil
2 rashers of bacon, the best quality you can afford (can be omitted if you are a vegetarian)
free from bread, cut into small cubes for croutons (I use Knead Bakery Seeded Bread which is gluten, wheat, yeast, dairy and sugar free)
1 tsp herbes de Provence
salt and pepper to taste
This is a warming soup, delicately flavoured with herbes de Provence, which reminds me of lazy lunches at my parents' house in France.
Peel and chop the potatoes, wash the spinach thoroughly and place both in a pan with the bouillon or stock cube and the boiling water. Simmer on a medium heat until the vegetables are cooked. If a knife can cut through the potatoes easily, they're done. It should take around 20 minutes.
In the meantime, cook your bacon in a pan or under the grill if you prefer until it's nice and crispy. Then, place it on some kitchen roll to soak up excess grease and cut into small squares.
Take one slice of free from bread and cut it into cubes. Place some oil in a pan and add the cubes of bread. This can also be done under the grill. Sprinkle with herbes de Provence and fry or grill whilst stirring the croutons to make sure they are coated in oil and herbs. Wait until they turn golden and little crispy and then take them off the heat.
Blend the cooked vegetables in a food processor until smooth.
Ladle the hot soup into deep bowls and add the croutons and bacon into the centre. Add salt and pepper to taste and a little olive oil if you fancy it. Enjoy!
Hand made Gnocchi with butternut squash and sage 'butter'
Free from gluten, nut, soy, milk, celery, mustard, yeast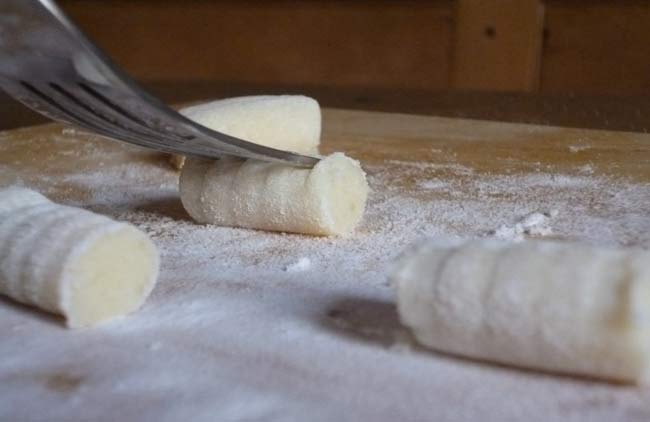 Making pasta from scratch reminds me of cooking with my grandmother when I was a child. We would always make huge batches together for big family gatherings. The good thing is that my grandmother's recipes have been easy to adapt and have worked well with free from ingredients. I make them now at dinner parties and nobody can tell the difference!
800g potatoes
1 tsp salt
1 egg
70g gluten free flour
450g butternut squash or pumpkin
4 gluten free sausages (I also buy yeast and sugar free ones)
50g dairy free spread or olive oil
4g fresh sage, finely chopped
Place the unpeeled potatoes in a medium pan and cover with boiling water. Boil until cooked through but still firm. This is best done the night before and the cooked potatoes kept in the fridge overnight.
Peel the potatoes, add the salt and egg, and mash together. Add the flour bit by bit and stir until well combined.
Take a handful of mixture at a time and roll into thin 20cm long rolls. Cut into one-inch long pieces. Roll the back of a fork over each piece to create ridges on the gnocchi.
Peel and cut the squash into one-inch cubes. Place in a baking dish, add a pinch of salt and pepper and a splash of olive oil. Rub the seasoning and oil over all of the squash.
Cut the sausages into inch long pieces and place in another baking dish. Put both dishes in the oven and cook for approximately 30 minutes until the squash is well roasted and the sausages are golden brown.
Bring water to the boil in a medium saucepan with a pinch of salt. When the water is boiling add the gnocchi to the pan. They will sink to the bottom. When they rise to the top they are done. Drain the gnocchi.
In a separate pan place 50g of dairy free spread or olive oil. Finely chop the fresh sage and add to the pan.
Plate up the gnocchi first, then ladle on the sausages and squash and pour the sage 'butter' on top. Season to taste and enjoy. Can also be served with cheese or a cheese alternative.
Classic American-Style Blueberry Pancakes
Free from gluten, nut, soy, milk, celery, mustard, yeast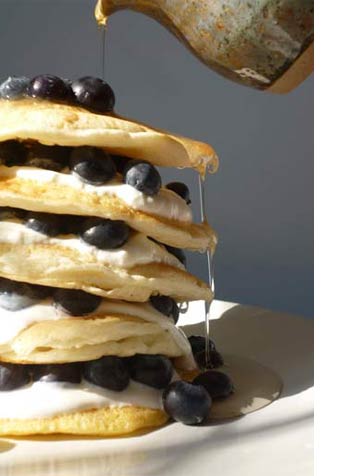 Serves two, or one very hungry person
100g gluten free flour
1 tsp gluten free baking powder
a pinch of salt
150ml dairy free milk
2 free-range egg whites
knob of dairy free spread or oil of your choice
blueberries or fruit of your choice
agave nectar or an alternative sugar of your choice (optional)
Delicious, classic American-Style thick pancakes with blueberries... I love these in the morning: they are such a treat and are impressive to serve up to guests.
Mix together the flour, baking powder and salt. Pour in the milk bit by bit and whisk until smooth.
In a separate bowl whisk the egg whites until soft peaks form.
Fold the egg whites into the mixture with a metal spoon.
Put the dairy free spread or oil in a pan until it melts and starts to bubble. Ladle the mixture (one ladle full makes one pancake) into a frying pan. Wait until the top starts to bubble and the bottom is golden brown and then flip them over until the other side has turned golden brown.
Serve with blueberries or any fruit of your choice. I use agave nectar on top as a sweetener but you can leave this out or use an alternative sugar of your choice. These pancakes also work really well with savoury breakfast toppings.
Knead Bakery's apple crumble
Free from gluten, egg, nut, soy, milk, celery, mustard, yeast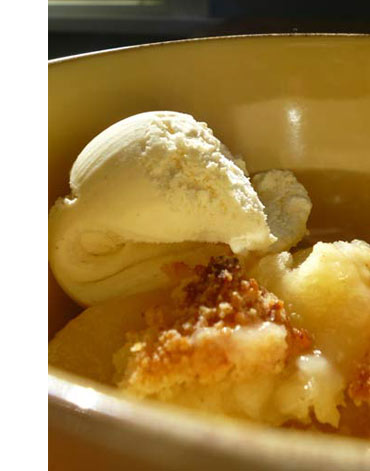 This is one of my biggest comfort foods, great on a Sunday when chilling out in front of the TV. It's delicious served piping hot with dairy free ice cream or dairy and gluten free custard. You can use a good gluten free custard powder, substitute milk with a dairy free version of your choice and an alternative sugar such as agave nectar or xylitol if needs be. Sometimes I leave the sugar out altogether and put a splash of vanilla extract in instead.
2kg bramley cooking apples
water
175g xylitol or an alternative sugar or your choice (optional)
250 gluten free flour
125g dairy free spread
1tbsp ground cinnamon
1tsp ground nutmeg
Preheat your oven to 180 degrees.
Peel, core and chop the apples into inch cubes and place in a 10 inch square dish. Pour half an inch of water into the bottom of the dish. If using, sprinkle the apples in 50g of xylitol or your choice of alternative sugar.
Place the flour and dairy free spread into a bowl. Use two knives to cut through the spread combining the flour and spread more thoroughly. Then, use your hands to run through the mixture and create a breadcrumb-like consistency. If you're using it, add the remaining 125g of sweetener, and mix in with your hands.
Pour the flour mixture on top of the apples and spread evenly. Sprinkle cinnamon and nutmeg on top and pop in the oven.
Bake for 30-40 minutes until the apples are bubbling up around the sides and the top is golden brown.

Click here for more guest recipes