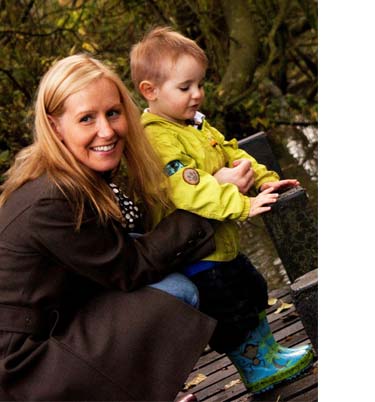 Kate Hardie – Can I Eat It?
Hello, my name is Kate Hardie and I am a mother of 3 children, 1 of whom was diagnosed with coeliac disease at the age of 18 months. When a child is diagnosed with coeliac disease, it can be both daunting for the parent and frustrating for the child, who can feel excluded and different from their peers.
When our son was diagnosed in 2010 I felt there were a very limited number of recipes aimed at young children living with coeliac disease that would also appeal to non-coeliac sufferers. So I decided to write a gluten-free recipe book called 'Can I Eat It?' which provides midweek meals, to allow families to eat inspiring food together regardless of this auto-immune disease. As well as this, I designed some tasty snacks, school lunch box ideas and party treats, enabling my son to attend birthday parties, play dates, school trips etc with appetising and visually stimulating food.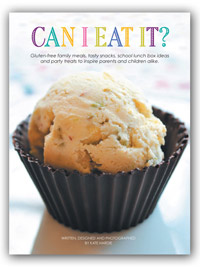 My Story:
This book is entirely my own creation and was completed whilst juggling our 3 children under 5 and running our graphic design business with my husband.
I planned my recipes, made them, fine tuned them, tested them on many guinea pigs, created the food styling, photographed them, designed my book, created the e-book and here it finally is.
Just as William has asked at least once a day from the moment he could talk,
'Can I Eat It?' The answer to that is, 'Yes William, you can' and that is how the name of my book evolved.
You Tube Video Link To My Story
My Website, my Facebook page, my Twitter page
Amazon Link to buy the book


Can I Eat It? is filled with great recipes – lots of inspiration for parents struggling to make interesting, shareable food for their allergic or coeliac kids. Check out some of Kate's recipes below if you want proof!

4 Cheese Macaroni with Parma Ham
---
4 Cheese Macaroni with Parma Ham
Gluten/Wheat, Yogurt, Cream, Eggs, Soya and Nut free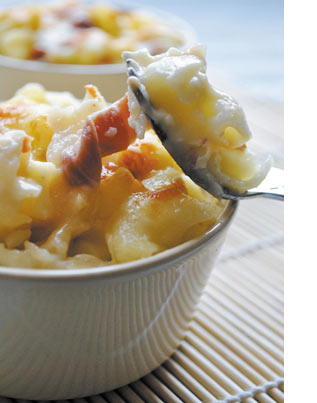 Makes: 6 Ramekin Portions
This is a deliciously indulgent and filling meal - the whole family will be wanting seconds! Either use individual ramekin dishes or make one large dish to share.
Ingredients:
175g / 6oz gluten-free macaroni
25g / 1oz butter
25g / 1oz gluten-free plain flour
350ml / 12fl oz milk
50g / 2oz Cheddar cheese, grated
25g / 1oz Parmesan cheese, grated
25g / 1oz Gruyère cheese, grated
25g / 1oz Mozzarella, cubed
4 slices Parma ham, roughly chopped
50g / 2oz sun-dried tomatoes, finely chopped
Grill on a medium heat
Method:
Melt the butter in a medium saucepan and stir in the gluten-free flour with a wooden spoon until it becomes a thick, smooth paste, then gradually stir in the milk, beating constantly to make a thin, smooth liquid.
Simmer over a medium heat, stirring continuously, then add the grated Cheddar, Parmesan and Gruyère cheese. Stir until the cheese has melted and the sauce has thickened and appears velvety smooth.
Meanwhile, cook the macaroni in a large pan of boiling water, according to the packet instructions. Stir occasionally to make sure that the pasta does not stick. Cook until al dente, then drain well.
Stir into the sauce, followed by the Mozzarella, Parma ham and sun-dried tomatoes. Spoon the macaroni into ramekin dishes or a 1.2 litre lasagne dish and sprinkle with a bit more Cheddar cheese if desired.
Heat the grill and place on a baking tray. Grill for 8-10 minutes or until bubbling and golden brown on top.
Top Tip: Gluten-free pasta cooks quicker than whole grain pasta due to its rice content so keep a careful eye on it whilst cooking.
Little Star Fish Bites
Gluten/Wheat, Milk, Butter, Yogurt, Cream, Soya and Nut free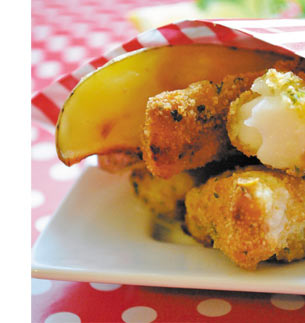 Makes: 3 Fish Portions
It is a great way to encourage children to be creative and get
involved in the kitchen - Brownie points in the brain food department too!
Ingredients:
250g / 9oz skinless plaice, cod or sole
2 large Maris Piper potatoes, peeled and cut into wedges
Dash olive oil
10g / 1/2oz gluten-free cornflakes, finely ground
25g / 1oz gluten-free bread crumbs
½ lemon, finely grated zest
1 sprig parsley, finely chopped
50g / 2oz corn flour or gluten-free flour
1 medium egg, beaten
Pre-heat the oven to 220°C / Fan 200°C / 425F / Gas 7
Method:
Using a sharp pair of scissors, cut the fish into a variety of shapes and lay them on a plate. Cover and place in the fridge whilst you prepare the bread crumbs and potato wedges. (Use the remaining fish to make a fish pie or popcorn sized fish finger shapes, depending how fussy you are!)
Meanwhile, cut the potatoes into chunky wedges and cook on a high heat in the microwave for approximately 6-8 minutes. Transfer to an oiled baking tray and drizzle with a little more olive oil. Bake in the oven for approximately 20-30 minutes or until golden brown and crispy.
Put the gluten-free cornflakes and bread into a food processor and blend into fine bread crumbs. Add the zest of half a lemon and the parsley and stir well, then empty into a bowl.
In a separate bowl beat the egg. Toss the shapes in the flour, then dip the egg and finally toss them in the breadcrumb and cornflake mix until evenly coated.
Lay the fish shapes on the oiled baking tray and lightly drizzle a bit more olive oil over the top. Bake in the oven for 10-15 minutes depending on the thickness of the fish.
Serve immediately with your child's favourite gluten-free mayonaise or tomato sauce.
Sticky Chicken Jumbles
Gluten/Wheat, Milk, Butter, Yogurt, Cream and Egg free


Makes: 8 Chicken Jumble Portions
These bite sized golden chicken pieces are delicious served either warm or cold, so take some of the party pressure away by making them in advance.
Ingredients:
6 boneless chicken thighs, roughly cut into 2" / 5cm pieces
2 tablespoons honey
1" cube fresh ginger, peeled and finely chopped
1 tablespoon lemon juice
1 dessert spoon gluten-free soy sauce
½ teaspoon lemon zest
1 tablespoon rice wine or cider vinegar
1 teaspoon sesame oil
2 cloves garlic, minced
2 teaspoons cornflour
2 limes, quartered
Sesame seeds, (Optional)
Pre-heat the oven to 200°C / Fan 180°C / 400F / Gas 6
Method:
In a medium sized mixing bowl place all the ingredients except the chicken. Stir
until thoroughly combined.
Cut the chicken into 2", (5cm) pieces and add to the marinade. Stir until evenly
coated then cover and transfer to the fridge for a minimum of 1 hour, stirring from
time to time.
Pour the chicken and marinade into a shallow oven proof dish and distribute evenly. Cook in the oven for approximately 35-40 minutes, stirring half way through. Cook until golden brown and bubbling.
Remove from the oven and allow to cool a little before eating.
Top Tip: Serve with fresh lime wedges and sprinkle sesame seeds over the chicken to give it a little texture.
Peachy Velvet Picnic Cakes
Gluten/Wheat, Milk and Soya free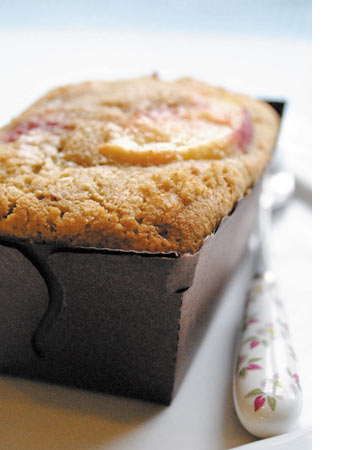 Makes: 8 Picnic Cakes
No lunch box would be complete without some kind of sweet treat, so this recipe combines a fruity element to keep mum and dad happy and they freeze well too.
Ingredients:
250g / 9oz gluten-free self-raising flour
2 teaspoons gluten-free baking powder
50g / 2oz ground almonds
1 teaspoon ground cinnamon
½ teaspoon nutmeg
140g / 5oz butter, softened
200g / 7oz soft brown sugar
1 teaspoon vanilla extract
3 medium eggs
1 heaped dessert spoon crème fraiche
110g / 4oz raspberries crushed
1 lemon, zested
50g / 2oz pecan nuts, roughly chopped
1 peach, stoned and thinly sliced
Demerara sugar to decorate
Pre-heat the oven to 200°C / Fan 180°C / 400F / Gas 6
Method:
Sieve the gluten-free flour and baking powder into a bowl, then add the ground almonds, cinnamon and nutmeg.
In a separate bowl use an electric whisk to beat the softened butter, brown sugar and vanilla extract until pale and fluffy. Add the eggs one at a time, beating after each addition, then gradually add the flour mixture.
Stir in the crème fraiche, raspberries and lemon zest, then scatter the pecan nuts among the mini loaf cases. Spoon over the cake mixture, then top each cake with 1 peach slice and scatter with a little demerara sugar.
Bake for approximately 25 minutes or until a cocktail stick inserted into the centre comes out clean, then turn out onto a wire rack.
Top Tip: Store in an air tight container.
Gingerbread Guys and Dolls
Gluten/Wheat, Milk, Yogurt, Cream, Soya and Nut free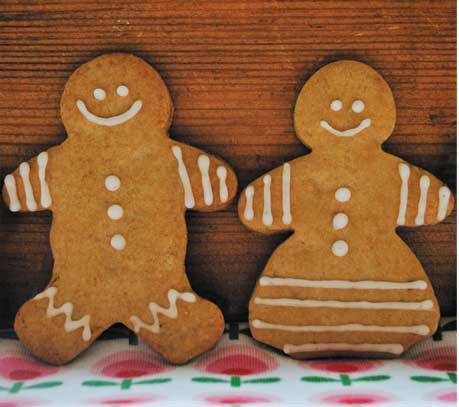 Makes: 15-20 Biscuits (Depending on the size of your cutter)
I have introduced a new twist on the classic gingerbread which is stem ginger. The house will smell heavenly as the gingerbread cooks in the oven - This recipe certainly lives up to its name as it is packed with a lot of ginger punch!
Ingredients:
275g / 10oz gluten-free plain flour
1 dessert spoon ground ginger
½ teaspoon xanthan gum
1 teaspoon bicarbonate of soda
75g / 3oz cold butter
50g / 2oz dark brown sugar
25g / 1oz stem ginger, finely chopped
2 tablespoons golden syrup
1 medium egg yolk
Pre-heat the oven to 190°C / Fan 170°C / 375F / Gas 5
Method:
Sieve the gluten-free flour, ground ginger, xanthan gum and bicarbonate of soda into a large mixing bowl.
Using cool hands, rub in the butter to resemble fine bread crumbs, then stir in the sugar, stem ginger, golden syrup and egg yolk. Using a wooden spoon, stir until thoroughly combined.
Turn out onto a floured work surface, (gluten-free of course) and knead until a firm dough has formed. Wrap in cling film and chill in the fridge for 30 minutes.
Re-flour the work surface and roll out the dough to 4mm thick. Use your cutters to make the gingerbread shapes and place on a lightly greased baking tray.
Bake in the oven for 12-15 minutes or until firm, then turn out on to a cooling tray. Once cool, decorate with smiley icing faces and patterned decoration.

Click here for more guest recipes