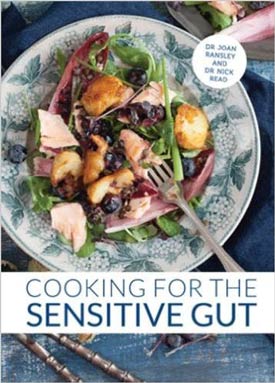 Cooking for the Sensitive Gut
In January 2016 many of Joan's excellent recipes were published in her new book, written with gastroenterlogist Dr Nick Read, Cooking for the Sensitive Gut.
Here are the delicious recipes that she devised for us last year.
Dr Joan Ransley is a freelance nutritionist, chef, writer and photographer.
Joan has a BSc in Home Economics, an MMed Sci and a PhD in Human Nutrition and she has worked in teaching and research at the University of Leeds where she retains a position as Honorary Lecturer in Human Nutrition.
It was while studying for her MMedSci at Sheffield University that she developed an interest in diet and the Irritable Bowel Syndrome.
Joan writes regular columns for the Yorkshire Post, Yorkshire and Peak District Life magazines. In April 2014 she was awarded third place in the prestigious Pink Lady® Food Photographer of the Year. She was shortlisted for the 2009 Guardian's Travel Writers competition with a piece she wrote on staying in a remote part of Northern Finland. Joan serves on the committee of the Guild of Food Writers and is a judge of the Mirium Pollunin Award for Healthy Eating and the popular 'Write It' food writing competition for children.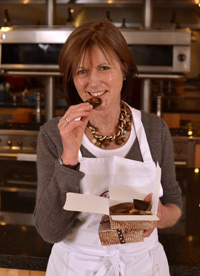 Recipes
Click on the name of the recipe to go to it.

Aubergine, quinoa, feta and fresh herbs
Kedgeree with turmeric and coriander
Potato and pastrami salad with dill and mustard
Aubergine, quinoa, feta and fresh herbs
Gluten free, nut free, vegetarian
Quinoa is a great ingredient to use in Mediterranean style dishes. It is low in FODMAPs and should be tolerated by most people with IBS.

Serves 4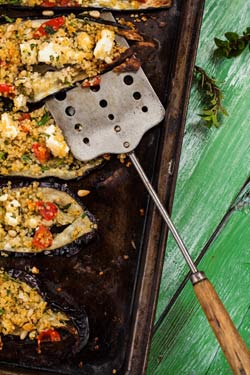 Ingredients:

2 aubergines
cooking salt
2 tbsp olive oil
150g quinoa
2 tbsp pine nuts
100g cherry tomatoes, roughly chopped
1 tbsp chopped chives
1 tbsp chopped parsley
150g feta cheese, crumbled
sea salt and freshly ground black pepper to season
Preheat oven to 200°C/Gas mark 6. Cut the aubergines
lengthways into 1.5cm thick strips and lay on a baking tray. Sprinkle the aubergines with salt and leave for 15 minutes.

Rinse the aubergine slices under cold water and pat dry. Lightly oil two large baking trays with a tablespoon of olive oil and lay the aubergine slices in rows and dribble with the remaining olive oil. Place the baking trays in the oven and cook the aubergine for 15 minutes or until tender.

Meanwhile place the quinoa in a saucepan with twice the volume of water and bring to the boil. Reduce the heat and simmer the quinoa for 8 minutes or until just tender. Drain the quinoa and place in a bowl with the remaining ingredients and season well with pepper and salt.
Kedgeree with turmeric and coriander
This Anglo/Indian dish uses ginger and turmeric which can have a soothing effect on the gut. Spring onion tops give the flavour of onions without the symptoms. This is a lovely brunch or light super dish. This version of kedgeree does not contain raisins which are high in fermentable carbohydrates.
Gluten free, dairy free, nut free
Serves 4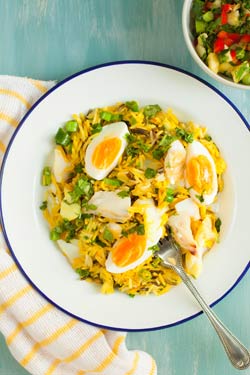 Ingredients:

3 tbsp olive oil
leaves from 4 spring onion, finely chopped
½ tsp ground turmeric
1cm length of fresh ginger, peeled and grated
175g basmati and wild rice mixed
4 eggs
200g smoked, un-dyed haddock
salt and pepper to taste
chopped fresh coriander leaves
Heat 2 tbsp oil in a large frying pan and add the spring onion tops. Add the ginger and turmeric followed by the rice.

Stir well and add twice the volume of water to rice and a good pinch of salt. Bring to the boil, reduce to a simmer and cover with
a lid.

Cook for 20 minutes without disturbing the rice. Then for the last 5 minutes of cooking time place the smoked haddock on top of the rice and replace the lid. Cook gently for 5 minutes.

Meanwhile place eggs in cold water and bring to the boil. Reduce heat slightly and boil the eggs for 6 minutes. Allow the eggs to cool, peel and cut into quarters. Scatter the chopped coriander over the kedgeree before serving.
Tip:
The white part of onions and leeks are high in fermentable carbohydrates called 'fructans' which can cause symptoms in people with a sensitive gut. The green leaves of spring onions, leeks and chives taste of onions but do not contain fructans. They can be chopped up and used as a substitute for onions.
Potato and pastrami salad with dill and mustard

Gluten free, nut free

This salad makes a great lunchbox dish. The combination of pastrami, potato and dill and a little mustard is wonderful and very sustaining. The salad ingredients and herbs should all feel very soothing.
Serves 4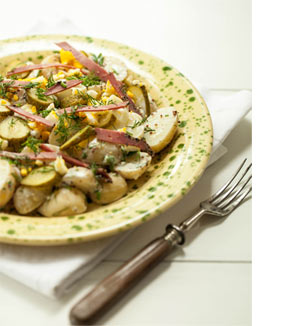 Ingredients:
400g new potatoes, rinsed
2 large free range eggs
1 tbsp wholegrain mustard
1 tbsp plain, low fat yogurt
1 tbsp mayonnaise
salt and pepper to taste
1 tbsp chives, finely chopped
100g thinly sliced pastrami or ham
8 pickled gherkins (optional)
2 tbsp dill leaves, finely chopped
Method:
Boil the potatoes in a pan. They will need between 10 and 15 minutes to cook depending on their size. Place the eggs in the same cooking water and boil for 8 minutes.
When the potatoes are cooked remove from the heat and rinse both the potatoes and eggs in cold water and then drain. Cut the potatoes onto quarters when they are cool enough to handle.
Peel the eggs, roughly chop and set on one side. Mix the mustard with the yogurt and mayonnaise and season to taste.
Place the potatoes in a bowl and mix with the yogurt, mustard and mayonnaise. Add the chopped chives, pastrami, pickled gherkins (if using) and dill.
Tip:
One tablespoon (20g) of gherkins is low in fermentable carbohydrates and will be tolerated by most people. One tablespoon (20g) plain, low fat yogurt should be tolerated by most people with a sensitive gut but can be omitted if preferred and replaced with a little more mayonnaise.
Blueberry, banana and cardamom pancakes
Dairy free, gluten free
You would not guess it but these pancakes do not contain a grain of flour, yet they hold together really well. They are incredibly easy and quick to make if you have a stick blender or a liquidiser.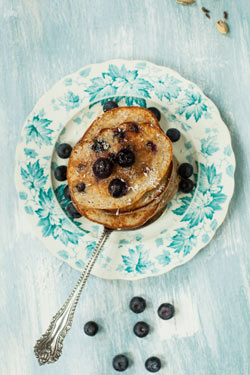 Makes 8 pancakes

Ingredients:
2 medium sized bananas
3 eggs
½ tsp ground cardamom seeds
150g fresh or frozen blueberries
½ tbsp rapeseed or other flavourless oil
1 tsp desiccated coconut
maple or golden syrup to dribble
Method:
1. Peel the bananas and place them in a tall jug or liquidiser. Add the
eggs and ground cardamom and liquidise thoroughly. Stir in 100g of blueberries.
2. Heat a large non stick frying pan and wipe some vegetable oil around the pan. Pour two tablespoons of batter into the pan for each pancake. You should be able to fit four to a pan.
3. Cook the pancakes for 3 minutes or until just set. Flip over and cook for a further two minutes.
4. Serve the pancakes with extra blueberries, a dribble of syrup and a scattering of desiccated coconut.

Tip:
Sweeteners containing a lot of fructose, such as honey, can cause problems for people with a sensitive gut because fructose is not absorbed very well from the small intestine. Artificial sweeteners such as sorbitol can also cause problems in the gut. White and brown sugar, palm sugar, golden syrup, maple syrup and rice malt syrup can all be used to sweeten food. For general health, however, all food containing any type of sugar should be consumed in moderation.