FreeFrom Recipes from Indigo
The winner of theFreeFrom Eating Out Awards' new Pathfinder Award for ground-breaking work in catering for those on freefrom diets is being awarded to Executive Chef Dominic Teague at Indigo, the restaurant at top class Covent Garden hotel, One Aldwych.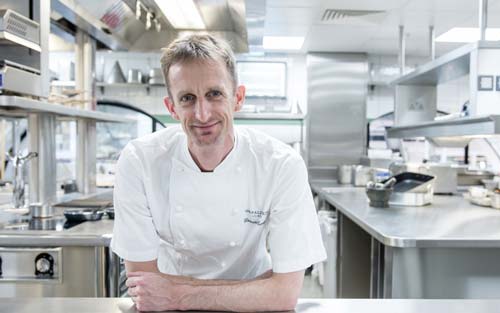 Last year Indigo reopened after refurbishment with a totally gluten and dairy free diet but, for three months, they did not say a word – and no one noticed! Neither their long established regular customers nor any new customers coming to try out the restaurant. When they finally 'came clean', the freefrom world went mad – and Indigo's bookings shot up by 30%!
To read the full story go to the FreeFrom Eating Out Awards site here. Alternatively, visit Indigo with us and see how Chef Dominic developed the new menu – and the rest of the staff and the guests reacted – and watch chef put together one of their signature dishes.
Meanwhile, Chef has shared two of Indigo's most popular freefrom dishes with us so that you can try them out for yourselves. Beer battered day boat fish, Crushed peas and tartare sauce and Chocolate mousse, honeycomb, almond milk ice cream.
Beer battered day boat fish, Crushed peas and tartare sauce
Gluten, lactose, milk, nut, peanut, sesame, soya & wheat free
This is where any explanatory text would go...
Serves 4
4 x 120 g fresh white fish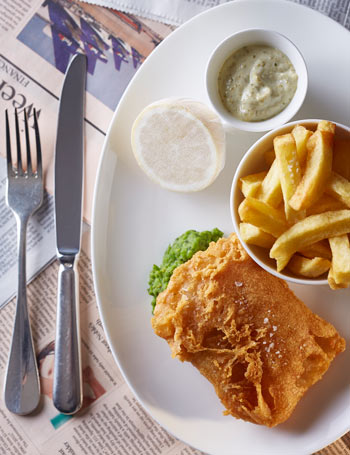 Batter flour

50g gluten free plain flour (Doves Farm)
25g rice flour
25g potato flour
10g corn flour
10g gluten free baking powder
1g xanthan gum
To make batter
½ egg
120g batter flour
½ bottle gluten free beer (330ml)
Method
Mix all the flour ingredients together
Mix a little of the beer into the flour mix.
Add the egg and whisk in the rest of the beer till smooth.
Crushed peas
200 g peas
5 g dill
5 g mint
olive oil
salt
Boil the peas, cool and blend till roughly chopped
Add some olive oil, salt and the chopped herbs.
Tartare sauce
100 gms homemade mayonnaise                                        
20gms finely chopped Shallots                                           
1 tblsp chopped Parsley                                                        
25 gms chopped Capers                                                         
25 gms chopped cornichons                                                  
salt to taste
Mix everything.
To serve
Dip the fish into a little gluten free flour and coat with the batter. Deep fry till golden brown approx. 4 mins at 220C. Drain on a cloth, warm the peas, arrange on plate and place fish on top. Serve with tartare sauce, chunky fries, lemon and vinegar.
Chocolate mousse, honeycomb, almond milk ice cream
Gluten, lactose, milk, nut, peanut, sesame, soya & wheat free
Serves 12 (so you will have plenty left for tomorrow!)
Chocolate mousse
325g 70% chocolate
30 g coconut butter
6 egg yolks
50g water
pinch salt
pinch nescafe
7 egg whites
100g sugar
Melt the chocolate and the coconut butter together.
Over a bain marie make a sabayon with the egg yolk, salt and nescafe whisking till light and fluffy.
Make a French meringue with the sugar and whites, whip to stiff peaks.
Fold the sabayon into the chocolate and then the meringue, pipe into rings and set in the fridge.
Honeycomb
10g honey
10g golden syrup
60g caster sugar
10g water
4g bicarbonate of soda
Place all ingredients in a pan except for the bi carb and boil to a light caramel (150 degrees).
Whisk in the bicarb and pour onto a silpat mat to cool.
Once cool store in vac pac bags.
Almond milk ice cream
200g almond milk
30g flaked almonds
1g Maldon salt
30g fondant
10g glucose
5g sugar
2g stab 2000
Heat milk, fondant and glucose to 40 degrees, mix together the sugar and stab2000 whisk into milk and bring to the boil.
Roast almonds to dark golden colour, add to the milk and put on an ice bain marie to cool.
Once cool pass and freeze in containers.
Chocolate and sea salt cookies
108g soft plain gluten-free flour
18g gluten-free cocoa powder
3g bicarbonate of soda
50g coconut butter
74g light brown sugar
30g sugar
1g maldon sea salt
Mix together all the ingredients mix to a smooth paste
Bake in the oven @160 degrees half fan, half power.