Chef Dominic brings us some Indigo recipes
Dominic Teague is executive chef at Indigo, the ground-breaking restaurant at top class London hotel, One Aldwych – winners of the FreeFrom Eating Out Awards Pathfinder Award in 2016.
To find out all about Indigo and the Pathfinder Award see here, but in essence, the FFEOAs gives the Award to any establishment that really pushes the boundaries of freefrom. It was awarded to Chef Dominic for re-opening Indigo after refurbishment in 2015 with an entirely gluten and dairy free menu - but not telling anyone what he was doing.... And for carrying it off so successfully that for three months (until they finally announced it to the world) not one single person noticed that the menu was gluten and dairy free!!
For all of the winners of the FreeFrom Eating Out Awards, see here.
Roasted scallop, caramelized cauliflower puree, apple and sea purslane
Gluten-free, Dairy-free, Egg-free, Soya-free, Nut-free
Serves 4

Ingredients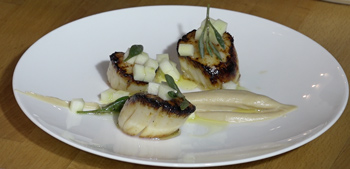 8 large scallops
6 florets cauliflower
1 banana shallot diced
1 clove garlic crushed
400ml veg stock
1 lemon
120 ml olive oil
1 granny smith apple
Few sprigs sea purslane
Salt and pepper
Method:
Sweat shallot and garlic in a little olive oil for 2 mins.
Add the diced cauliflower and cook for approx. 5 minutes till it turns nicely caramelized.
Add the veg stock, cook for 5 more minutes, blend till smooth, season and set aside.
Peel and dice the apple and place in a bowl with the lemon juice, olive oil, salt and pepper to form a dressing. Leave to marinade.
Heat a little sunflower oil in a frying pan. Add the scallops and cook for 3 minutes till nicely brown.
Remove from heat, turn over, add the sea purslane to wilt slightly, and leave for one minute.
To serve, spoon the puree on a warmed plate, add the scallops and sprinkle the apple and vinaigrette around. Garnish with sea purslane.
Roasted pineapple, coconut yoghurt, rum and raisin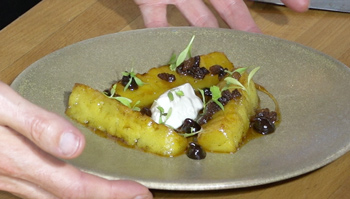 Gluten-free, Dairy-free, Egg-free, Soya-free

Serves 4
Roasted pineapple
1 pineapple peeled and quartered
200g caster sugar
100ml water
50g coconut oil
100g dark rum
1 vanilla pod
Make a caramel by boiling the sugar and water. Add the vanilla and oil.
Cut each quarter of pineapple into 4 and add to the caramel, deglaze with the rum and cook till soft.
Leave to cool in the caramel.
Rum and raisin puree
250g raisins
100g water
50g sugar
100g dark rum
Boil the water and sugar, add the raisins and bring back to the boil.
Remove from heat, add the rum.
Clingfilm and leave out overnight to soak.
Reserve a few to garnish and blend the rest to a puree. Pass through a sieve.
Garnish
200 grams coconut yoghurt
Few sprigs of coriander cress
50 gr toasted coconut shavings

To serve, arrange 3 or 4 pieces of pineapple on a plate.
Spoon, or if preferred pipe the raisin puree as desired.
Sprinkle the coconut shavings around, add the coriander cress.
Finish with a large spoonful of the yoghurt and reserved raisins.