Clare Sullivan of www.browsersgrazers.com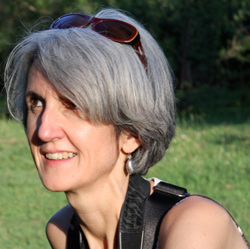 Clare Sullivan developed her website www.browsersgrazers.com to demystify diet cooking. To provide recipes that are visually appetising, tasty and suit many dietary restrictions she has drawn extensively on her background in cooking, her training as a dietitian and her more recent involvement in the visual arts.
As a result, Browsersgrazers provides information about what you can eat and enjoy, not what you must avoid. The recipes have been created and adapted to make catering for friends, family and guests simpler, using ingredients that are easily sourced and seasonal.
For more cooking ideas, check the website, www.browsersgrazers.com.
Clare's recipes
Click on the name of the recipe to go to it.

Dates with coconut
Dates with Coconut
dairy free, gluten free, nut free, egg free, soya free
makes 15 pieces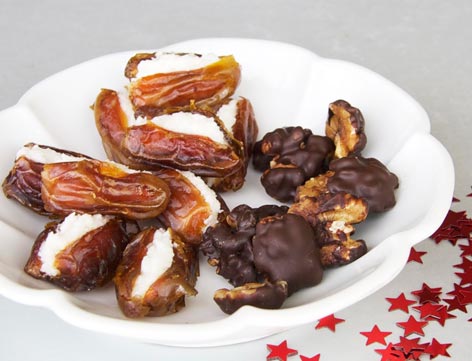 Dates stuffed with coconut are a sweet treat that can be resisted by few and that is suitable for most people with dietary restrictions. It is a delicious and easy to prepare combination. And it stores well so can be made in advance for lunch boxes, a quick snack or an elegant sweet bite for unexpected guests or a party.
In the photo, the dates are served with chocolate-coated walnuts. This too makes a good combo. The walnuts need no recipe – 60g melted chocolate will coat the top half of 30 walnuts. I use the chocolate I make myself, which includes coconut oil ensuring that the flavours of these snacks complement one another. This 'homemade' chocolate is suitable for Dairy Free, Gluten Free and Vegan diets.
Diets for which Dates with Coconut are suitable: Dairy Free, Gluten Free, Low Fat, Nut Free, Paleo, Raw, Vegan and Vegetarian. (Chocolate-coated walnuts are suitable for the Fodmap diet)
ngredients:
½ cup desiccated coconut
1 tbsp coconut oil
15 dates*
Cut a long slit in the date and remove the stone. (The date remains in one piece.)
Mix the coconut oil and desiccated coconut in a processor to create a solid block of coconut mix. (A hand held processor is adequate.)
Spoon approximately one teaspoon of the coconut mix into each date.
Store in an airtight container.
*Select fresh dates or dates that are moist. (Note: dates that are not fresh may have sulphites, a preservative, added.)
Shiro Wat - Humus
dairy free, gluten free, nut free, soya free, egg free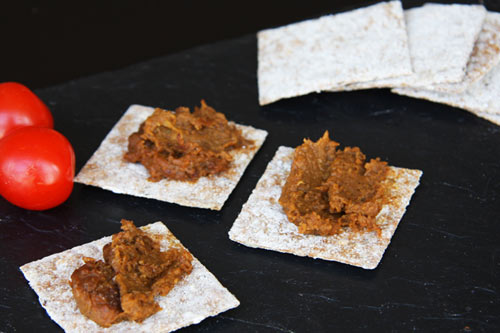 Shiro Wat is a spicy Ethiopian chickpea dish served as one of a number of dishes with injera (Ethiopian pancake made from teff flour). It also makes a very tasty dip, an alternative to 'normal' humus. This is a simply prepared combination of onion, Berber (Ethiopian spice mix) and shiro (also known as chickpea flour or besan). I first ate shiro when visiting Ethiopia earlier this year and I liked it so much that it is now a staple in my house. It accompanies salads, is served as part of Ethiopian meals I regularly prepare and it makes a delicious dip at parties.

Tinned chickpeas are usually acceptable for low-Fodmap diets because the heat and pressure of cooking makes the peas more digestible. It may therefore be that small quantities of shiro wat are also fine for some individuals on a Fodmap diet because the chickpea flour, which gives a very smooth texture to the finished dish, has been processed, though I cannot vouchsafe for the appropriateness of the process of all brands of this flour.

Diets for which shiro wat (humus) is suitable: Diabetic, Dairy Free, Gluten Free, Low Calorie, Low Fat, Nut Free, Vegan and Vegetarian.
Ingredients:
2 medium onions
2 tbsp oil
1 tbsp Berber (Ethiopian spice mix)
½ cup tomatoes, chopped (Use fresh or tinned tomatoes with 2 of tbsp tomato paste)
½ cup chickpea flour (shiro powder, besan)
1½ to 2 cups water
Peel and cut the onion roughly.
Puree onion in a blender with water until it is like a thick 'mush'.
Cook the onion in a saucepan until most of the water has evaporated and small bits are becoming lightly brown.
Add oil and the Berber spice and cook for 1 minute.
Add the tomato. (Before the next step have the water measured and at hand.)
Add the shiro (chickpea flour) stirring as it thickens.
Add 1 cup water as the mixture thickens.
Add more water slowly to the consistency and texture you want.
Serve:
- with injera, Ethiopian pancake, and other dishes
- accompanying a salad
- as a dip with pitta bread
Pea Guacamole
Dairy free, gluten free, nut free, soya free, egg free
Makes 2½ cups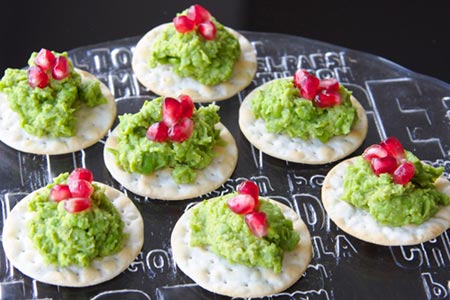 A bright green dip that is very suggestive of spring. This is a healthy, low fat alternative to the avocado guacamole we all know and love; and it is as simple to prepare. The dish is sweet from the natural juices of the peas, the flavour of which is enhanced by the addition of herbs and gentle spices.
The peas are cooked for only a couple of minutes to soften them; or they can be processed raw with the other ingredients. If fresh peas are not available, frozen peas are a good alternative. (They are snap-frozen, resulting in a product that retains its sweetness and nutrition.)
Diets for which Pea Guacamole is suitable: Diabetic, Dairy Free, Gluten Free, Low Calorie, Low Fat, Paleo, Raw, Vegan and Vegetarian.
Ingredients:
400g (2½ cups) peas*
1tsp cumin, ground
1tsp coriander, ground
½ tsp salt
1tbsp olive oil
2 tbsp lime juice
2 tbsp parsley, chopped
2 tbsp coriander, chopped
24 rice crackers, pastry cases or celery sticks**
red pepper, pomegrante (optional)
Boil water.*
Cook peas for 2 minutes.
Drain and refresh the peas under cold water.
Mix all ingredients in a food processor and whizz for 1-2 minutes. (The time is dependant on the texture you want. I minimise the time because I like a coarse texture.)

Serve:
- spoon pea mix onto rice crackers or similar. (Top with yoghurt (dairy or vegan) or finely diced red pepper or pomegranate if you wish.)
- add to sandwiches or wraps.
- as part of a salad platter.
*Do not cook for R diet.
** Rice crackers are GF, celery sticks for R or select any suitable pastry or biscuits.
Spinach Slice
dairy free, gluten free, nut free, soya free
Makes 20+ bites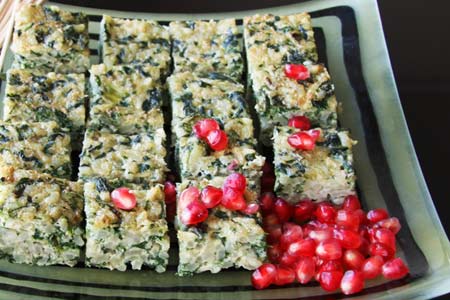 Spinach slice makes a healthy and satisfying canapé or a light meal; or add it to your picnic basket.
This dish requires little preparation time and can be cooked well in advance. The taste is subtle and, I find, a pleasant change to the spicy food I usually eat. However, you may want to add more flavour by incorporating more herbs, adding spices or serving it with a sauce or salsa.
The balance of rice to egg is a personal choice. The photograph shows the proportions suggested below. However, you may wish to make the dish lighter and softer like a frittata by adding more egg or reducing the quantity of rice.
Diets for which Spinach Slice is suitable: Diabetic, Dairy Free, Fodmap, Gluten Free, Low Calorie, Low Fat, Nut Free and Vegetarian.
Ingredients:
120g (2/3 cup) risotto rice*
½ tsp salt
1½ cups water
250g (½ lb) fresh spinach
2 shallots, chopped (not Fodmap)**
1 garlic clove, crushed (not Fodmap)
½ tbsp olive oil
5 eggs***
½ cup chopped coriander****
1 tsp cracked black pepper
1 tsp paprika (optional)*****
Preheat the oven to 200 C/400 F/Gas 6.
Combine the water, salt and rice and boil for 10 minutes. (The rice should be softened to an al dente texture.)
Steam the spinach until wilted.
Fry the shallots and garlic to soft. (Do not brown.)
Mix rice, spinach and shallots.
Whisk eggs and fold into the rice mix.
Add the coriander, black pepper and any spices you choose.
Line a baking tray with parchment and grease. (I used a 20 x 33 cm/8 x 13 inch tray; alternatively, use a greased cast iron frying pan.)
Bake for 15 - 20 minutes. (The dish should be firm to the touch and golden but not browned.)
Remove the parchment and serve or cool for later use.
Serve:
- as a canapé plain or with walnut and coriander sauce, chilli sauce or pomegranate.
- as a light meal with green salad.
- pack in a lunch box or a picnic basket.
With remaining spinach slice, fry it in a nonstick frying pan with ½ tbsp oil and serve as a warm canapé or starter, with sauce or salsa.
*If using a different rice, choose one with a similar soft cooked texture.
** For Fodmap diets, replace shallots with the green tops of spring onion.
*** Increase the number of eggs or reduce the quantity of rice if you want a lighter, frittata-type slice.
**** Select any combination of herbs.
***** Add spices to your taste, eg paprika, sumac, chilli, etc.
Stuffed Mushrooms
Dairy free, gluten free, nut free
Serves 4-6
Stuffed mushrooms are presented in a variety of ways that make them suitable for numerous diets, enabling you to serve them as a canapé. These small bites are a nutritious and tasty choice for any party. From the ingredients listed make your preferred selection.
If you are using a pesto that contains garlic, I recommend you do not add more garlic (unless you are wanting 'garlic mushrooms') because the flavour can be overwhelming in this dish. Make your own pesto and vary the combination of nuts and herbs, eg replace the pine nuts with almond, walnuts or sunflower seeds for a Nut Free diet; likewise, the basil can be substituted with parsley, coriander or dill.
Including bread in the stuffing is not essential although it does have several advantages. It absorbs the juices from the mushroom as well as any excess oil; and it provides a solid texture to the filling. For a Gluten Free diet, select appropriate bread or replace it with another cereal, such as brown rice which will give a chewy texture.
For Dairy Free and Vegan diets omit the parmesan cheese (try my pesto recipe instead); or replace it with a vegan cheese.
Combinations of ingredients I have enjoyed have been:
- pesto, walnuts, spinach, lemon zest, oil and parmesan cheese (Gluten Free diet)
- walnut, coriander, garlic, spinach, oil, bread and tamari (Dairy Free and Vegan diets)
- basil, sunflower seed, garlic, parmesan cheese, oil and bread (Nut Free diet)
Diets for which Stuffed Mushrooms are suitable: Diabetic, Dairy Free, Gluten Free, Low Calorie, Low Fat, Nut Free, Paleo, Vegan and Vegetarian.

Ingredients:
20 small mushrooms (eg chestnut, cremini or button)
3 tbsp olive oil
2 shallots, finely chopped
1 garlic clove, crushed
250g spinach
2 tbsp pesto*
2 tbsp grated parmesan**
2 tbsp breadcrumbs (select appropriately for Gluten Free)***
½ tsp cracked black pepper
Optional Ingredients:
½ zested lemon, walnuts, paprika, tamari, chilli, sunflower seeds, coriander.
Preheat oven to 200 C/400 F/Gas 6.
Snap the stem out of each mushroom. (Do not discard the stems, they are good to add to a vegetable stock or to chop finely into a stuffing, a vegetable loaf or risotto.)
Wipe the mushrooms or wash as necessary.
Bake mushrooms gill-side down for 10 minutes. (Some liquid will drain from the mushrooms, making them firmer.)
Heat ½ tbsp oil to a medium temperature in a frying pan.
Saute the shallots and garlic until soft but not browned. (Cook the shallots while the mushrooms are baking)
Blanch the spinach until it is wilted.
Squeeze the liquid from the spinach and add the spinach to the shallots.
Cook the spinach and shallots until the mix is dry. (This will be approximately 5 minutes.)
Mix the spinach, breadcrumbs, pesto, black pepper, half the parmesan, olive oil (if required) and any ingredients you choose to use.
Stuff each mushroom with the filling.
Sprinkle the remaining parmesan cheese on top of the mushrooms.
Bake for 10 minutes or until the cheese on top is golden brown.
Serve - hot.