Christine Bailey
Christine is an award winning Nutritionist, Chef and Author with over 18 years of experience. With a passion for creating delicious nourishing recipes Christine has a reputation for transforming people's health and love of real food. As well as seeing clients and writing for national press, Christine runs 'Nourish' cookery classes including popular hands on days for children. Christine is an inspiring nutritional chef well known for her engaging style and enthusiasm.
As a coeliac herself and with three children who have allergies she specialises in creating healthy allergy free, raw and paleo recipes.
She also lectures on nutrition across the UK and provides support for health care practitioners on health matters.
She is the author of over 11 health and recipe books as well as various kindle books including the Healthy Paleo Diet, Gluten Free & Paleo Treats and Beat the Bloat – Low FODMAP recipes available as a kindle book on amazon or pdf from Christine's website. Christine has various forthcoming cookery days coming up – including Eat Clean, Low Sugar Allergy Free Recipes, Low FODMAP, Healthy Weight loss, Sports Nutrition and Paleo.
To find out more and to book visit her website www.christinebailey.co.uk
Christine's low FODMAP recipes
Click on the name of the recipe to go to it.

Butternut Squash / Pumpkin and Cinnamon Granola
Flaked Trout with Rocket, Tropical Fruits and Sweet Lime dressing
Dairy Free Chicken Caesar Style Salad
Butternut Squash / Pumpkin and Cinnamon Granola
Low FODMAP, Gluten Free, Dairy Free, Egg Free, Soya Free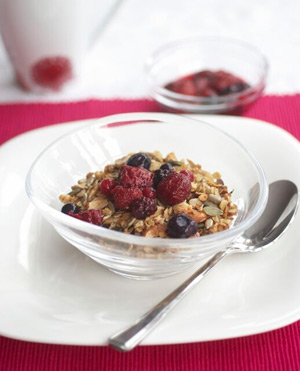 Note that nuts are medium FODMAPs so watch portion sizes – if you are following the exclusion low FODMAP diet I suggest just one handful in one sitting only. You can use this Granola as a topping for plain coconut yogurt, plain soya yogurt or low lactose yogurt. You can accompany with low FODMAP fruit such as banana or berries.
Make up a batch and store in an airtight container.
Ingredients:
115g quinoa flakes or gluten free oats
150g sliced almonds or roughly chopped
50g unsweetened coconut flakes
115g pumpkin seeds or mixed sunflower, sesame and pumpkin
2 tbsp flaxseed ground
115g pecans, chopped
60g coconut oil melted
2 tbsp maple syrup
1 tbsp vanilla extract
100g pumpkin or butternut squash pureed (can bake in the
oven then puree) or use a can
2 tsp ground cinnamon
Preheat the oven to 180C, gas mark 4 and line a baking sheet with parchment paper.
In a large bowl combine quinoa flakes, almonds, coconut flakes, seeds and pecans.
In a blender, combine the pumpkin, coconut oil, maple syrup and cinnamon.
Mix the wet ingredients to a dry ingredients and stir until dry ingredients are thoroughly coated.
Spread the granola in a thin layer on the lined baking sheet.
Cook for 30 minutes stirring occasionally to prevent burning.
Flaked Trout with Rocket, Tropical Fruits and Sweet Lime dressing
Low FODMAP, Gluten Free, Dairy Free, Egg Free, Soya Free
Serves 2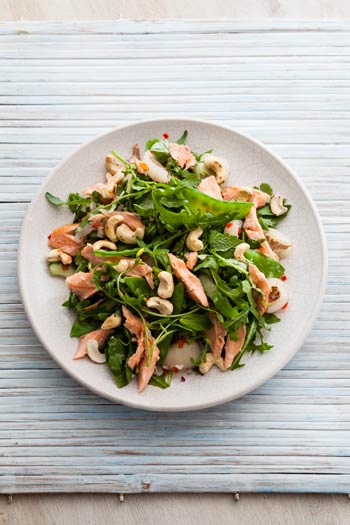 The oily richness of the trout contrasts beautifully with the sweet lychees and pineapple and peppery rocket leaves. Hot smoked trout requires no preparation making this an ideal speedy healthy lunch or evening meal. Watch the portion sizes of fruit especially if you are following the exclusion Low FODMAP diet. While this recipe includes a handful of cashew nuts these tend to be slightly higher FODMAP nuts so you may wish to use seeds instead.

Ingredients:
225g hot smoked trout or salmon
150g green beans, trimmed
2 large handfuls of rocket leaves or baby spinach leaves
½ cucumber, cut in half lengthways seeds removed
and sliced
4 lychees, peeled, stoned and cut in half
1 wedge of pineapple cut into cubes, optional
Handful of basil leaves, roughly chopped
Handful of mint leaves, roughly choppe
Handful of coriander leaves, roughly chopped
1 red chilli, deseeded and diced
Tops of 2 spring onions, chopped
2 tbsp mixed seeds or cashew nuts
Dressing:
Juice of 2 limes
2tsp maple syrup to taste
2tsp fish sauce to taste
Blanch the beans in boiling water for 1 minute, drain and refresh under cold water.
Place the beans with the rocket, cucumber, lychees, pineapple, herbs, chilli and spring onion.
Break up the trout and scatter over the top with the toasted nuts.
Mix together the lime juice, maple syrup and fish sauce.
Drizzle over the salad to serve.


Dairy Free Chicken Caesar Style Salad
Low FODMAP, Gluten Free, Dairy Free, Egg Free, Soya Free
Serves 4

A wonderful creamy recipe – this sauce is rich and full of flavour thanks to the addition of almond nut butter. A great alternative to mayo or dairy based dressings.
Ingredients: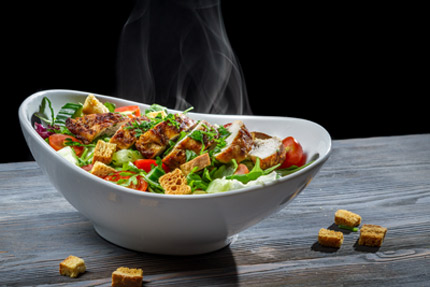 2 cooked chicken breasts, sliced
1 large head of romaine lettuce
2 small handfuls of watercress
2 sticks celery, finely diced
4 tbsp walnuts, roughly broken up
8 cherry tomatoes, halved
1 small handful of fresh flat-leaf parsley
Dressing:
½ teaspoon mustard powder
2 tbsp apple cider vinegar
3 tbsp olive oil
3 tbsp water
50g almond nut butter
½ teaspoon Himalayan salt
Black pepper to taste
To serve: Handful of gluten free croutons, optional
Place the dressing ingredients in a blender and process until smooth. Add a little more water if needed to form a thick sauce
Place the lettuce, watercress in a bowl and toss in the celery, walnuts, cherry tomatoes and parsley.
Toss with enough dressing to lightly coat the leaves.
Top with the chicken breasts and scatter over the croutons if using.


Roasted Aubergine & Mint Dip
Low FODMAP, Gluten Free, Dairy Free, Egg Free, Soya Free
Serves 4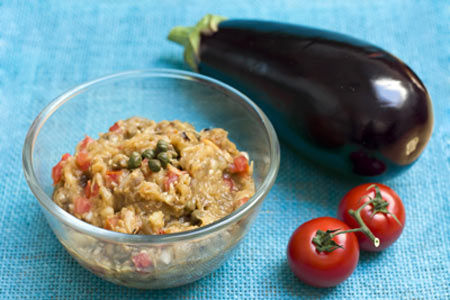 The addition of paprika creates a rich smoky flavour to this Middle Eastern Style dip. Serve with gluten free crackers or vegetable crudités.
Ingredients:
1 aubergine
1 tbsp olive oil – you could infuse this with garlic for additional flavour
2 tops of spring onion, chopped
1 tbsp lemon juice
pinch of chilli flakes
pinch of smoked paprika
½ tsp ground cumin
handful of chopped fresh mint
1 tomato, seeded and diced
sea salt and black pepper to taste
Prick the aubergine skin. Place on a baking tray and roast for 30-40 minutes until the skin is golden and the flesh is soft. Remove and allow to cool.
Peel off the skin and scoop out the flesh into a food processor. Discard the skin.
Sauté the spring onion tops in a frying pan for 5 minutes until softened.
Place in the food processor with the remaining ingredients. Pulse to combine but leave some texture.
Season to taste. Top with a few caper berries if wished.