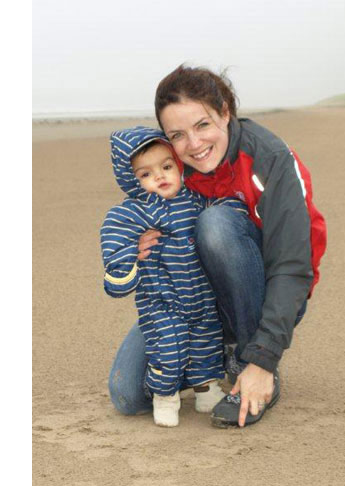 Charlotte Muquit
I am a neuro-physio (I treat people with neurological conditions such as stroke, MS or Parkinsons), a full time mum of Zach – and a keen runner.
When Zach was diagnosed with multiple food allergies, my husband and I began the long, difficult and emotional journey of learning to live successfully with food allergies. It has been a struggle at times but filled with the fun of a little boy who is now very nearly three.
Before I had a baby, I wouldn't say I was a cook. I could follow a recipe but didn't spend my time cooking. Anyway, I had a baby and I thought, probably like some other parents, that I would learn to cook as the baby needed me to and would follow a weaning book, which told me what to do step by step. I liked the idea of baby led weaning, but having no idea where to start, I did just that, followed a book. But I soon realised that something was wrong. My son was diagnosed with multiple food allergies and I had to learn to cook, free from dairy, egg, peas and lentils pretty fast.
Having realised that food allergies and intolerance affect many parents, a friend and I started a blog (www.zachandcharlie.com), specifically designed for the parents of babies and toddlers to provide information, advice, recipes and support to other parents going through a similar experience. Since then, and with the support of Dr Adam Fox, Paediatric Allergy Specialist at St Thomas' Hospital, I have written a book 'The Allergy Free Baby and Toddler Book' which has just been published by Vermilion. It is full of parents' stories and experiences and advises on everything from medical stuff to help with hospital visits and diagnosis, to emotional and practical support. You can buy it in all good bookshops (ISBN 9-780091-954871) or on line here - cost £12.99.
Cooking and cleaning seem to have been huge in the last three years and, for me, learning to cook without allergens has been an adventure which has included a few laughs including the fruit cake I made using allspice for mixed spice, making butter cream with actual lard, and using normal coffee cups for the American 'cup' measure – well, no one told me! Thankfully for all my family and friends I have learnt a lot and my cooking has actually improved!
Like other parents, living with food allergies means that we generally don't leave the house without a packed lunch. Even if we are going out to a restaurant or cafe for lunch, I always take a packed lunch as a back up. While it would be nice to just go out and eat once in a while, on the up side, it is cheaper and can be healthier. The biggest challenge is how to make it interesting, varied and appealing. This is about lunch box ideas. Below are four lunch box ideas that are healthy, interesting, easy, quick and dairy and egg free.
For more of Charlotte's advice – and recipes – check in to her blog at www.zachandcharlie.com. She also has a Facebook Page.
Charlotte's lunch boxes
Click on the lunch box to go to the recipes but, obviously, feel free to mix and match between the lunch box suggestions according to your own and your children's likes, dislikes and allergies!

NB. Zach and Charlie are dairy and egg allergic but not wheat intolerant or coeliac. However, in most of the recipes you can just substitute a gluten and wheat-free flour (such as Doves Farm) for the ordinary flour. The only recipe which will not be suitable is the filo parcels in Lunch Box 4.

Lunch Box 1
---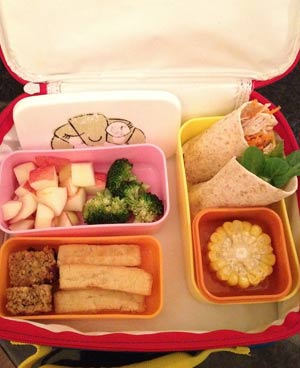 Lunch Box 1

Chicken and carrot wraps
Cheese straws
Corn on the cob slice
Steamed broccoli florets
Flapjack bites
Chopped apple with lemon juice

Chicken and carrot wraps

1 chicken breast
1 carrot
Tortilla/chapatti wrap (you can get gluten-free tortillas from LoveMore FreeFrom and you can find a recipe to make them here on the Doves Farm site)

Preheat the oven to 200°C (gas mark 6, 400°F).
Wrap the chicken loosely in tin foil, closing at the top.
Bake for 15-20 mins until the chicken is cooked through and juices are clear.
Once cooled, shred the chicken using a fork and grate half a carrot.
Place about 2 tablespoons of the chicken and carrot in the centre of the wrap. Fold up the bottom and fold the sides in to make a wrap.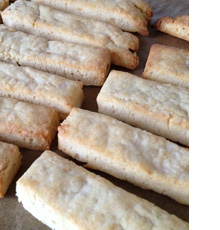 Cheese straws

50g self raising gluten and wheat-free flour
25g sunflower margarine at room temperature
80g mature dairy-free cheese. I used red cheddar style Cheezly but you could also use Vegusto.

Preheat oven to 200°C (gas mark 6, 400°F).
Add all the ingredients to a mixing bowl. Use your hands to mix and kneed the mixture together into one lump of dough.
On a lightly floured surface, roll the dough out to about half cm.
Slice it into short straws, sized to fit your child's lunch box.
Bake in the oven for 10 minutes until golden brown.
The dough will freeze and keep for up to a month.
Corn on the cob slice
Boil a corn on the cob. Once cooled, slice an inch off the end to make a lunch box slice.

Steamed broccoli florets
Cut off the small florets from a broccoli. Rinse them and then steam until soft. Alternatively, rinse and then microwave for 30 seconds.
Chopped apple with lemon juice
A great tip that I learnt from a friend is to add lemon juice to chopped apple to prevent it browning in the lunch box. It really does work!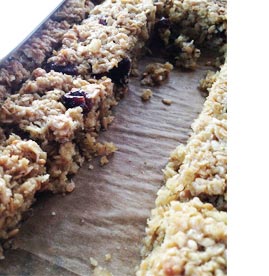 Flapjack bites

3 tbsp golden syrup/treacle
225g gluten-free oats
5oz sunflower margarine
2oz dried fruit. I used cranberries and raisins but any will do.
2oz linseeds
3oz brown sugar

Heat the oven to 180°C (Gas Mark 5, 350°F).
Mix the oats and sugar in a bowl, add the margarine at room temperature and mix well.
Add syrup or treacle, fruits and linseeds and mix all well together.
Line a 7-inch square baking tray with baking parchment.
Tip the mixture into a baking tray and press down firmly with a spoon until compact. Cook for 15-20 minutes until golden brown.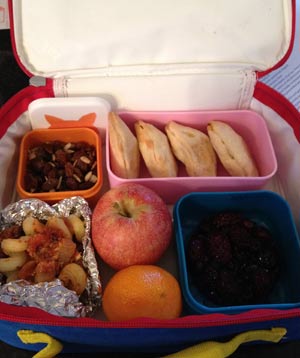 Gluten-free pasta portions
Sticky Thai rice
Samosas
Pots raisins, sunflower and pumpkin seeds
Mixed berry flan

Pasta portions
Freeze left over gluten-free pasta or gluten-free pasta bolognaise in tin foil for an individual portion.
Remove from the freezer in the morning.
Baked Mini Samosas

100g Maris Piper potatoes, peeled
100g carrots, chopped
100g sweetcorn
2 tbsp olive oil
¼ tsp cumin seeds
1 onion, chopped
¼ tsp ground coriander
For the pastry:
300g wholemeal flour or gluten and wheat-free plain flour, or a gluten and wheat free pastry mix plus a little extra flour or gf flour a for the 'glue-like paste'
2 tsp olive oil
Preheat the oven to 180°C, 350°F, Gas mark 4.
For the filling, boil the potatoes in a pan of boiling water for about 10-15 minutes, or until soft. Drain and roughly mash them.
Meanwhile, bring another pan of water to the boil and cook the carrots for 5 minutes or until cooked, add the sweetcorn and cook for a further couple of minutes.
Drain and set aside.
Heat the olive oil in a pan, add the cumin seeds and fry them until you start to smell them, then add the onion and continue to fry for 6-7 minutes until the onion is soft.
Add the coriander, carrots and sweetcorn and continue to cook for a minute or two more then add the mashed potatoes and mush together with you hands. This is easier to do if your hands are wet.

Put the flour, oil and 6-7 tablespoons of water into a bowl and mix well with your hands. If you are using ordinary flour you will need to knead this for 5–8 minutes into a dough. If using a GF flour, just get it well mixed together into a ball but do not knead. On a lightly floured surface, roll out the dough until it is about 3mm thick.

1. Using a circle pastry cutter, cut into circles of about 7cm diameter and then cut each one into a semicircle.
Mix together a little flour and water in a small bowl to make a glue-like paste. Place this mixture to one side.
Apply the 'glue' to the straight edge of one semi-circle. Fold it to make a cone shape, sealing the pasted straight edge by pinching the edges together. Lift the cone with the tapered end at the bottom, and fill it with about one tablespoon of the vegetable mixture, gently pushing it down. Seal the samosa with a little more glue, pressing the edges firmly together.

2. If this seems a little scary, make the samosas like Cornish pasties. Cut the pastry into the circles then put approximately 1 tablespoon of the mixture onto one half and fold the other half over to make a package and seal the edges with the paste and pressing it together with your fingers.

Repeat the process until all of the pastry has been used up.
Place on a baking tray and put in the oven.
Bake for 25-30 minutes, turning them once halfway through cooking until lightly browned.
Thai sticky rice

Put 200g rice with 350ml water into a saucepan, bring to the boil, then cover and simmer for 10-15 minutes until the water is absorbed.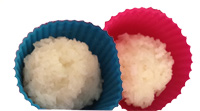 Add 225ml coconut milk to the rice and set aside for 30 minutes.
Form into balls and place in colourful cupcake cases.
If you are really creative, you could make all sorts of animal faces by adding decoration to the rice. Check in to Lunch Box Envy for more inspiration.


Pots of raisins, sunflower and pumpkin seeds
Full of nibbly nutrients.


Mixed berry flan

225g plain gluten-free flour
115g dairy free margarine
1 tsp caster sugar
1-2 tbsp cold water

A selection of fresh raspberry, blueberries and blackberries
Raspberry or blackcurrant jam

To make the pastry, add the flour and butter to a bowl and rub together using fingers until it looks like breadcrumbs. Stir in the sugar. Add the water a little at a time, combining it with your hands until you have a ball. (You can also do all of this in your food processor. Just put all the ingredients in together and whizz but be careful not to over-process.)
Wrap in clingfilm and chill in the fridge for 30 minutes.

Preheat the oven to 200°C (400°F, gas mark 6).
Sprinkle the work surface and rolling pin with a little flour then roll the pastry out to about ¼ cm thick.
Cut out 24 small circles and line 24 mini tart trays.
Prick the base of each tart once with a fork and bake for 5 minutes then remove from the oven and fill the tart cases with berries, topping each with 1 teaspoon of jam.
Return to the oven for 10 minutes then cool on a rack before anyone is allowed to taste as the jam will be very hot!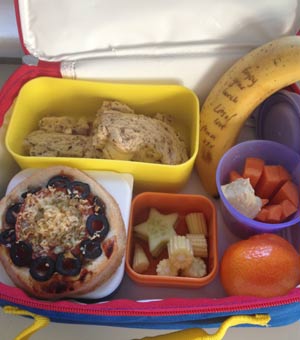 Lunch box 3

Shaped sandwiches
Veg sticks or mini pittas with home-made hummus
Cucumber stars and baby corn
Mini health flans



Shaped sandwiches

Use cookie cutters or buy sandwich cutters to make a sandwich shape. Sandwiches can be made two weeks in advance and frozen, then taken out on the morning of packing the lunch. They will just have defrosted by lunchtime.


Veg Sticks/Mini Pittas with Homemade Hummus

Hummus

1 can chickpeas
1 tsp lemon juice
glug of olive oil
clove of garlic
½ tsp cumin

Whizz it all together in a food processor, adding more oil or water from the chickpea can for the right consistency.

Cucumber stars and baby corn

Use mini biscuit cutters for the cucumber shapes.

Mini Healthy Flans

225g plain wholemeal wheat flour or gluten and wheat-free plain flour
115g dairy free margarine
1-2 tbsp cold water
Flour for dusting

A slice of tomato/tomato paste
Sweetcorn
Sliced black olives
Dairy free cheese, grated
Sprinkles of basil



Preheat the oven to 180°C (350°F, Gas mark 4).
To make the pastry put the flour, margarine and water in a food processor and whizz for 30 seconds to 1 minute or until it has nearly formed itself into a ball. Remove and 'finish off' with your hands.
On a lightly floured surface, roll out the dough until it is about 3mm thick. Using a circle pastry cutter, cut into circles of about 7cm diameter.
Top each pastry circle with a choice of the toppings above (or anything else that you fancy!), drizzle with a little olive oil and and bake on a baking tray for 20-25 minutes until the pastry is golden brown.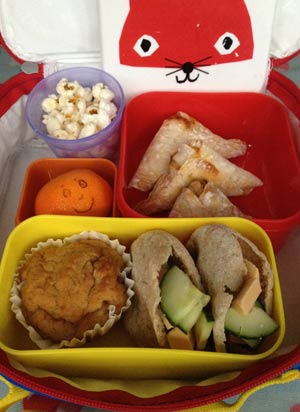 Lunch box 4
Pitta pockets
Filo triangles with beans and salsa
Plain popcorn
Carrot and apple muffins or
Cranberry, apple and cinnamon muffins

Pitta pockets
Stuff mini wholemeal pittas (you can get gluten/wheat free pitta bread from several manufacturers - see the FreeFrom FoodsMatter Directories) with dairy-free cheese chunks and cucumber slices.
Plain popcorn
Add a handful of popping corn to a tablespoon of olive or rapeseed oil in a small saucepan. Place the lid on and heat until all the corn has popped.


Filo triangles with beans and salsa
NB NOT gluten-free

Try other savoury fillings such as dairy-free cheese (Cheezly or Vegusto) and broccoli or dairy-free cheese and spinach, sweet fillings such as apple and sultana.
I use shop-bought JusRol Filo pastry because it is dairy and egg free and so much quicker and easier.

Jusroll filo pastry
1 small onion, chopped.
1 tbsp olive or rapeseed oil
50g cannellini beans
50g chickpeas
50g chopped tomatoes
A handful of fresh spinach, roughly chopped.

Preheat the oven to 180°C (350°F, Gas mark 4).
Fry the onion in the olive oil until softened then add the beans and chopped tomatoes and continue to fry for another 5 minutes. Add the spinach and fry until wilted – this should only take a few seconds.
Remove the pastry from the fridge and packaging as per the instructions.
Cut the pastry length ways twice until you have a pastry strip about 5 cm diameter.
At one end, spoon a heaped teaspoon of the filling onto the pastry. Fold one corner of the pastry towards the long side, to make a triangle. Continue to fold over until the whole length is used up then trim any excess.
Place the triangles on a baking tray and cook for 10-15 minutes or until golden brown.

Carrot and Apple Muffins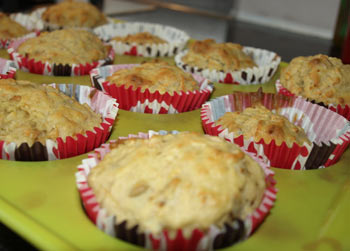 Makes 12 muffins

225g gluten-free plain flour
45g sunflower margarine
45g light brown sugar
180ml dairy free milk
1 tbsp gluten and wheat-free baking powder
2 tbsp sunflower seeds
2 medium carrots
1 large apple

Preheat the oven to 200°C (400°F, gas mark 6)
Melt the margarine over a low heat in a saucepan.
Combine the flour, baking powder and sugar in a bowl and mix well.
Add the margarine and sunflower seeds and mix well, then add the milk and mix again.
Peel and grate the carrots and the apple into the mixture in the bowl and mix well in.
Spoon the mixture into muffin cases to just below the top and bake for 30 mins or until nicely tanned.
Leave to cool and transfer to a wire rack.
Cranberry, Apple and Cinnamon Muffins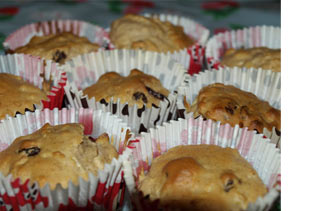 Makes 12 muffins
225g gluten and wheat-free plain flour
1 tbsp gluten and wheat-free baking powder
1.5 tsp cinnamon
45g soft brown sugar
45g sunflower margarine
2 apples, unpeeled and grated
60g dried, unsweetened cranberries
180ml dairy free milk


Preheat the oven to 200C (400F, gas mark 6) and line 12 sections in muffin tray with muffin cases.
Sift the flour, baking powder and cinnamon into a mixing bowl then add the remaining ingredients and mix well into a thick, wet dough.
Spoon into muffin cases to just below the top and bake for about 20 minutes, until light golden brown and firm to touch.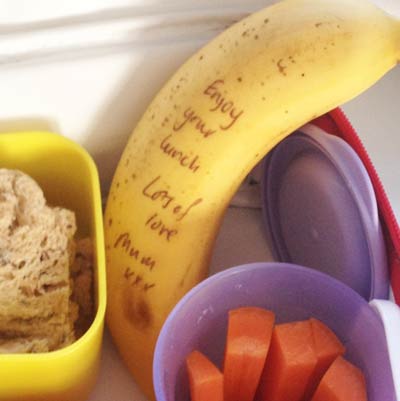 Click here for more guest recipes