Catherine Rose's Mother's Day treats!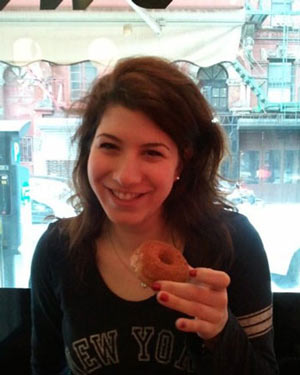 I am Catherine Rose but you may know me by my
company name, Sweetcheeks, or by my café, the Printworks Kitchen – or as the Catherine (with a C) of the FreeFrom Food Awards kitchen team!
This is my 'naturally gluten free' Mother's Day Dinner Party menu which I shall be making for my mum on Mother's Day (if I don't eat it all first!).
**Please note that the starter takes 48-72 hours to cure so get to work on it right now!**
Click on the name of the recipe to jump to it.

Beetroot and vodka cured salmon
Gluten free, wheat free, dairy free, nut free, soya free
2 boneless salmon fillets
200g caster sugar
100g fresh horseradish
3 raw beetroots
100ml vodka
150g sea salt
1 bunch of dill chopped up
frisee salad leaves to serve
and horseradish cream if you don't need to be dairy free too.
Mix all ingredients together in a bowl (apart from the salmon and frisee obviously!)
Cover the salmon fillets in the mixture on all sides and wrap in clingfilm tightly.
Place the salmon in a high sided dish and place a heavy chopping board or bowl on top of it to press it down
Leave in the fridge for 2-3 days making sure to drain the liquid away, turn the salmon and re-press every 24 hours.
When you're ready to serve this, unwrap the salmon and wash off the marinade. The fillets should be bright pink and feel firm to the touch.
Thinly slice these and arrange on the bed of frisee leaves (with a dollop of horseradish cream if you can eat dairy) and some chopped dill.
Seafood Polenta
Gluten free, wheat free, dairy free, egg free, nut free, soya free
Pack of mixed seafood (mussels, prawns, clams & squid)
Fresh plum tomatoes
Can of chopped tomatoes
2 cloves of garlic finely chopped
50ml red wine
1 red onion finely chopped
3 sprigs of fresh basil
Salt
Pepper
Sprinkle of chilli flakes
Sprinkle of oregano
75g polenta
700ml water
sprinkle of salt
50ml olive oil
Heat some oil in a pan and add the onions and garlic. Fry until soft and then add chilli flakes and oregano.
While this is softening, chop the fresh tomatoes.
Add fresh and can of chopped tomatoes to the pan and reduce for 15 minutes. (Worth noting here that the better quality your fresh tomatoes are, the richer the taste of this dish will be. Make sure to find deep red plum tomatoes which are firm to the touch).
Thoroughly wash and drain the mixed seafood and add to the pan.
Cook on a low heat for 15-20 mins.
Meanwhile, put the 700ml of water on to boil. Once bubbling, slowly add the polenta and stir constantly for 5 minutes or so whilst bringing the mixture down to a simmer.
Stir every few minutes to avoid this sticking to the pan.
After 30 minutes, add the olive oil and salt (maybe even some Parmesan if you are all good with dairy!)
Spoon into a dish and dollop the seafood mixture on top with a garnish of basil leaves.
Lemon posset
Gluten free, wheat free, egg free, nut free, soy free, dairy free (if you use soya double cream)
One of my favourite desserts. This is so light and zesty you could easily eat three in one sitting. So this recipe unashamedly is for 6 servings! Ooops!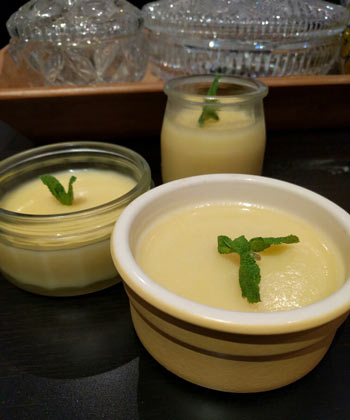 400ml double cream or soya double cream
200g caster sugar
3 waxy lemons
fresh mint
Zest the three lemons and then cut in half and juice the remaining lemon
Heat the cream and sugar together in a pan whilst stirring continously.
Once this starts bubbling, add the lemon zest and half the juice and stir in.
Separate the mixture into glasses or ramekins and cool to set for around 3 hours.
Garnish with mint leaves before serving.

I hope that you and your mother enjoy these recipes. Have a great Mother's day and enjoy cooking naturally free-from food!
Click here for more guest recipes